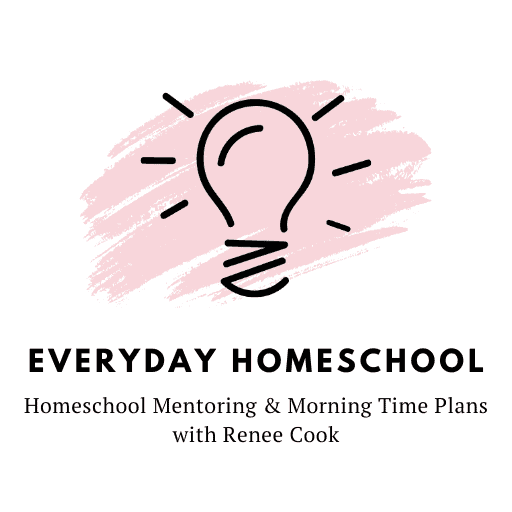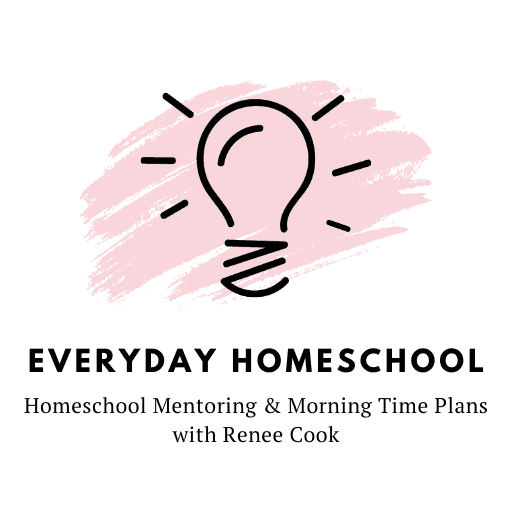 I'm opening a private homeschool mentoring group that includes Monthly Morning Time Resources & Mentoring via a Facebook Group!
Your monthly subscription will include 2 things:
Monthly Morning Time Plans & Resources
Private Facebook Group Mentoring & Support
Monthly Morning Time Plans
During the last week of each month, you'll receive a pdf guide for the following month. You can use these guides at any time & pacing you want.
The monthly guide will include:
Lyrics for that month's memory work – all of it will be song based

Direct links to playlists of the memory work

Poetry memorization suggestions for the month

Monthly hymn suggestion and printable

Monthly folk song suggestion and printable

3-5 picture book recommendations. Over the course of the school year, these books will cover a wide range of subjects including science, history, literature and more!
These resources will work for children of all ages, particularly kids ages 3-11.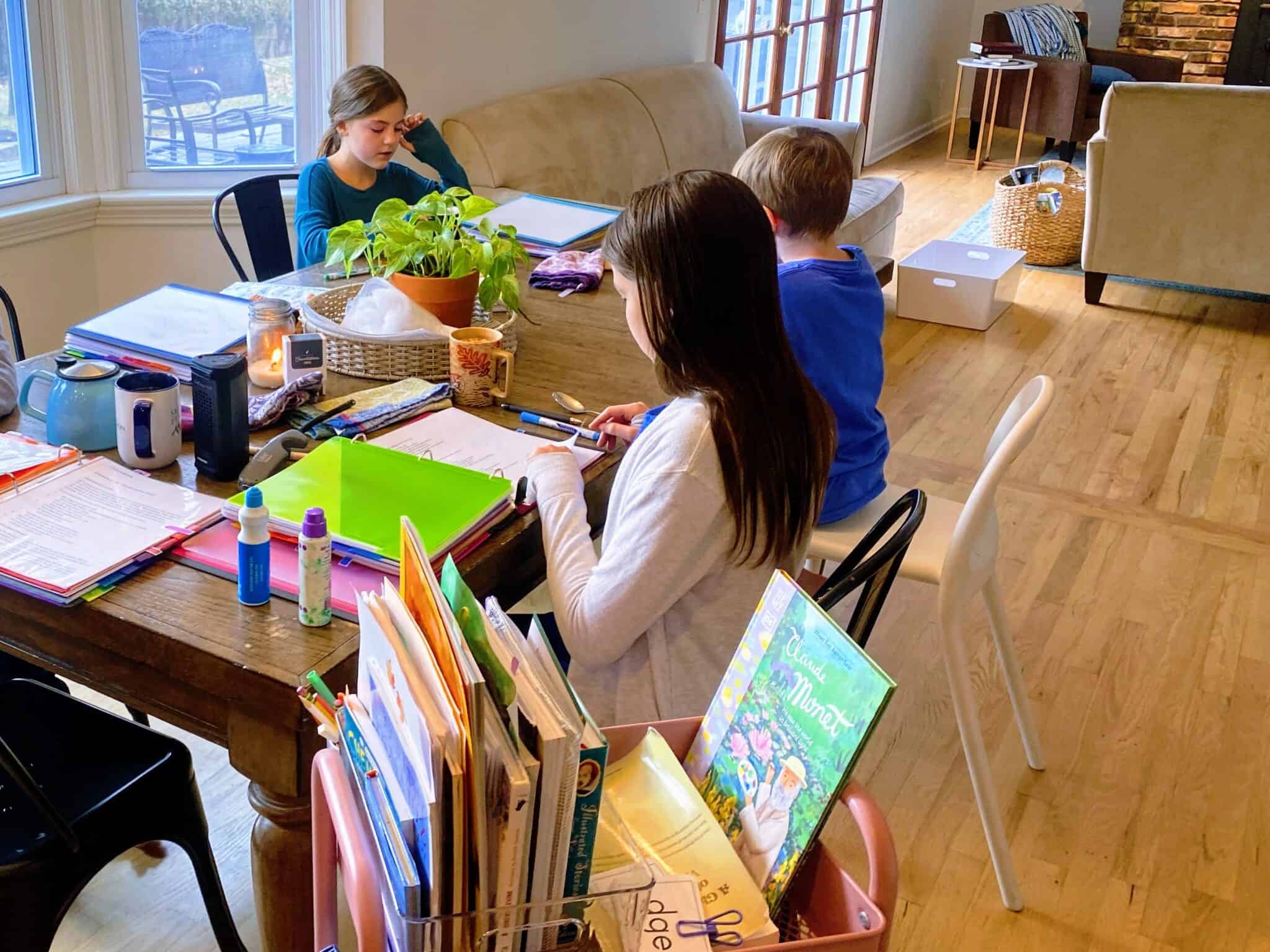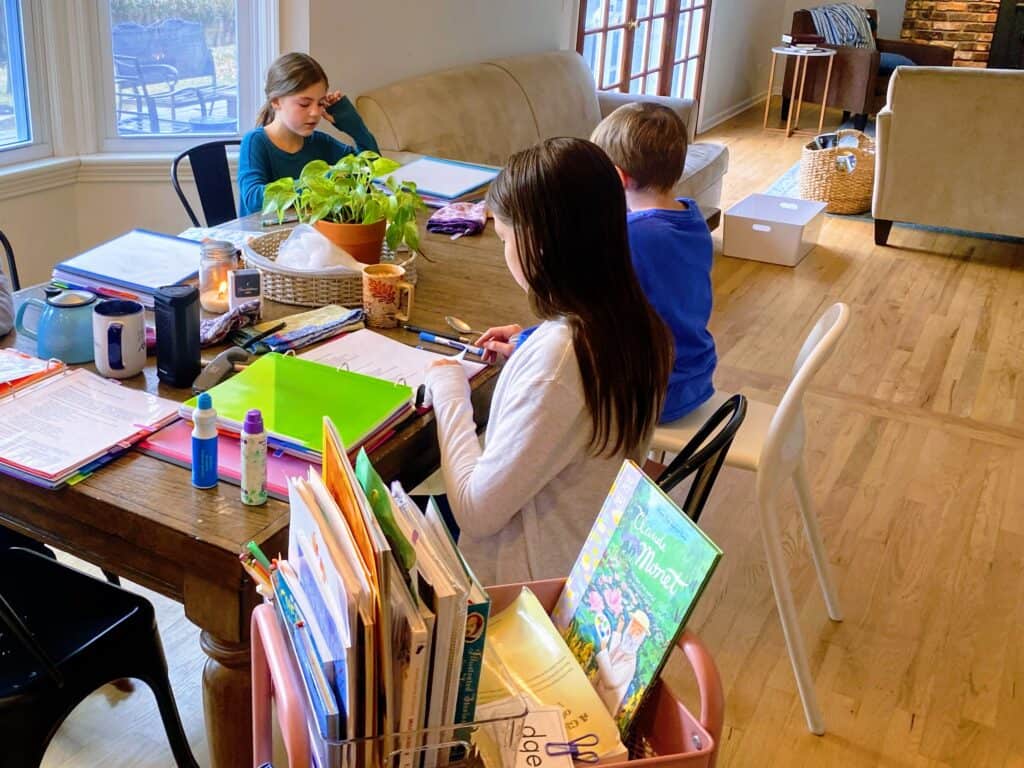 Facebook Mentoring Group
In this private facebook group, you will get:
Quick Win Workshops – I'll do live videos each month that teach all kinds of things related to homeschooling…

how to plan the whole year during the summer in a restful, flexible way
how to pick curriculum
how to grow in confidence and teach various subjects that feel daunting
how to troubleshoot specific homeschool issues
how to seek God's direction for your specific family & homeschool
how to create a homeschooling environment and space in your real home… no matter the size or the budget
how to homeschool with babies & toddlers


The ability to ask me anything! I'll check in regularly and provide video answers and resources!

Book & resource lists

Narrowed down support & strategy for your specific family. There is SO MUCH competing information out there… classical… Charlotte Mason… you have to teach Montessori spelling.. you have to spend 1000 hours outside… you have to teach cursive first… no, manuscript first… no, Latin first! Good gracious it gets overwhelming. We will turn off a lot of that noise & instead focus on how to find resources & make a plan for your specific family, how to discern your children's unique gifts and teach to them individually, and how to grow as teachers based on educational principles that work over a variety of learning styles & abilities.

ENCOURAGEMENT!! The longer we homeschool, the more I'm convinced that anyone who wants to can homeschool and enjoy it. Let's do it together!
Testimonials
"I can't say enough about how much Renee has helped me on my homeschooling journey. Her excitement about homeschool is captivating. Not only did she help me pick out curriculum, but also helped me to take things out that weren't needed when I was overwhelmed and add things in when I had more margin. I love Renee's homeschooling style… to her it's about the big picture, not about checking boxes. If I didn't have Renee to help me along this homeschool journey, I can't say I would have any clue what I'm doing, but praise the Lord I found her!"
– Nicole
"Working with Renee provided a base of confidence and partnership as we began our homeschooling journey last fall! I had done my fair share of research and immersed myself in the homeschool world via podcasts, books, blog posts, and social media follows. That information was invaluable to me as I wrapped my mind around what homeschooling is & gave options for what it can look like. Renee helped me take my swirling thoughts and used her experience & expertise to help me envision, forecast, and plan for what homeschooling could look like for OUR family. From the big picture to the practical nitty gritty, her input truly shaped our year and helped me to know we were on a right path. Her love for supporting homeschool mamas is so genuine and evident and I can't imagine our journey without her."
– Jaime
Pricing + Fine Print
Membership is $10/ month. That includes the monthly morning time plans AND the private Facebook group access!! You can cancel any time. I definitely do not want homeschool moms using their limited budgets to pay for something that isn't beneficial to them.