One of the most fascinating topics to teach young children is outer space. The wonders of the solar system, the night sky, and space exploration can capture the imagination of children of all ages.
We homeschool & I just love amazing picture books. Quality picture books make up much of our science text, actually. (They're way better than boring old textbooks.)
All of these books are picture books! And they supplement our Astronomy Songs perfectly.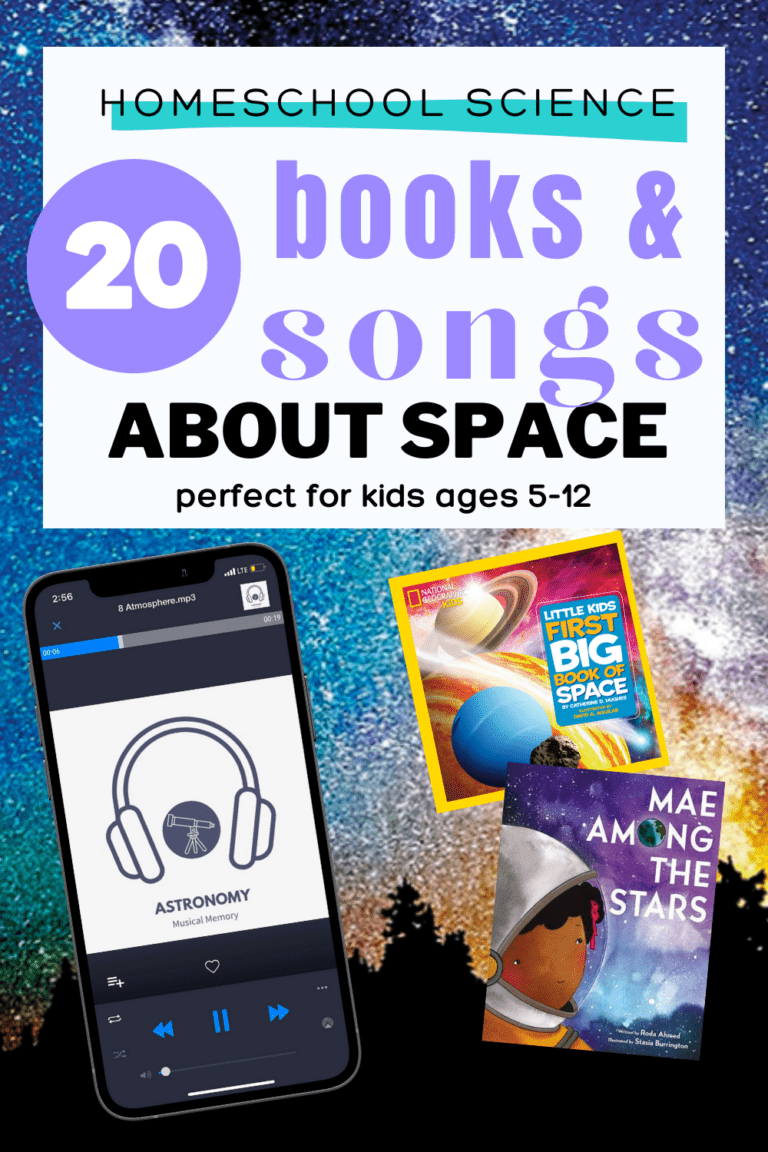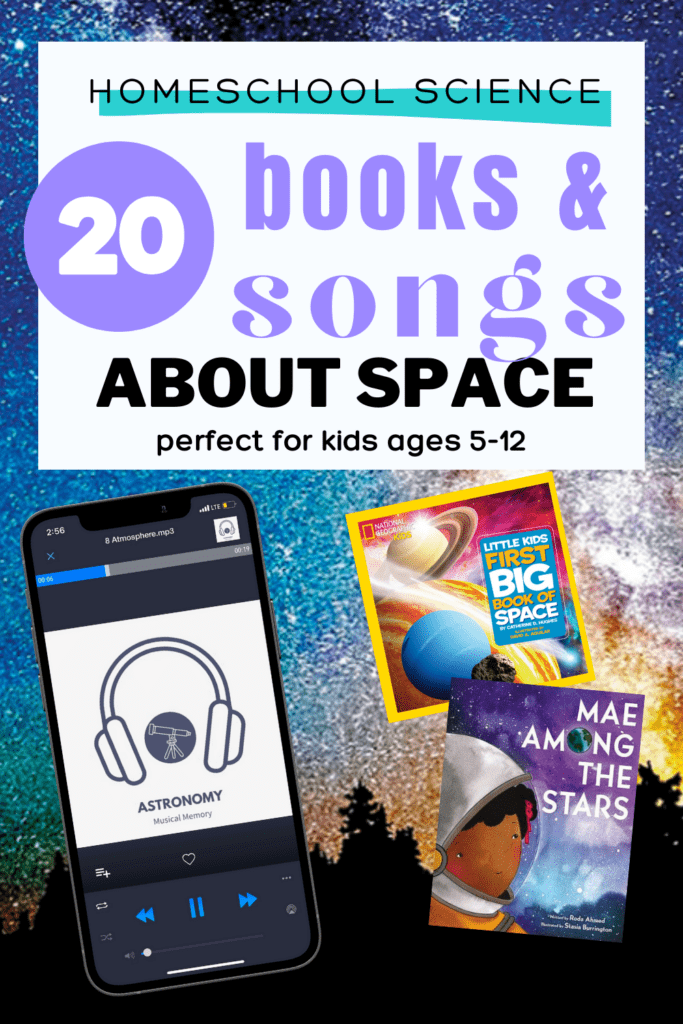 Using Books & Songs Together
When we did our year of astronomy study (kids were preschool through second grade ages), I did not coordinate the songs & books on a weekly basis. I just introduced one new song each week and checked out or purchased great books over the course of the school year.
Let me repeat that – you don't have to perfectly coordinate your songs & books!!!!! You totally can if that's your jam. But your kids will learn and enjoy the material either way.
For example, I didn't coordinate the "black holes song" week with a black holes book. But my 5 year old loved that song. One day, I checked out 2 cute books on black holes at the library and he was so excited because he already knew the song.
Black Holes
There have been other times I've coordinated a book with a song, which also provides for meaningful learning.
The 3 keys to starting science at home with young children are :
get outside
read some books
sing some songs to memorize basics as "learning pegs" for the big ideas you're introducing.
These amazing children's books are perfect for younger readers and are sure to spark an interest in space travel and the mysteries of the universe. There are obviously a lot more astronomy books out there than this, but I tried to only compile the best space books I could find!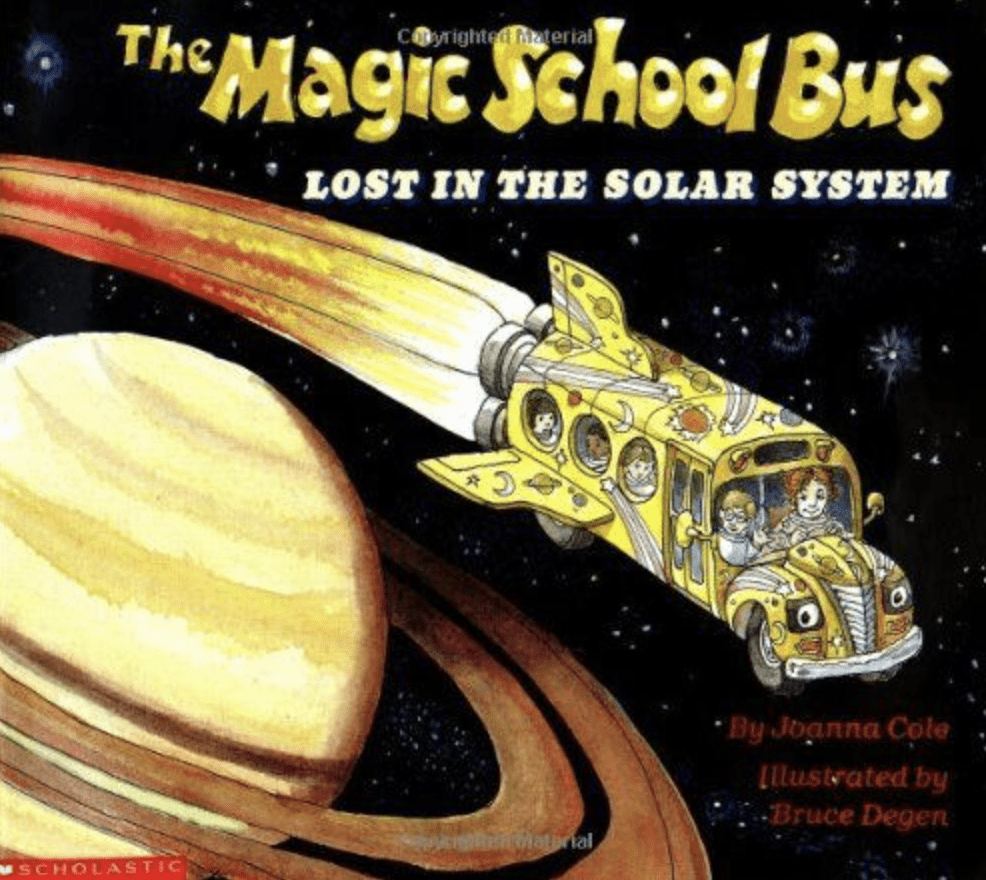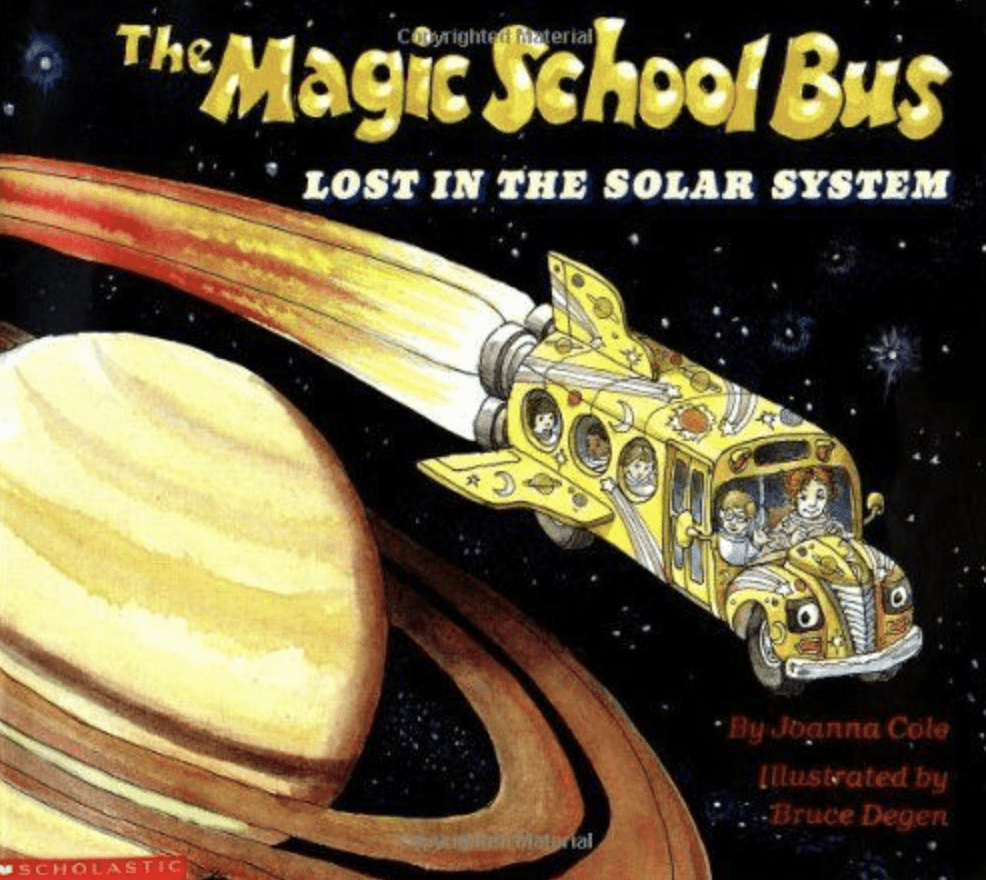 1. The Magic School Bus Lost in the Solar System by Joanna Cole and Bruce Degen
It doesn't get more classic than the Frizz. This book is perfect for introducing children to the wonders of the solar system. In The Magic School Bus Lost in the Solar System, Ms. Frizzle and her class take a field trip to the planets. They learn about each planet's unique characteristics and even visit the international space station. This book is a great way to teach young children about the different planets and their place in the solar system.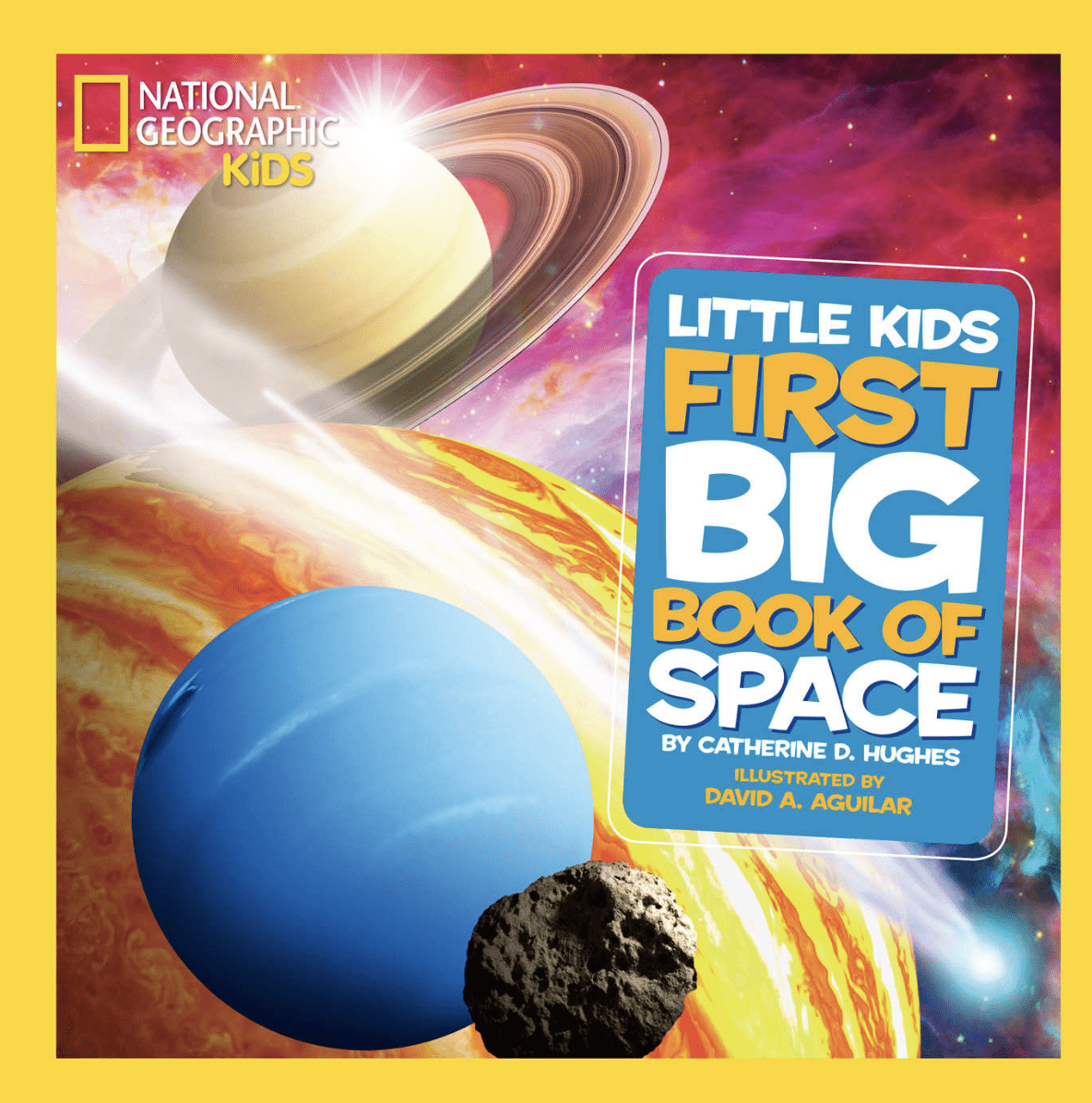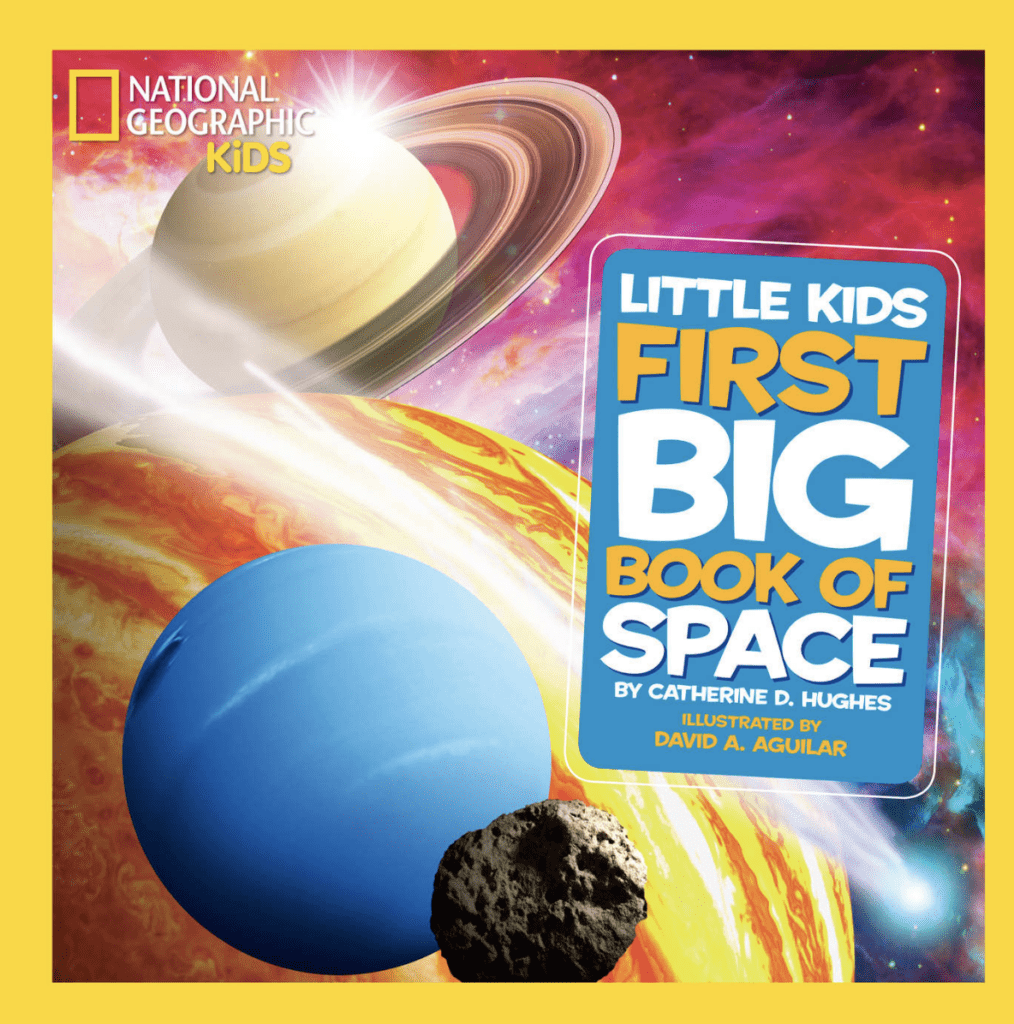 2. National Geographic Little Kids: First Big Book of Space by Catherine D. Hughes
This nonfiction book is a pretty comprehensive guide to the basic concepts of space. It covers everything from the solar system to our milky way galaxy and beyond. The book is filled with interesting facts and colorful illustrations. Actually, the entire National Geographic Little Kid's series is perfect for 4-9 year olds. My 7 and 9 year old have enjoyed these books independently too.
This is one of my top recommendations for homeschooling parents who want to teach their children about the wonders of the universe and the National Geographic Kids books in general are some of my first go-tos for non fiction nature related books.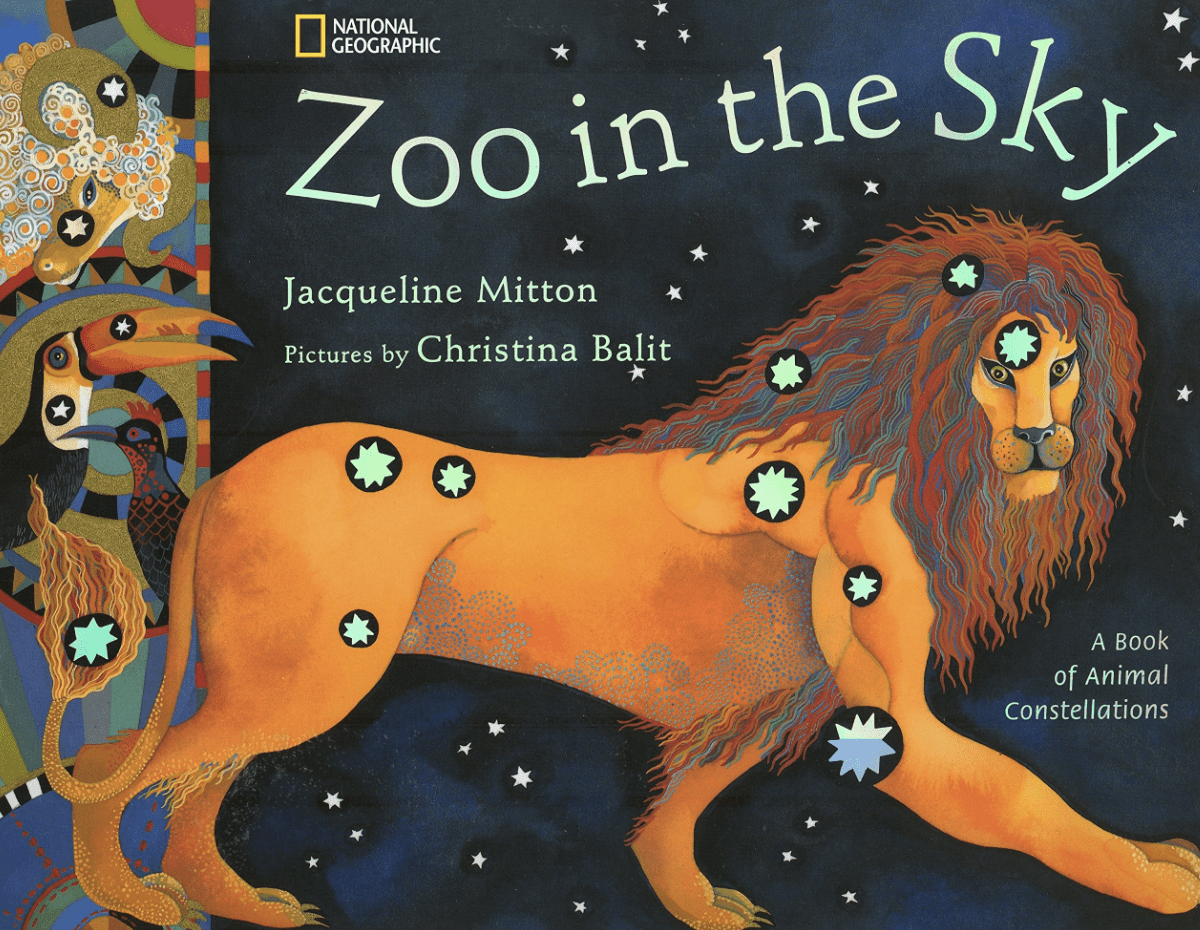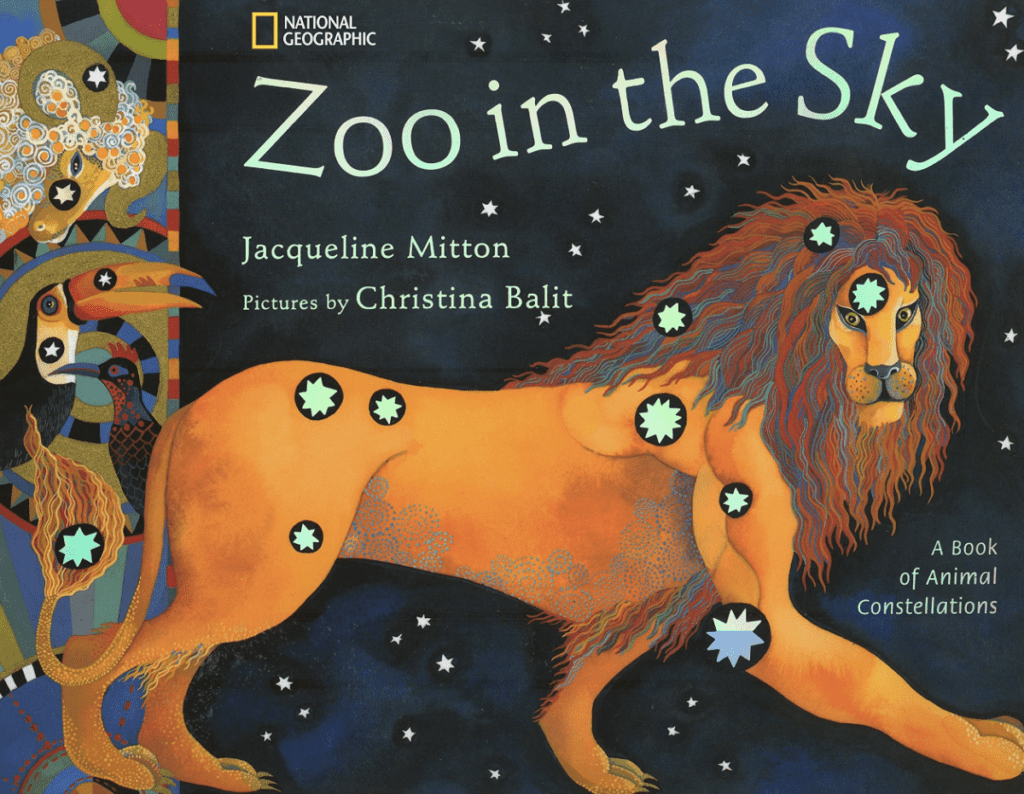 3. Zoo in the Sky: A Book of Animal Constellations by Jacqueline Mitton and Christina Balit
Zoo in the Sky is a beautiful picture book that explores the constellations and the stories behind them. Each constellation is associated with an animal, and the book includes information about each animal's mythology and characteristics. This book is a great way to introduce young children to the wonders of the night sky and the stories that people have told about the stars for thousands of years.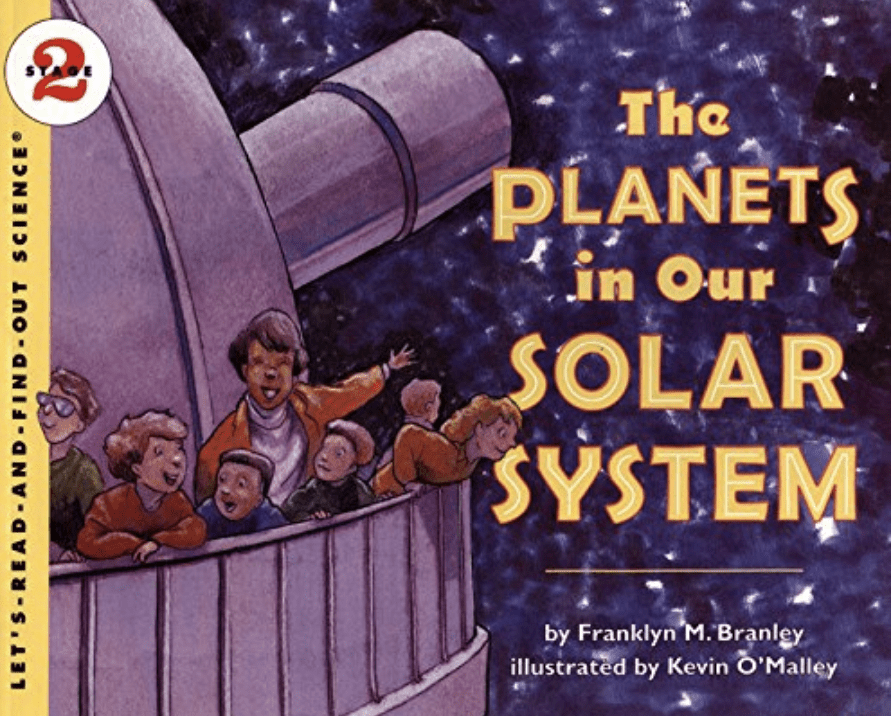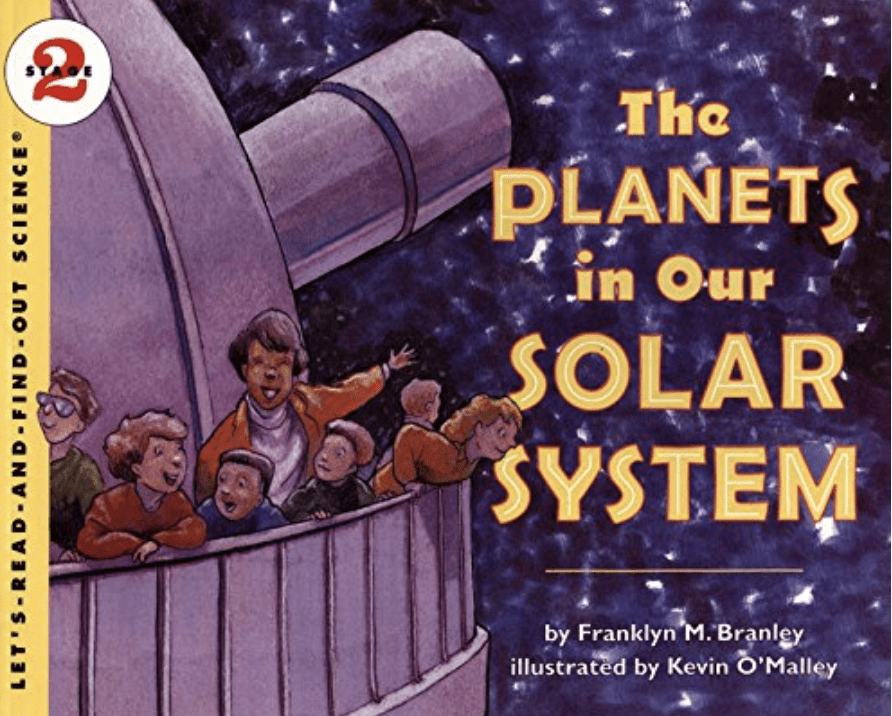 4. The Planets in Our Solar System by Franklyn M. Branley and Kevin O'Malley
The Planets in Our Solar System is an informative picture book that provides an introduction to the planets in our solar system. The book covers each planet's size, composition, and other characteristics, and includes vivid illustrations. It's a great first book of planets.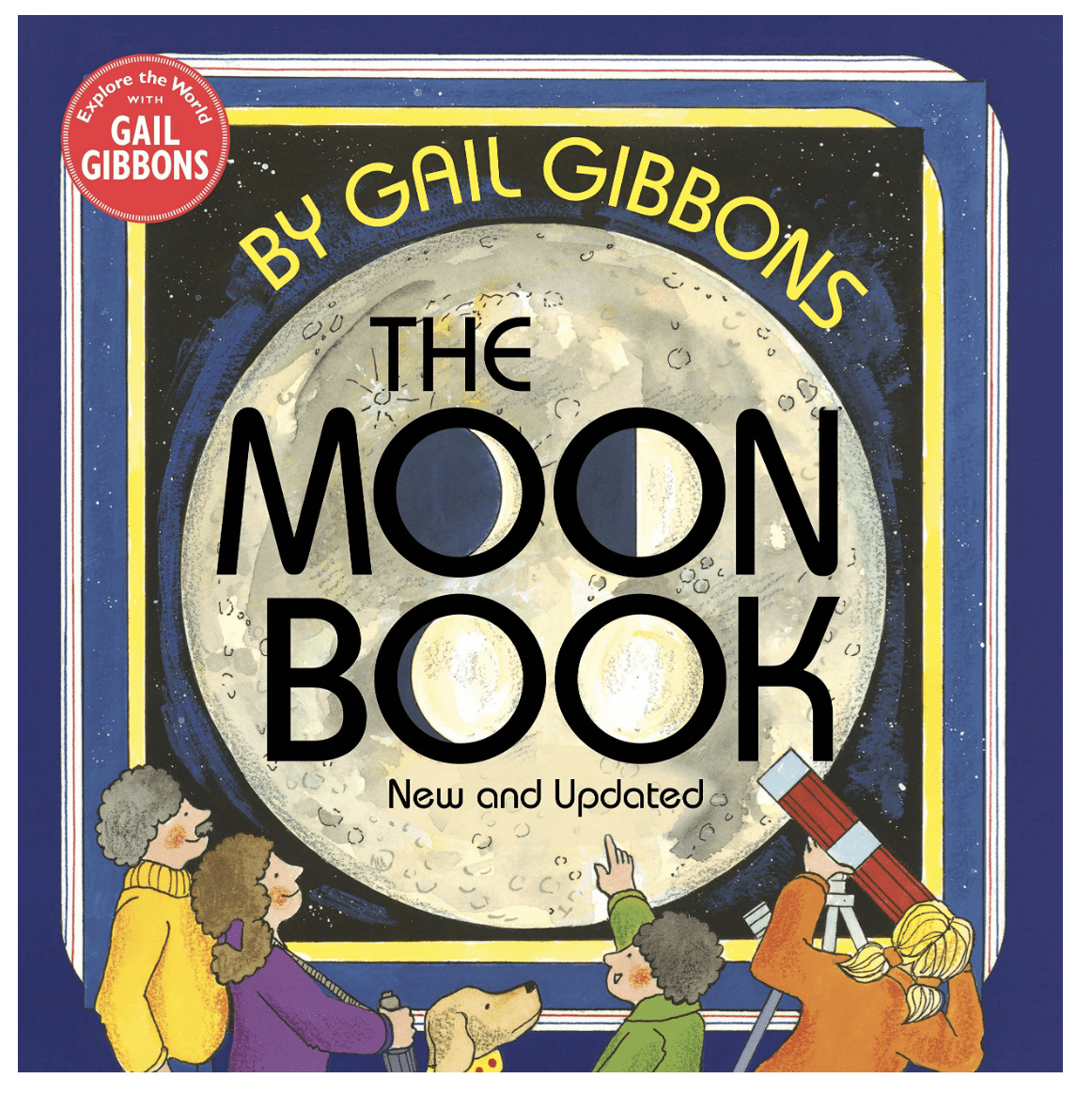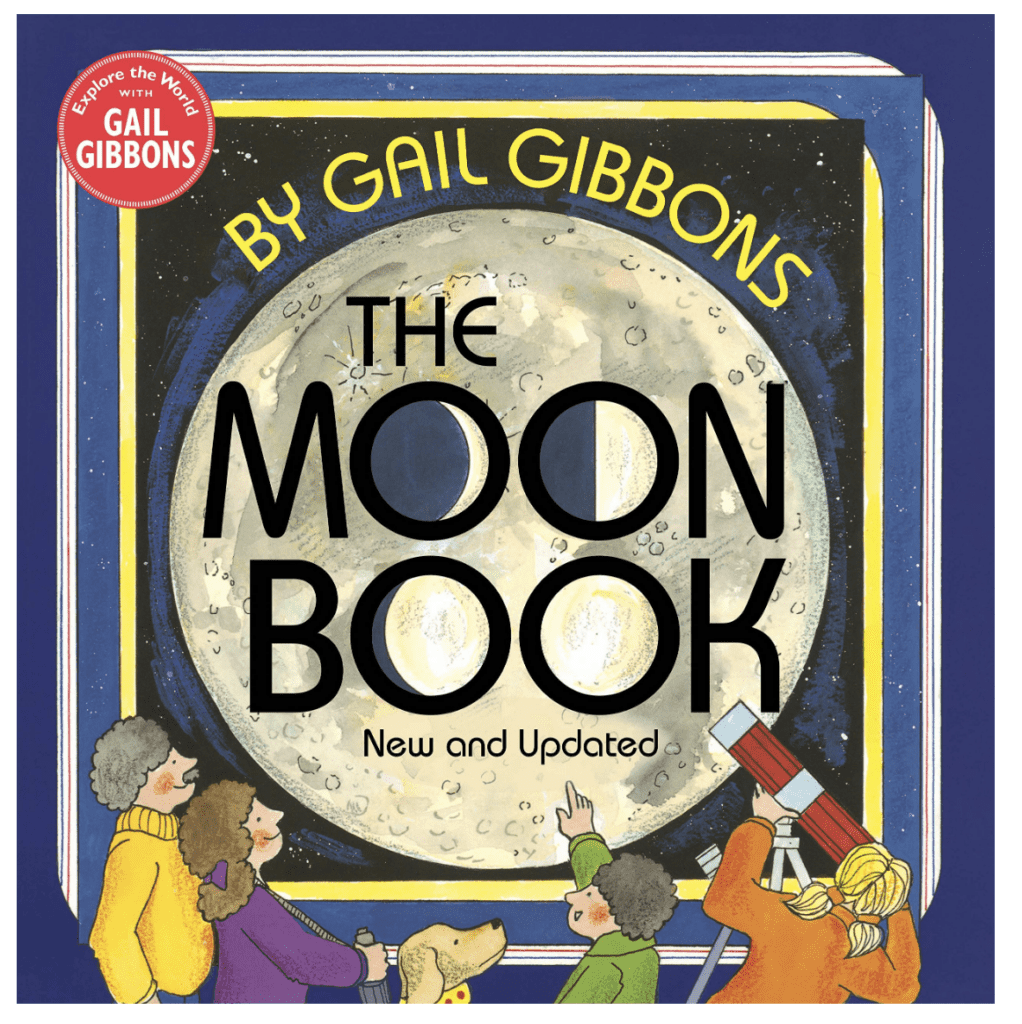 5. The Moon Book by Gail Gibbons
In The Moon Book, children will learn about the phases of the moon, lunar eclipses, and the moon's role in the tides. It also includes information about the history of lunar exploration, including the first moon landing by Neil Armstrong. (Make sure you get the new & updated version.) Gail Gibbons is a genius at taking any science concept and putting into simple text for a younger audience. She is another one of my go-tos for science books.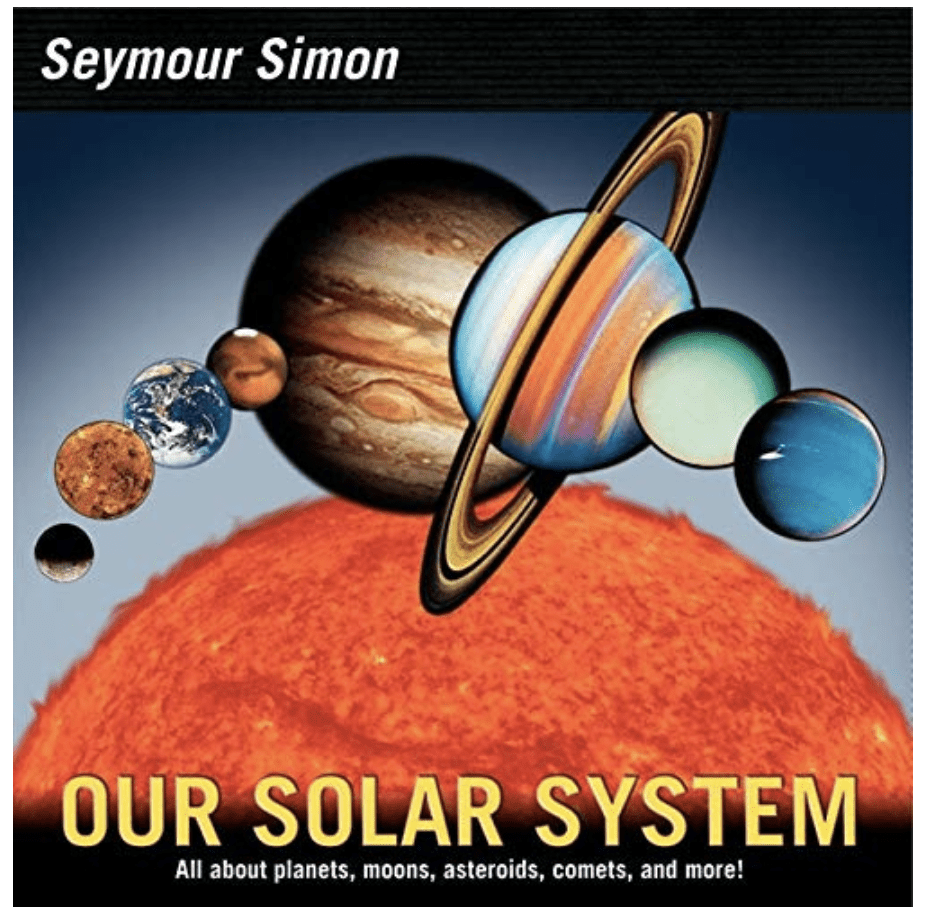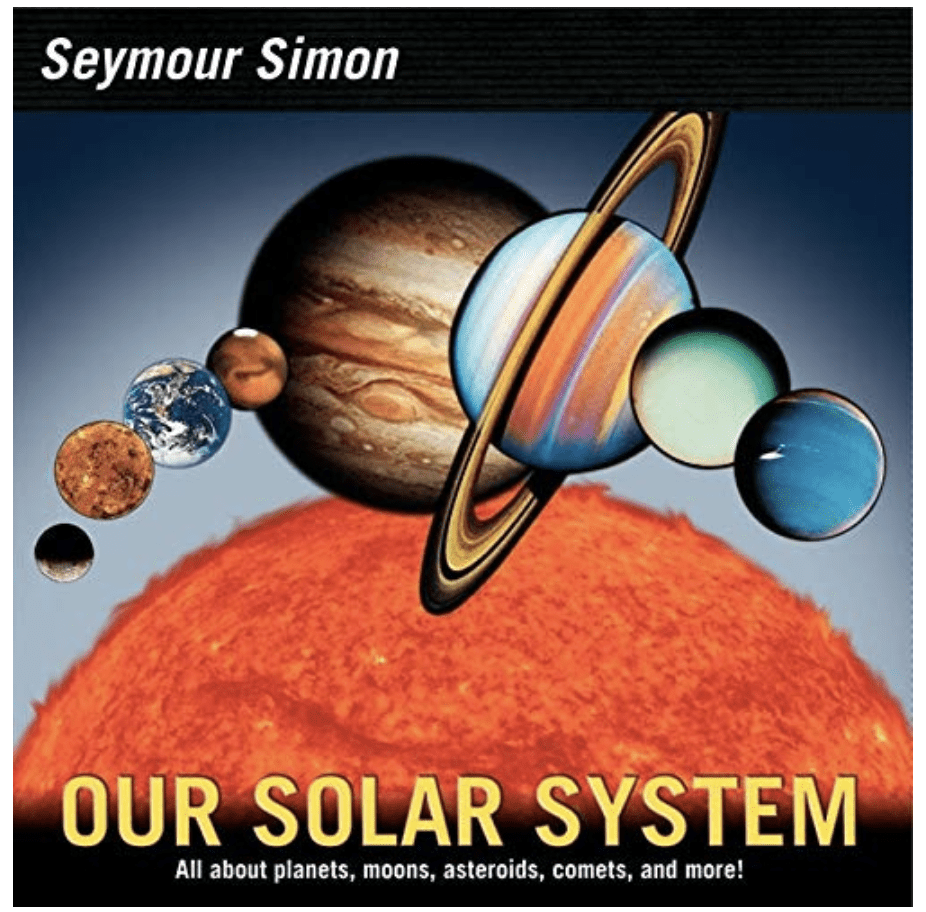 6. Our Solar System: Revised Edition by Seymour Simon
Our Solar System: Revised Edition is an updated version of a classic picture book that provides a detailed look at the planets in our solar system, as well as comets, asteroids, and other celestial bodies.
It includes stunning photographs too. All of Seymour Simon's books are amazing for kids of any age. If you have a space fan at your house, this one is a must-read.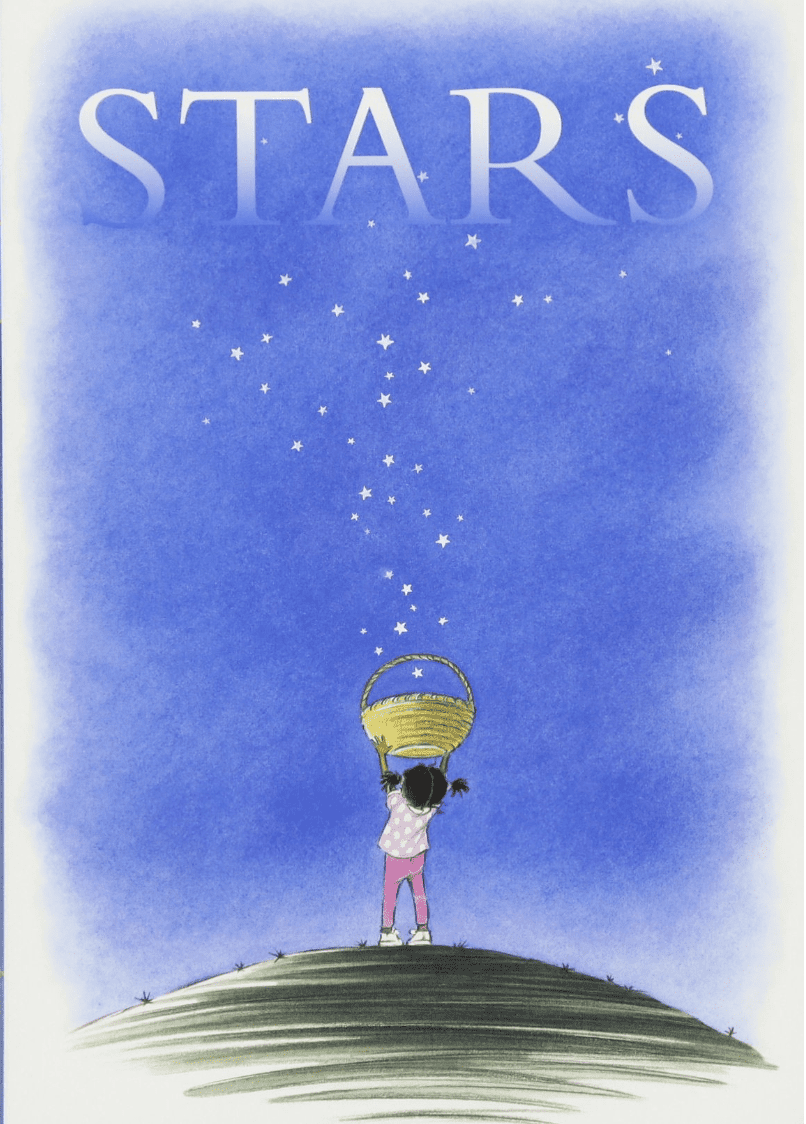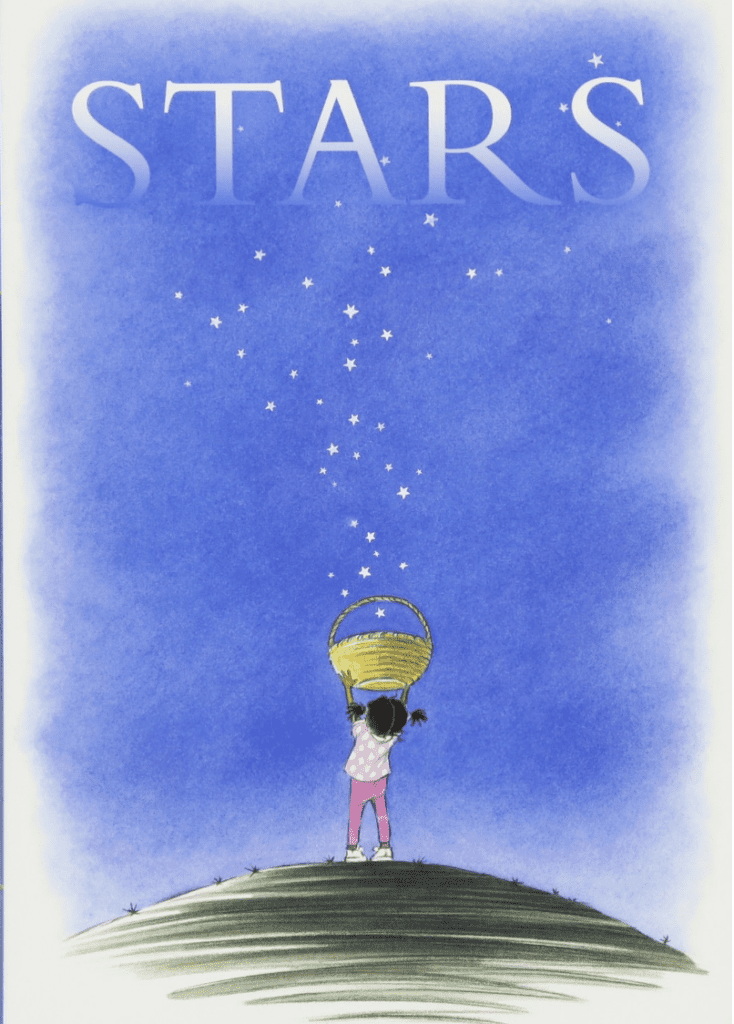 7. Stars by Mary Lyn Ray and Marla Frazee
This beautifully illustrated picture book explores the different types of stars, how they are born and die, and their place in the universe. It also includes information about constellations and the night sky. It's a very sweet one for younger kids especially!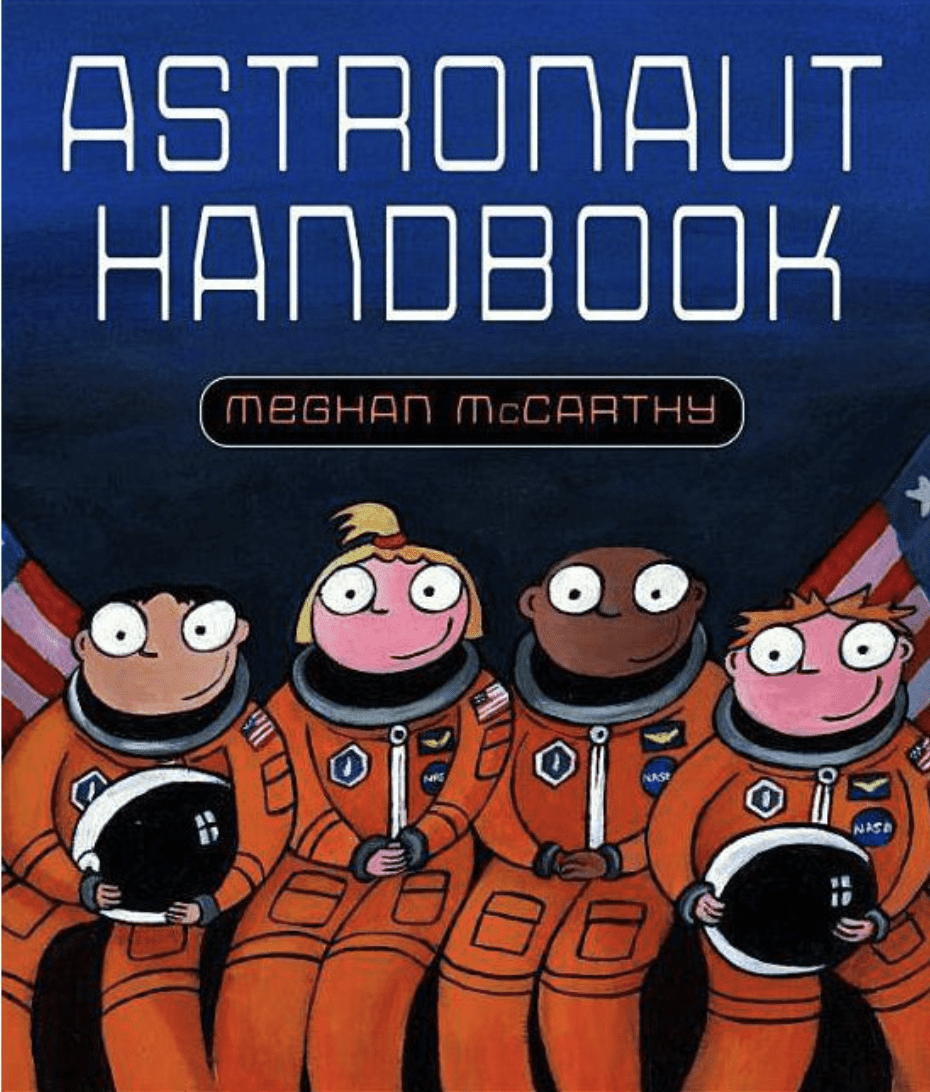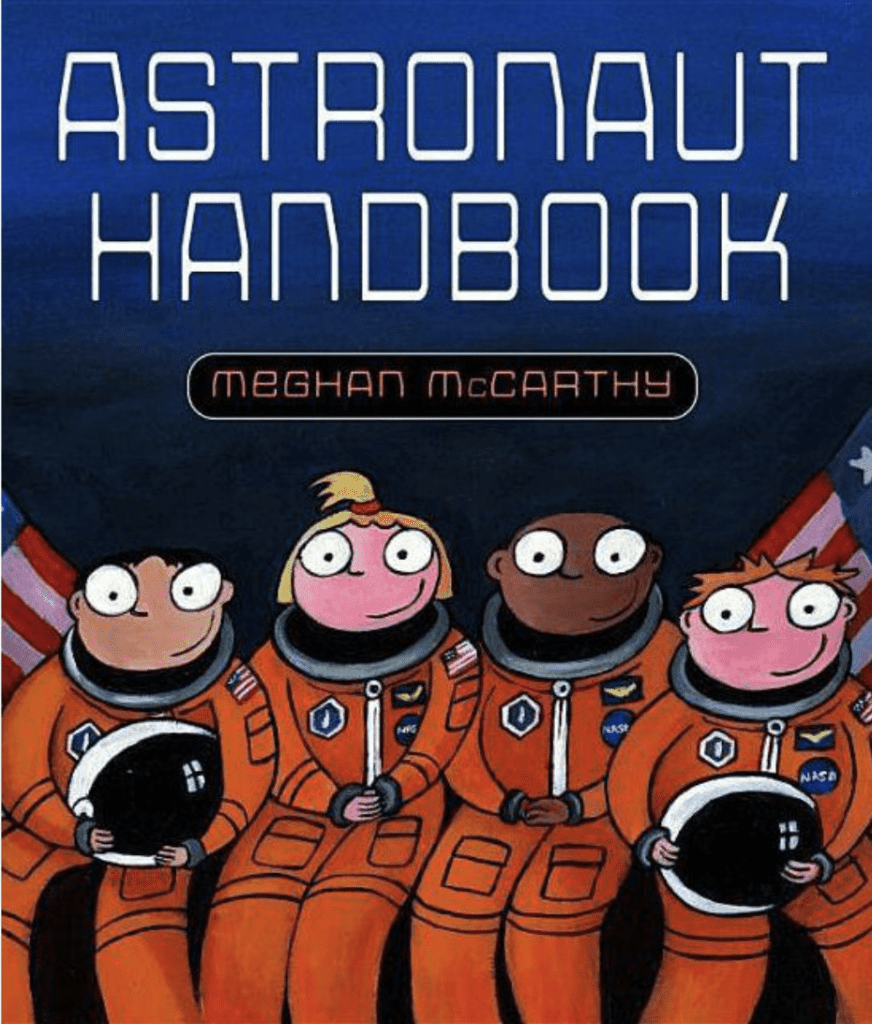 8. Astronaut Handbook by Meghan McCarthy
This fun and informative book provides an introduction to space exploration and what it takes to become real astronauts. It includes details about training, living in space, and the history of space exploration.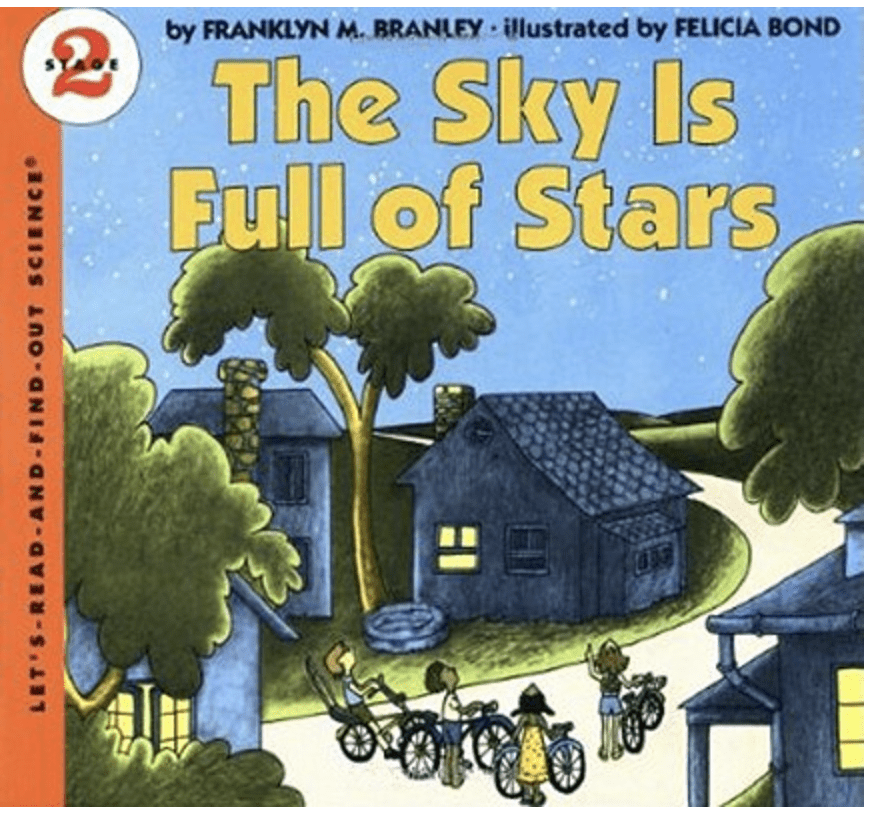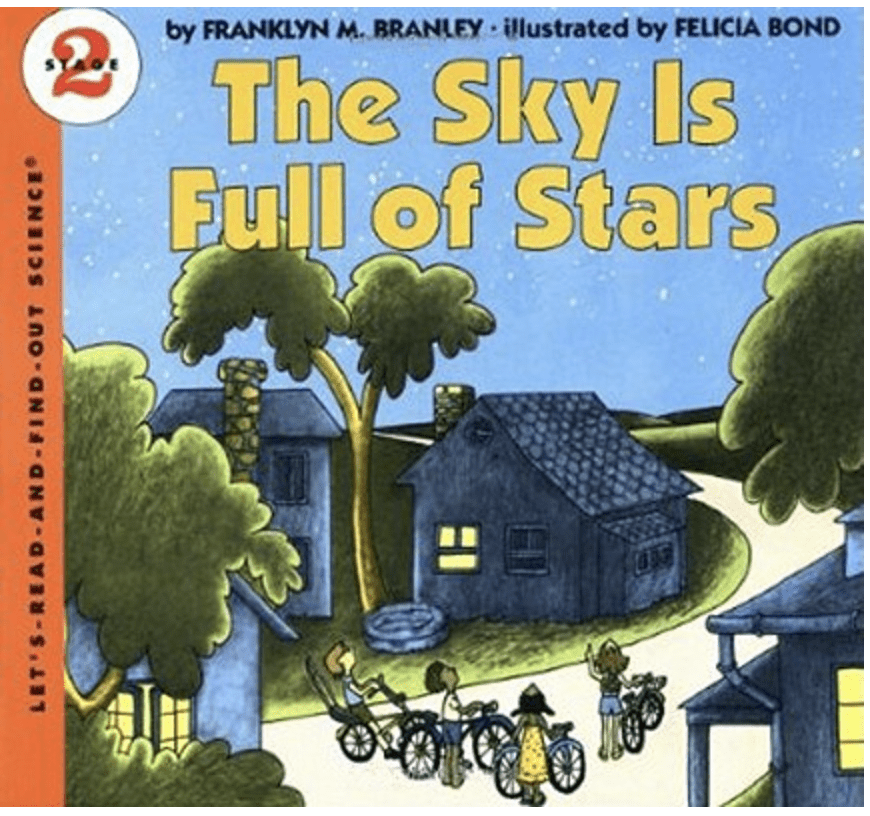 9. The Sky Is Full of Stars by Franklyn M. Branley and Felicia Bond
This classic children's book explores the stars and constellations visible in the night sky. It includes information about the science of stars, as well as myths and legends from different cultures.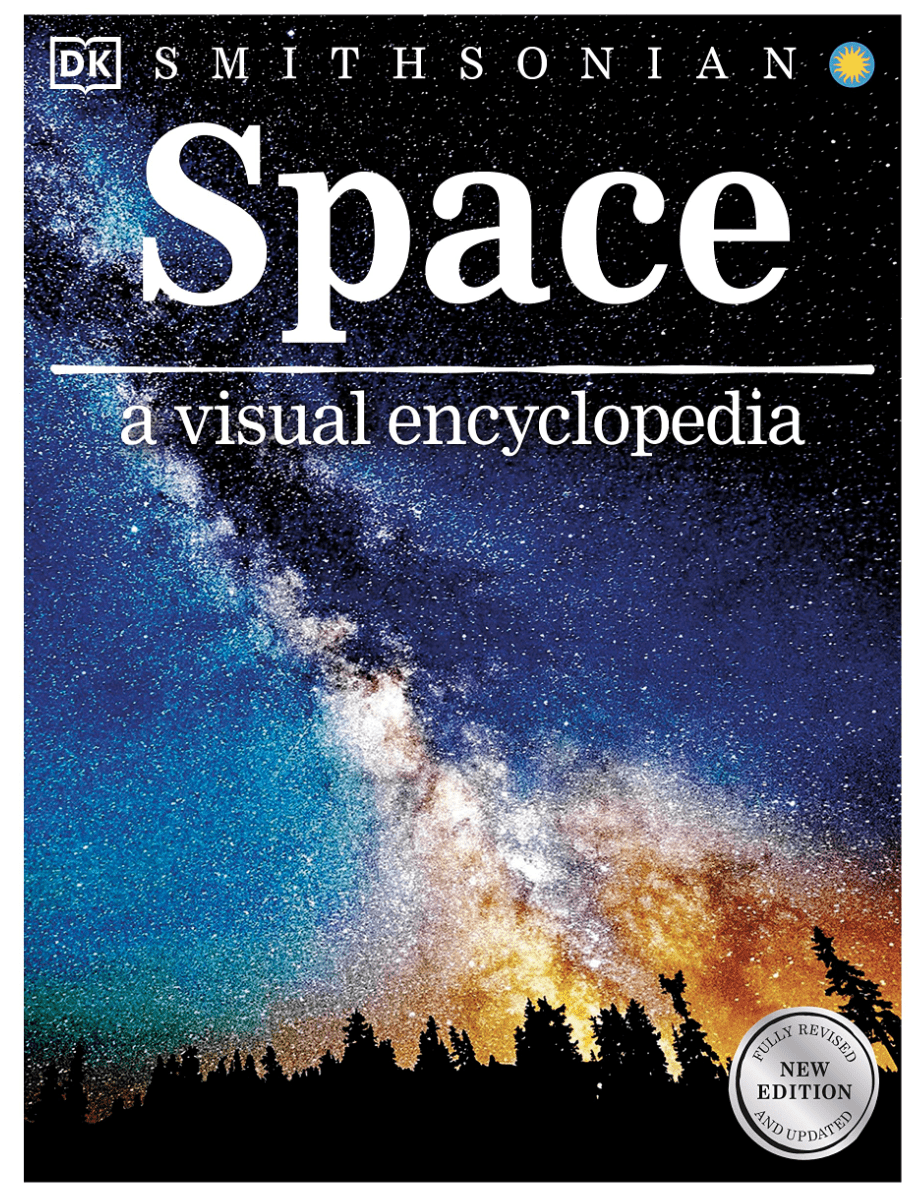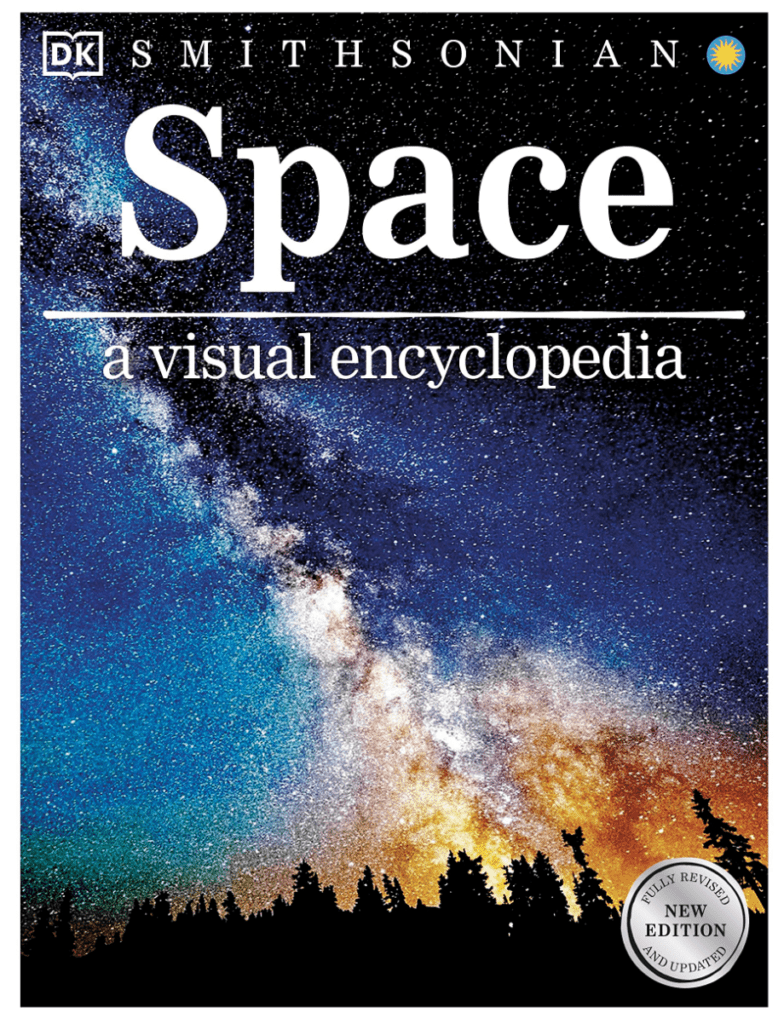 10. Space: A Visual Encyclopedia by DK Publishing
DK Publishing puts out amazing books on all kinds of non-fiction topics. This one is more of a comprehensive encyclopedia that covers aspects of space, from the solar system to black holes and beyond. It includes stunning photographs and illustrations, as well as detailed information about each topic.
It's fun to thumb through and talk about various pictures or read random pages out of. There is also an older version of this book that you can see on Amazon used books or Thriftbooks. Sometimes, if I can find illustrated reference books inexpensively secondhand, I let the kids cut the pictures out for collage style note-booking pages or their history timeline notebooks.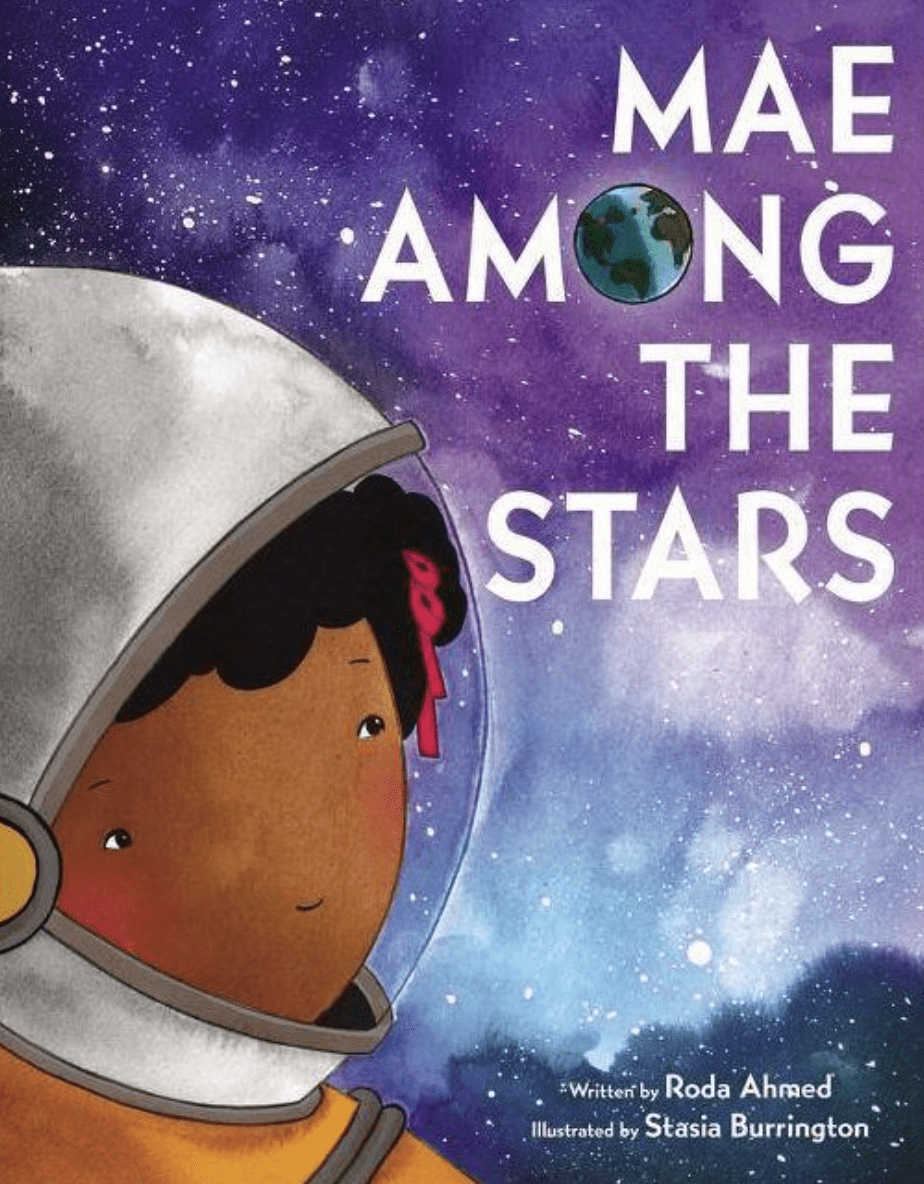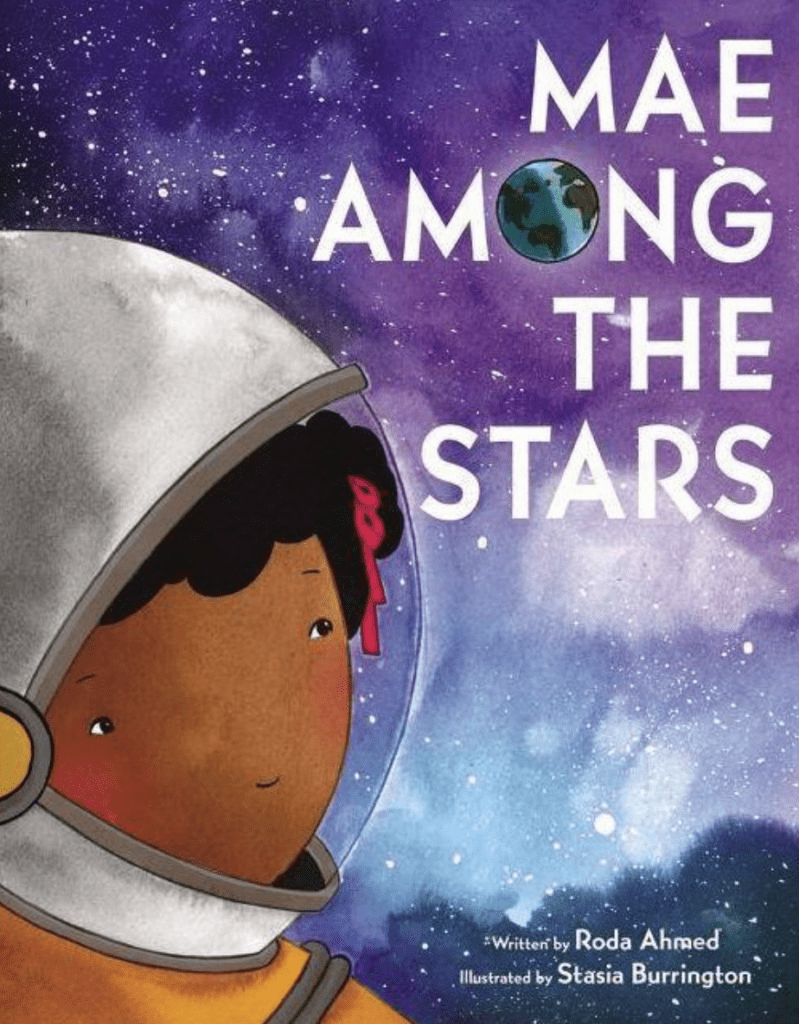 11. Mae Among the Stars by Roda Ahmed
This is a really sweet book about Mae Jemison, the first African American woman to travel in space. The illustrations in this book are beautiful, and the author tells Mae's story in a way that doesn't take away from the picture book experience. Young girls and boys alike will find this book very inspiring.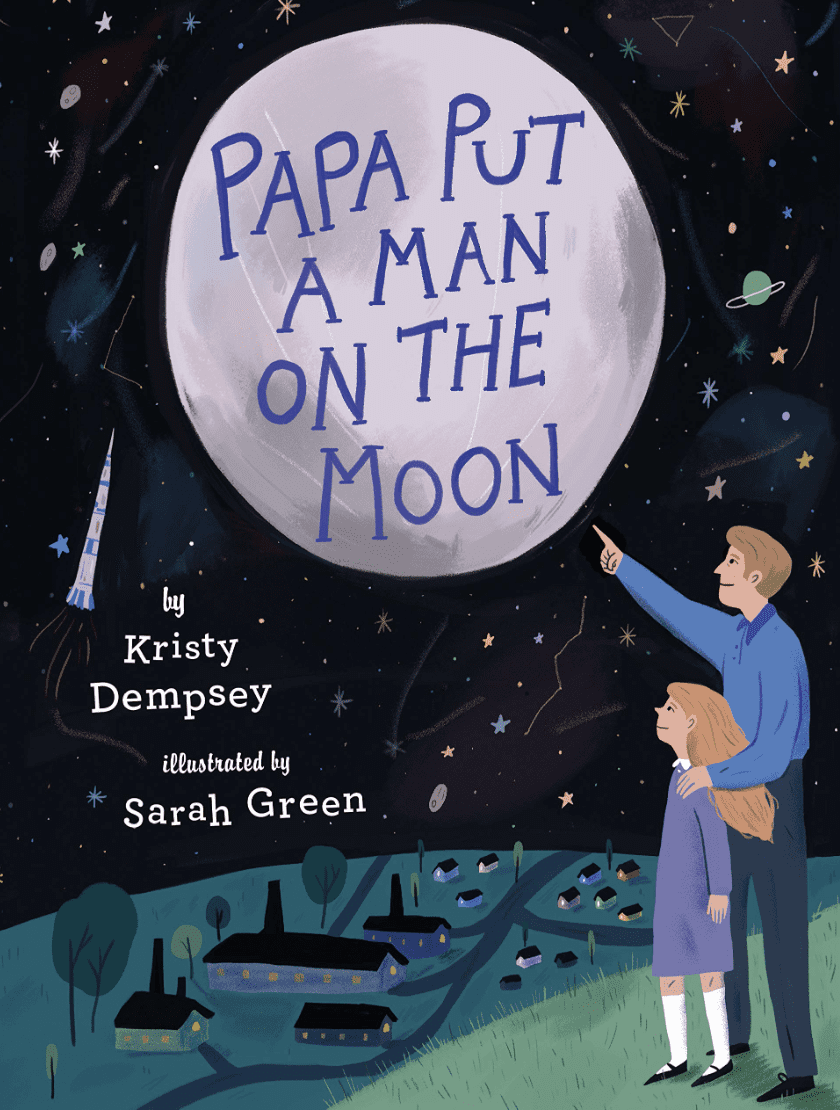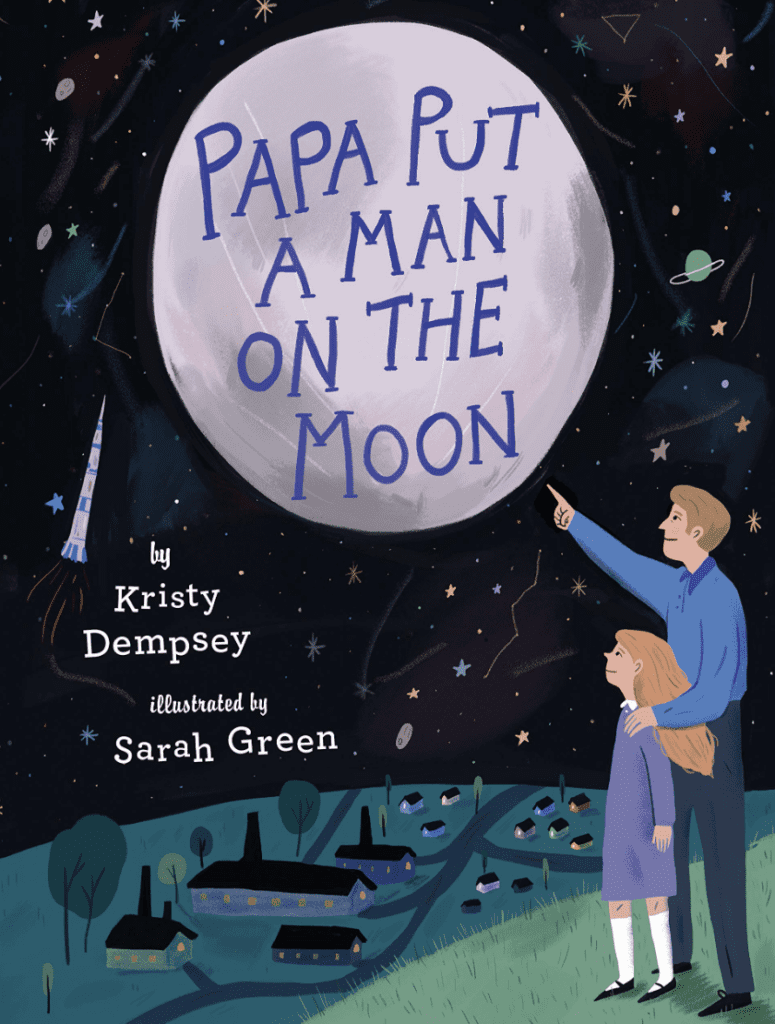 12. Papa Put a Man on the Moon by Kristy Dempsey and Sarah Green
In this picture book, a little girl watches her father's work on the Apollo 11 mission and the first time an American landed on the moon. It's a heartwarming story of family and determined hard work, and a great way to introduce young readers to the people behind the space race.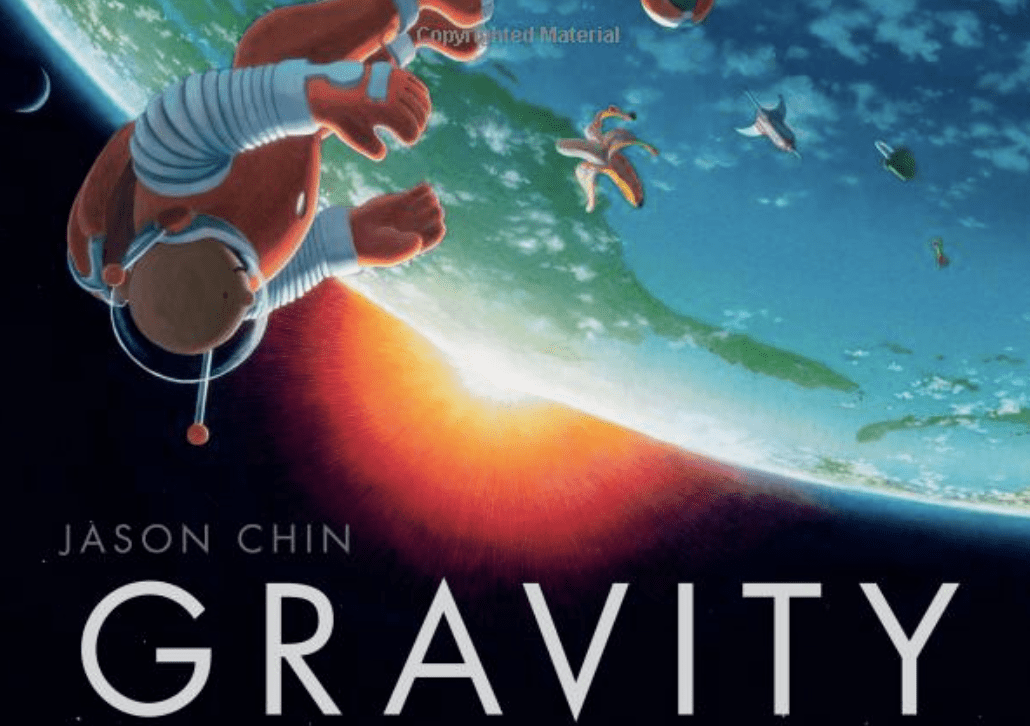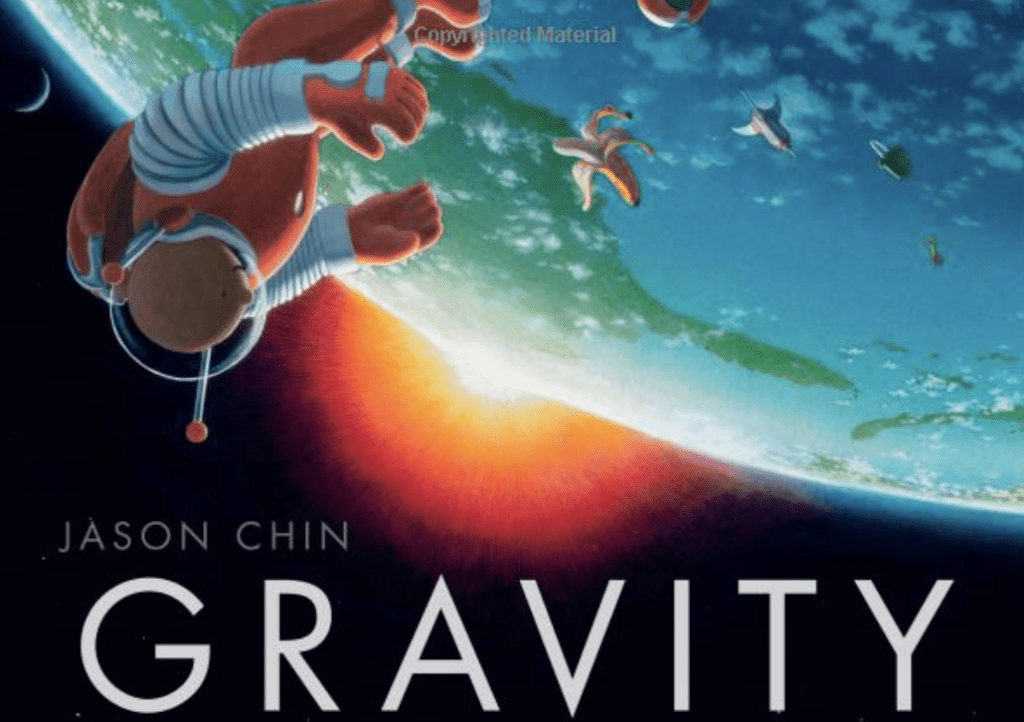 13. Gravity by Jason Chin
All of Jason Chin's books are pretty amazing. They're geared towards older kids, but little kids can pick up some of it. In this picture book, readers will learn about the laws of gravity and how they shape our world. The book uses colorful illustrations and engaging text to explain complex scientific concepts in an easy-to-understand way.
Conveniently, I have a hilarious "Gravity" song that is included in the Astronomy Album.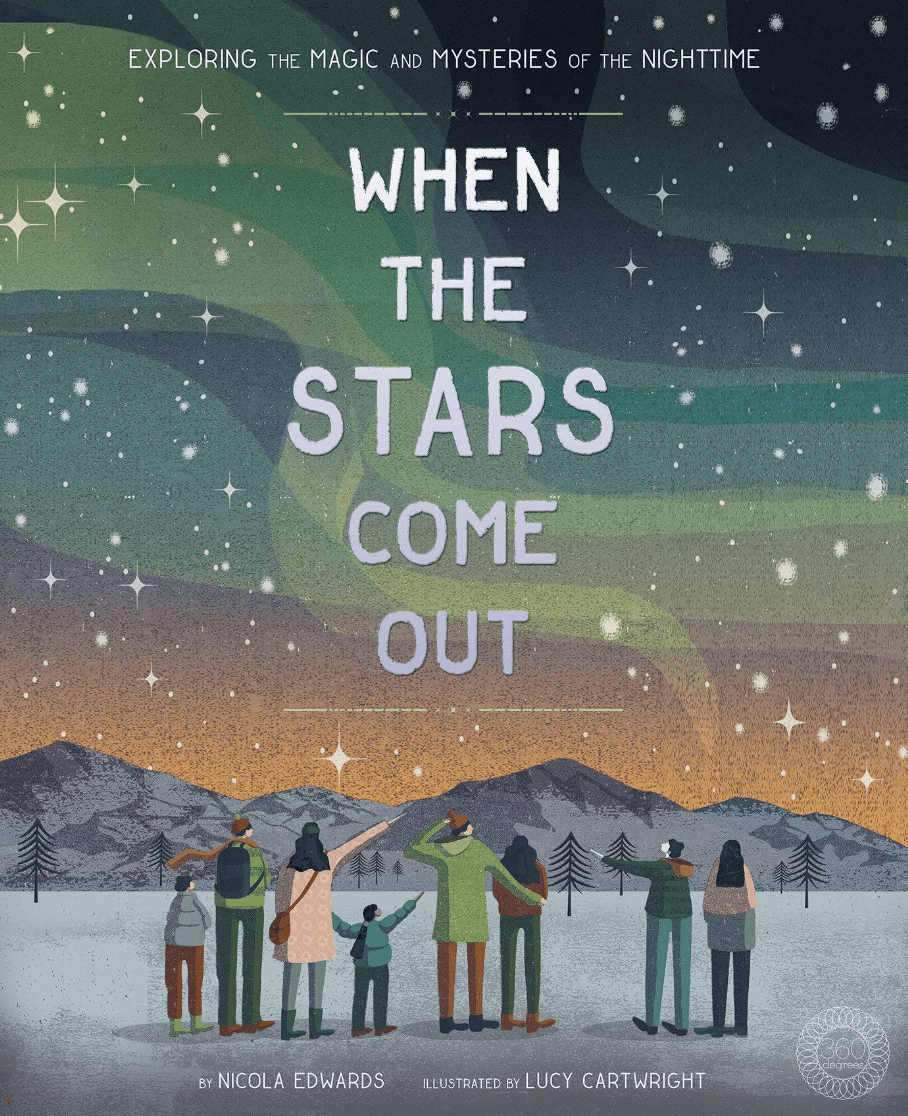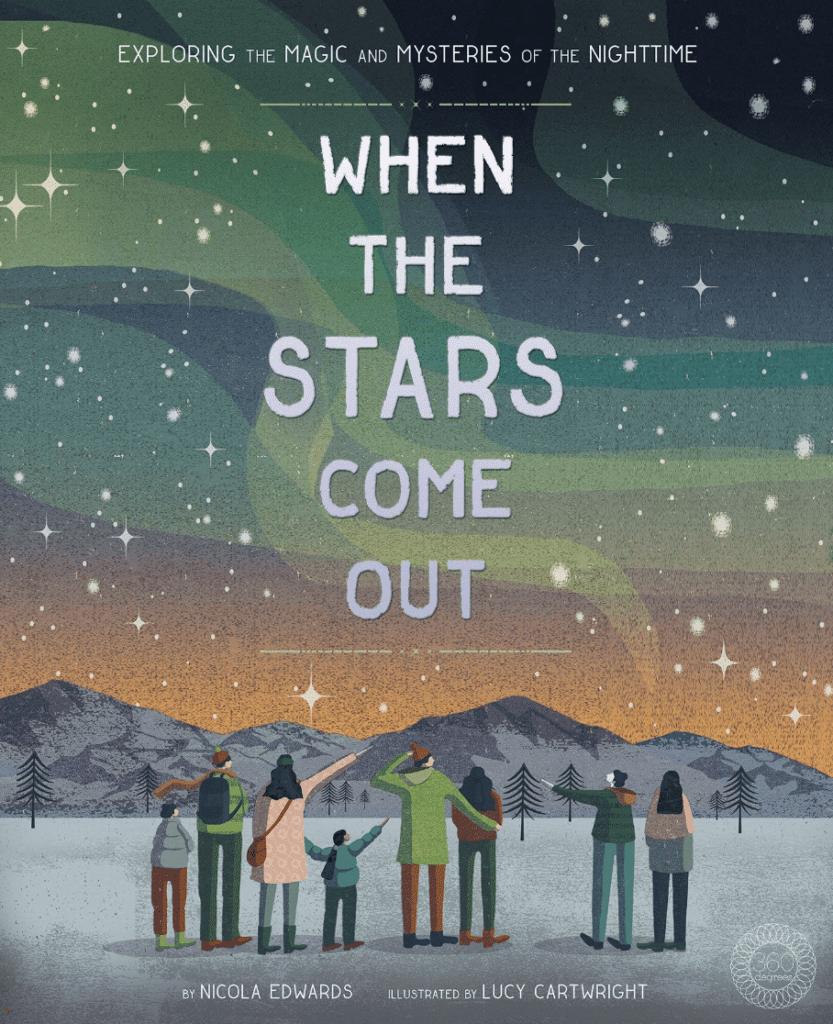 14. When the Stars Come Out by Nicola Edwards and Lucy Cartwright
This beautifully illustrated picture book explores the wonders of the night sky, including constellations, the Milky Way, and shooting stars. It's a great way to introduce young children to the beauty of the night sky. The colorful pages in this book are stunning too. I'm a sucker for amazing illustrations.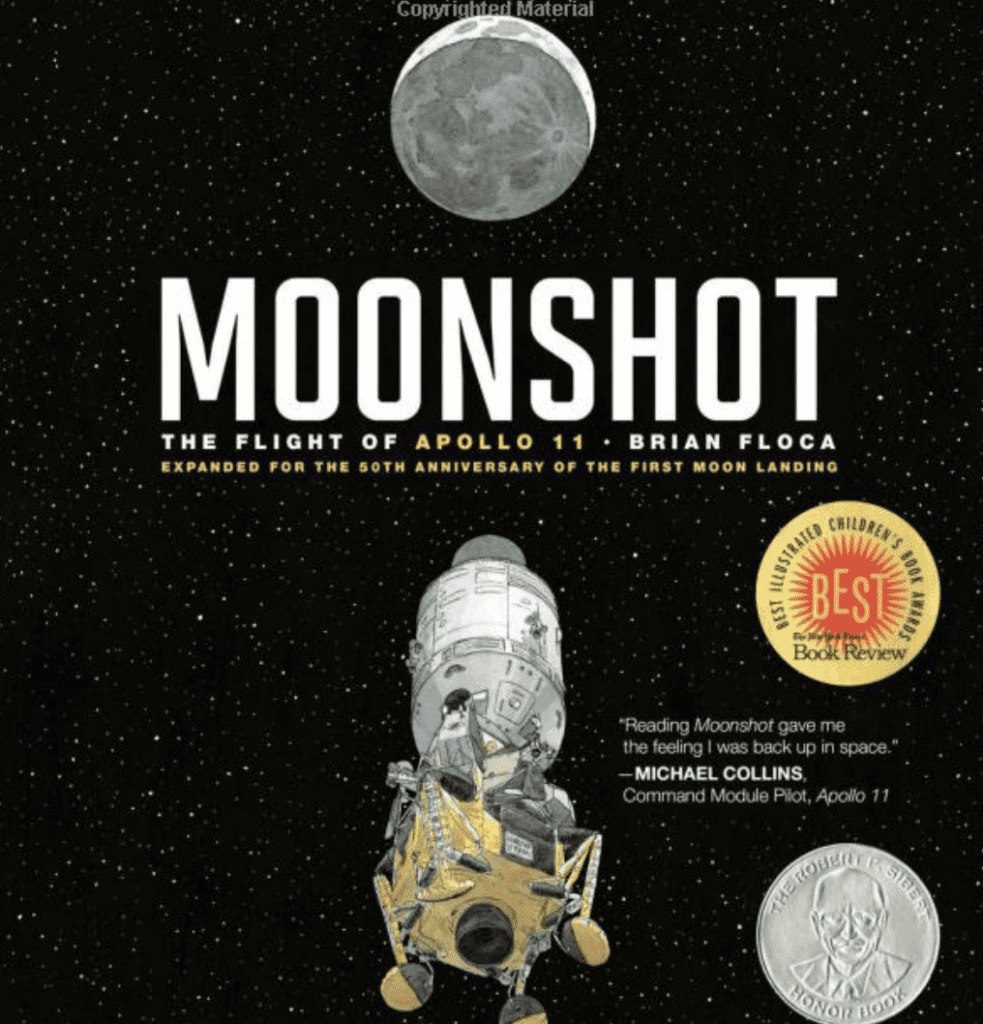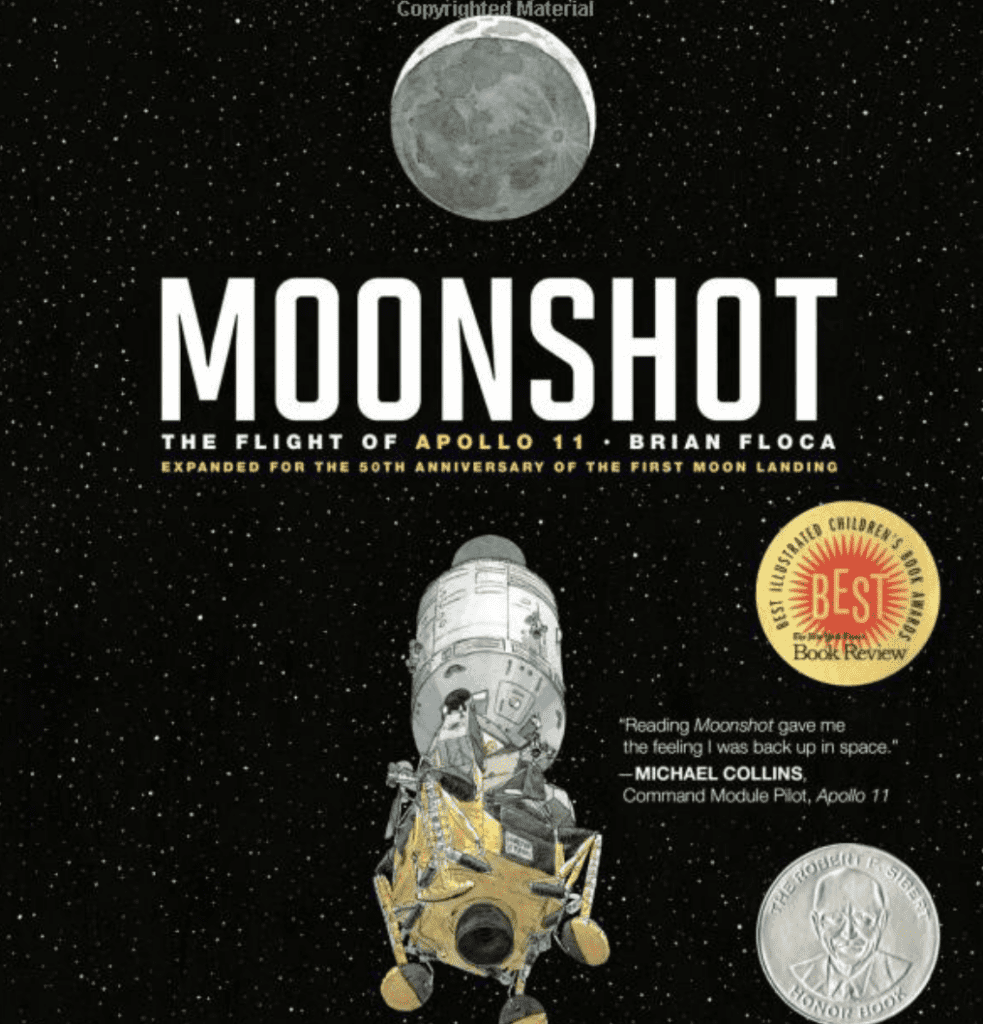 15. Moonshot: The Flight of Apollo 11 by Brian Floca
This award winning picture book tells the story of the Apollo 11 mission and the first moon landing. It's a great way to teach young readers about the moon space mission and the people who made it happen. The words are so poetic that it really could even be a middle grade book!
Brian Floca is a New York Times Best Children's Book Winner – all his non- fiction books are amazing & could be enjoyed by all ages.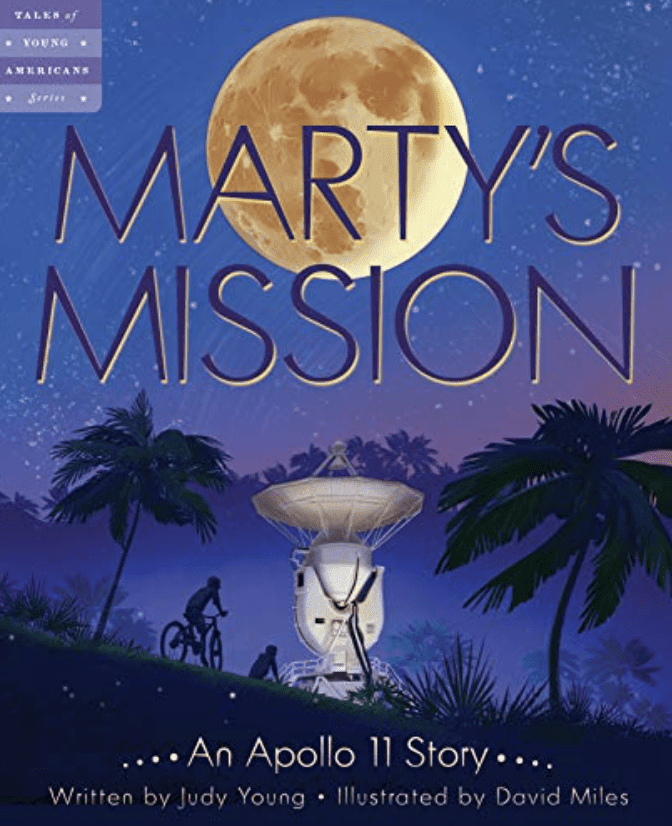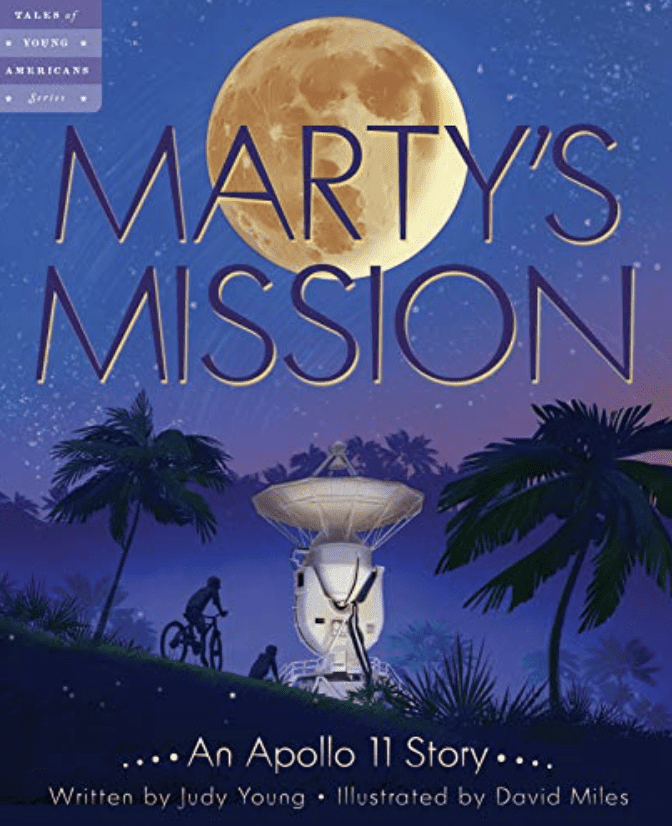 16. Marty's Mission by Judy Young and David Miles
My kids absolutely loved this book! In this picture book, a young boy named Marty dreams of being an astronaut. He learns about space travel and the history of space exploration, and eventually gets to take a trip to space himself. It's a great way to inspire young readers to pursue their dreams.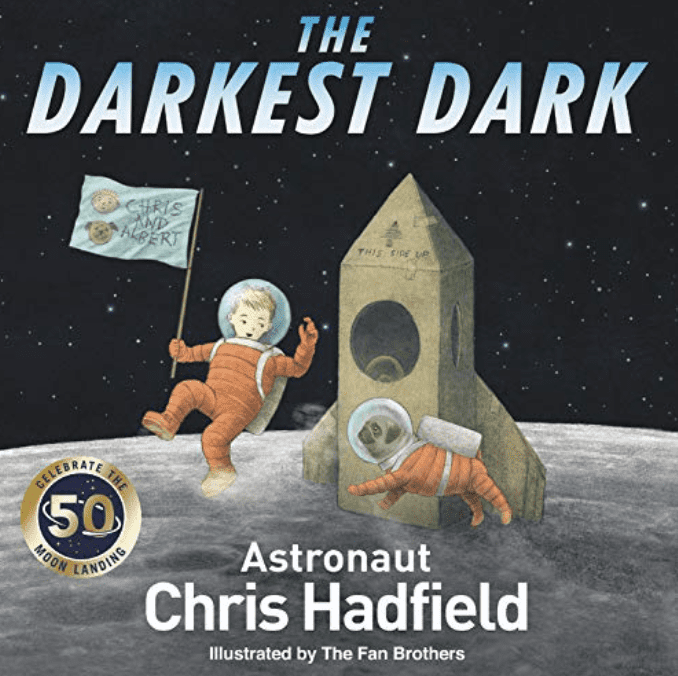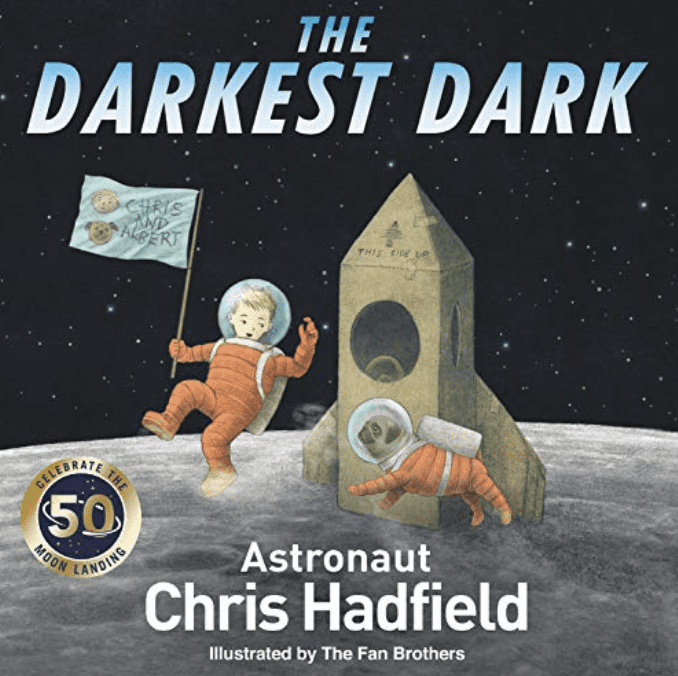 17. The Darkest Dark by Chris Hadfield and Eric Fan –
This picture book tells the story of Chris Hadfield's childhood fear of the dark and how he overcame it to become an astronaut. It's a heartwarming story of perseverance and determination, and a great way to introduce young readers to the ins and outs of the space program and the joys of space travel.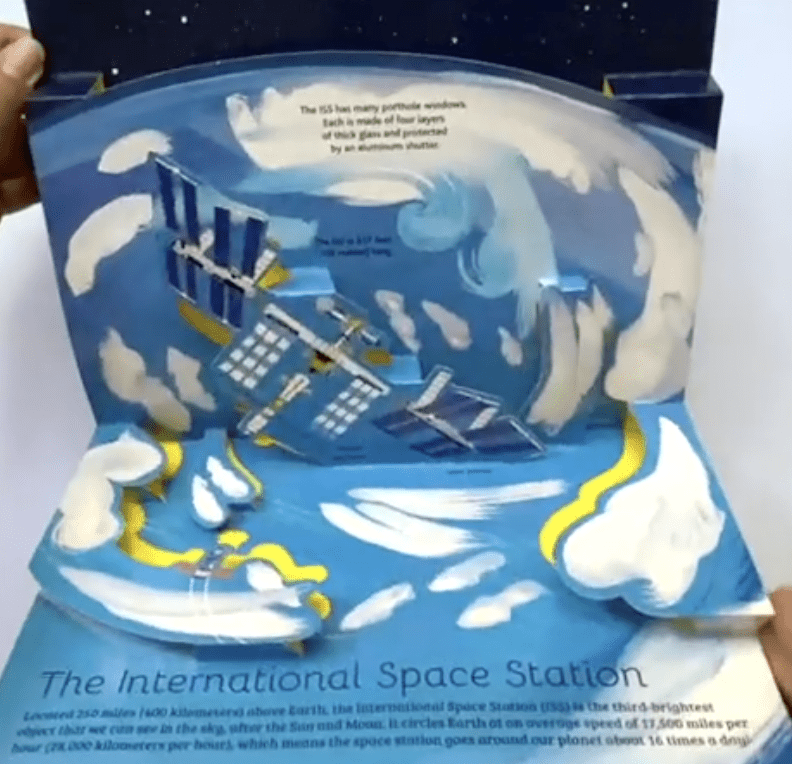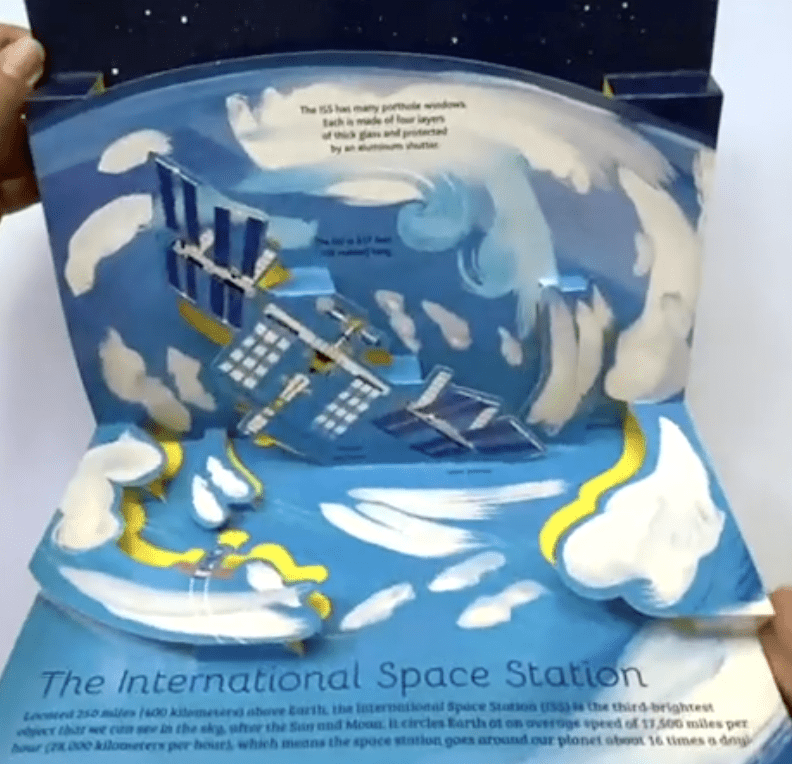 18. The Pop-Up Guide: Space by Sophie Dussaussois and Charline Picard
This is a really fun pop-up space book that explores the wonders of space. The book includes interactive pop-ups that illustrate complex concepts such as the phases of the moon, the orbits of the planets, and the structure of the Milky Way galaxy. It covers a wide range of topics related to space, from the history of space exploration to the latest discoveries about the universe.
This book is a great option if you have kids of a wide age range…. I mean, you're really never too old to think a pop up book is cool. Haha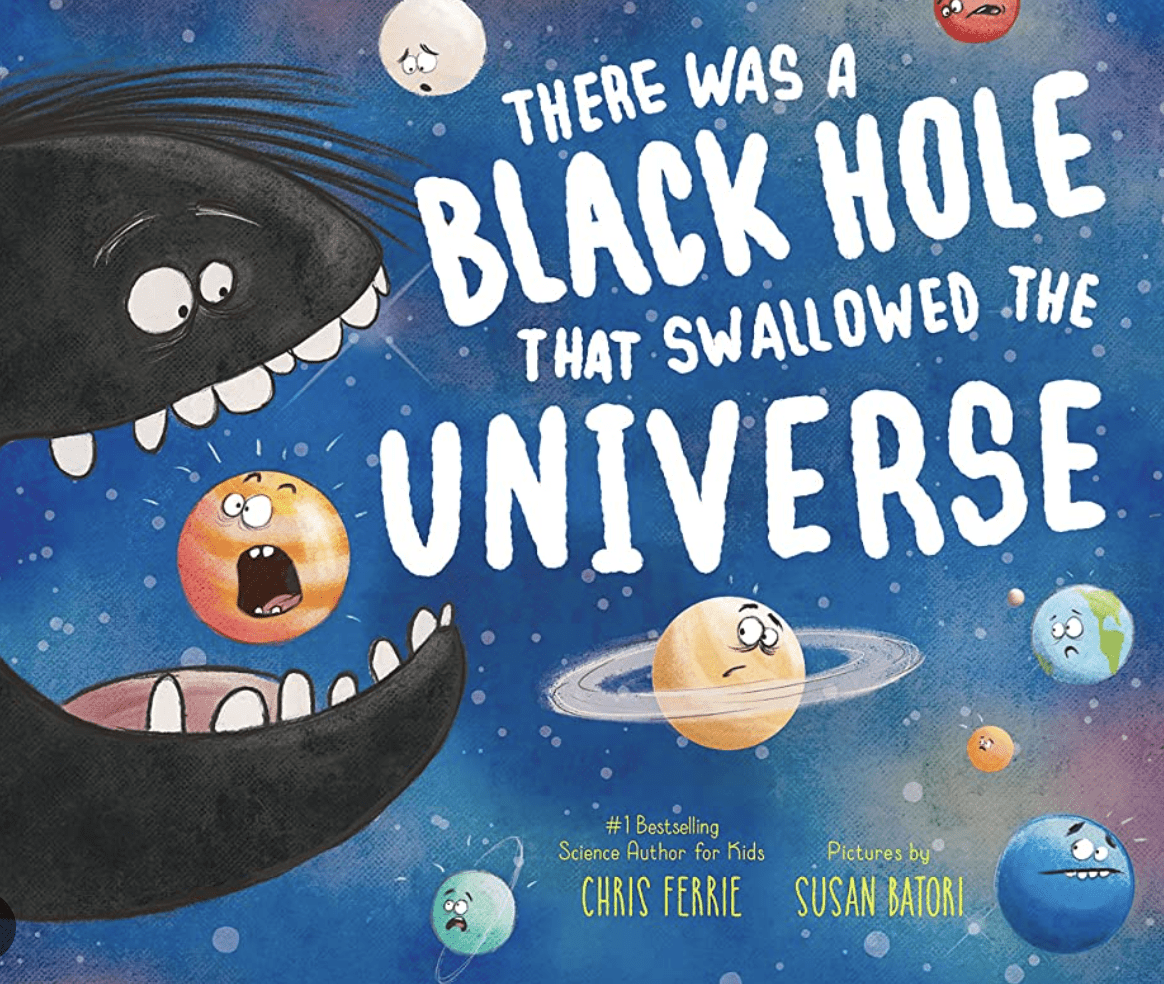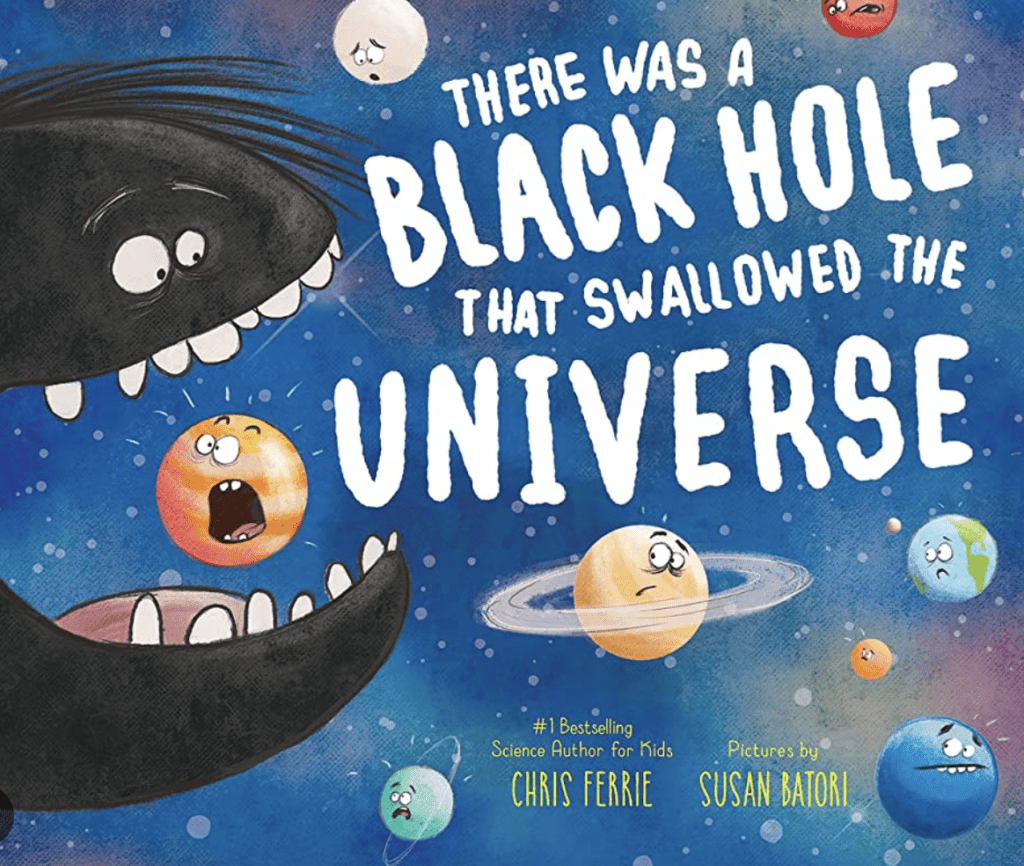 19. There was a Black Hole That Swallowed the Universe by Chris Ferrie
This one is purely silly – we stumbled on it in a display at the library during my 5 year old's black hole phase. But it was fun to read.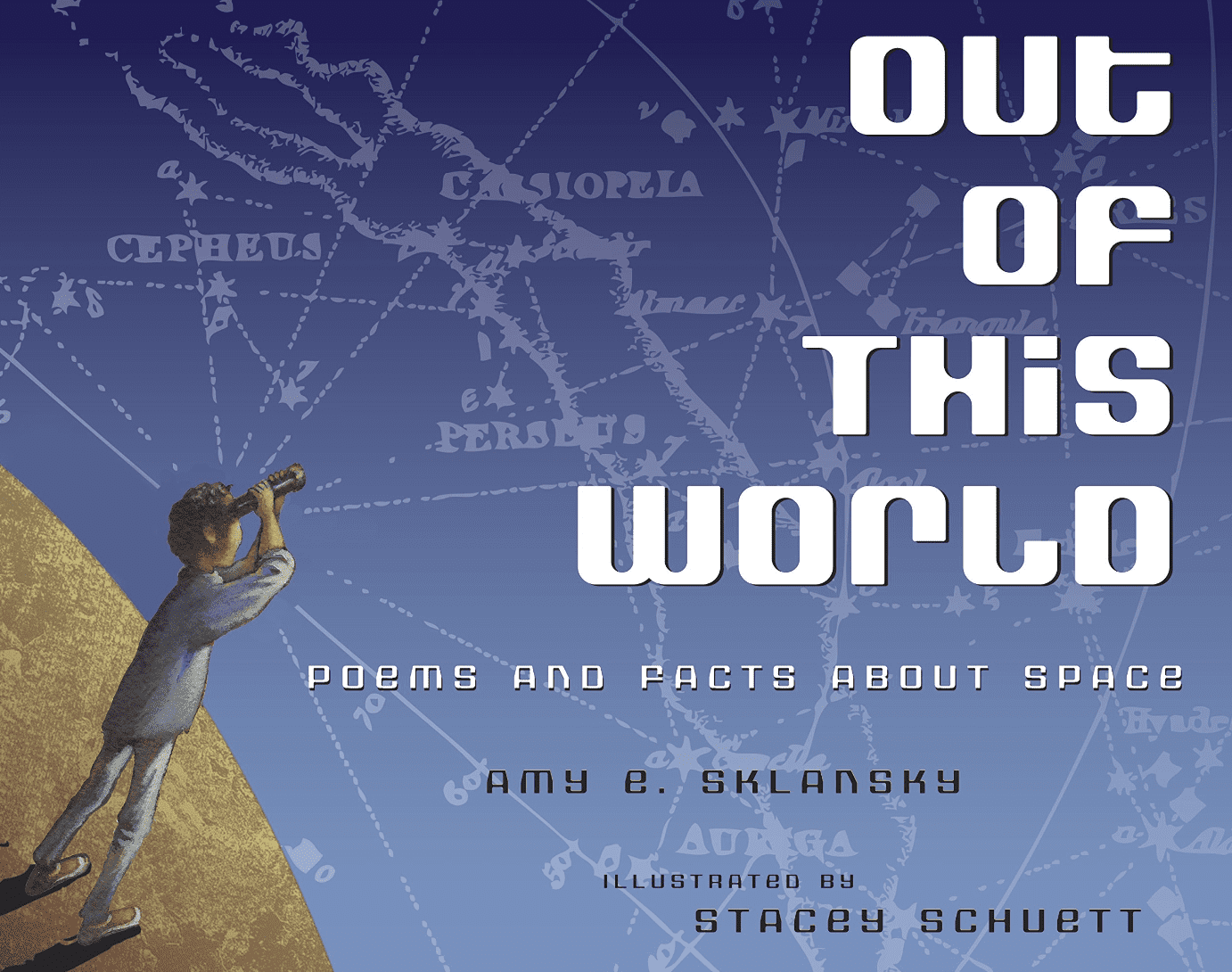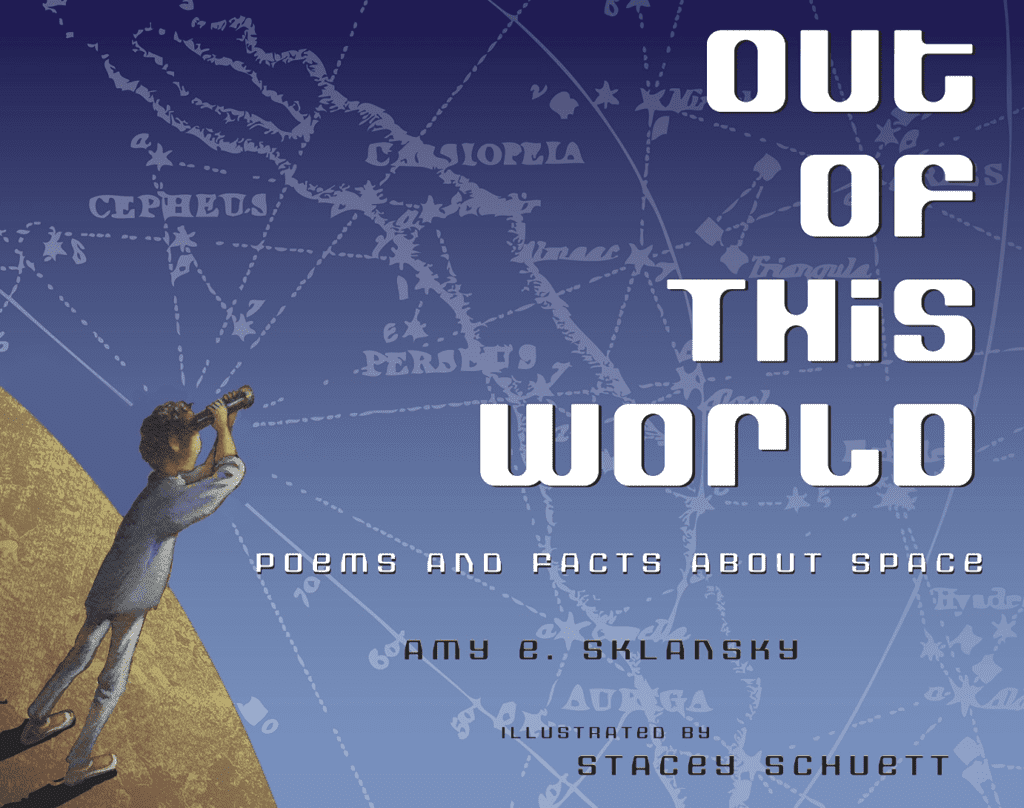 20. Out of This World: Poems and Facts About Space by Amy E. Sklansky and Stacey Schuett
This collection of poems and facts about space is perfect for young readers who love both poetry and science. It covers a wide range of topics, including the solar system, galaxies, and black holes. It's a great way to make learning about space fun and engaging for children.
You could totally use this to read a poem about space each week as part of your Morning Time routine.
Simple Science Process with Littles in Your Homeschool
I am 100% committed to the process below. The more I observe how well songs + books works to inspire & teach young children, the more convinced I am it's worth incorporating into my homeschool.
My recommendation for homeschoolers with littles when it comes to Science is to:
Listen to Memory Work Songs – Memorizing songs gets young children pondering things they haven't heard of, asking "Why" and "How" questions, building foundational vocabulary in a subject for future learning, and paying more attention in books when they hear something they can connect to a song they know.

Read great picture books – ahem! the list above!!

Observe nature – (no fancy materials required – just spend lots of time outside)

Watch occasional YouTube videos about the topics – also Wild Kratts & Magic School Bus. Haha my kids have connected a lot of dots from those shows to the books we read.

Give your kids lots of unsupervised, unstructured playtime. This gives them the chance to experiment, ask questions, think, play, and find answers for themselves… all great skills for budding learners.
A Podcast Episode That's Worth Your Time
I actually very recently heard a podcast episode about this exact topic of nature & books!! Sarah Mackenzie (whose podcast & book recommendations I love) released a whole nature study book list & had a great conversation with 2 other veteran homeschool moms about using books as part of science. They are way more experienced than I am, so if you want more validation, check that episode out!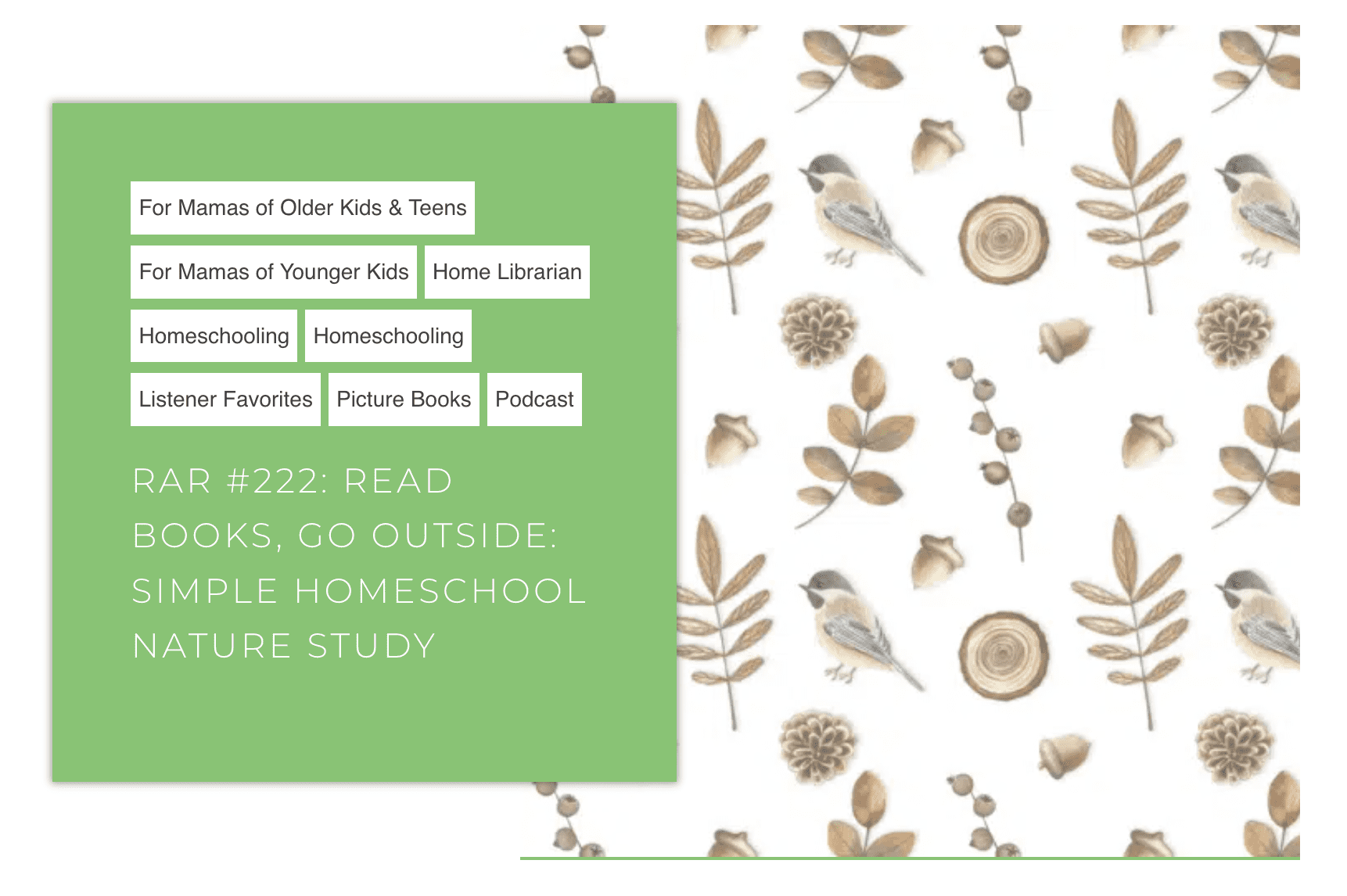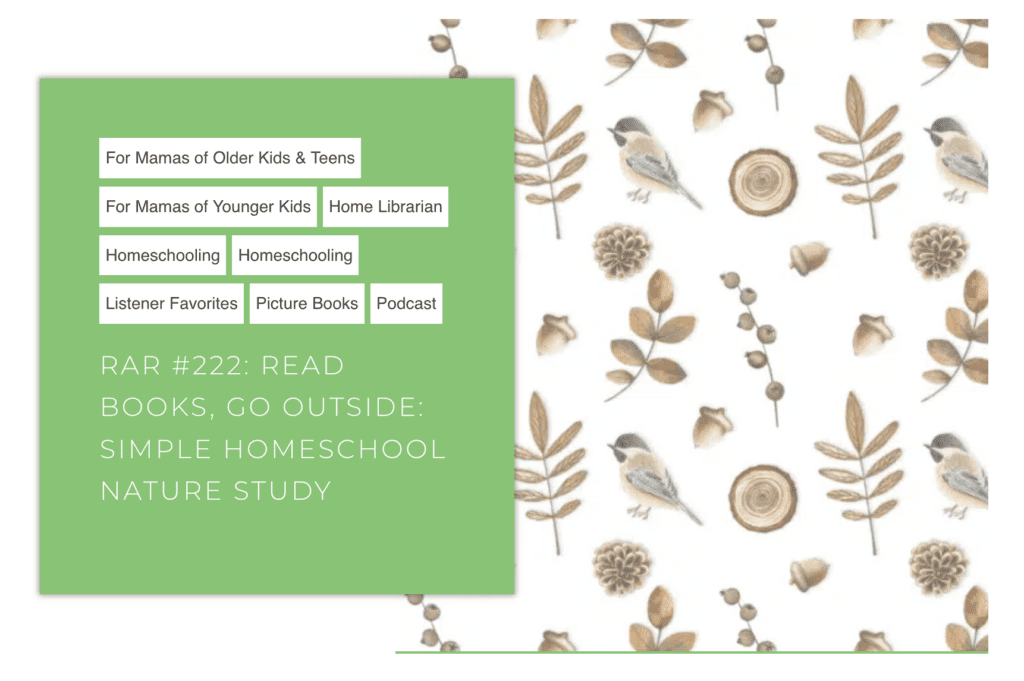 Remember…
You don't need to have a fancy game plan or spreadsheet for what topics you'll study in which year. Perfection is the enemy of the good. Just start with something & build over time.
Sing the silly songs, dive into a few good books, draw pictures from the books, and enjoy learning with your kids!
These 25 Astronomy Songs are SO fun. You just download them to your device and listen any time, anywhere.
Sample Weekly Schedule with Science Songs
You are the boss of your homeschool so you get to use the songs however you want. Some people teach them weekly and some people just learn a couple each month. Others just play them over lunch or in the background of their kids' afternoon quiet playtime.
This was the generally weekly rhythm I used when we did our Astronomy year.
Monday – I would introduce a new space song and we'd sing it several times, practicing in silly ways. I would usually say it through once slowly wtih the kids reopeating so they could learn the words that were hard to pronounce
Tuesday – we practice memory work at a co-op with friends.
Wednesday – we'd just practice it and review it. (We do all our Memory Work at the breakfast table.)
Thursday – each kid would have a chance to sing it by themselves with the music & we'd sing it together again
Friday – "Chocolate chip memory review" where each kid who wants to try it individually gets a chocolate chip for everything they recite to me.
I checked out space books randomly and read through them during Morning Time – usually about 2 picture books per month.
Like I mentioned, these books pair really well with our Musical Memory Astronomy Songs.
The songs are included in our complete Year 1 Program, but you can also just grab the Astronomy Songs if you're doing a space unit or have a kiddo who loves all things space.