What is Musical Memory?
Musical Memory is a song-based memorization program that helps children learn the basics of some standard elementary school subjects. So far, we have songs for Math, English Grammar, Science, Latin, and Bible. It is intended as a supplement to curriculum for individual families and larger homeschooling communities.
How does purchasing Musical Memory work?
We have made Musical Memory very easy to access. Anything you purchase can be used freely in your own home, for your own family.
When you purchase a Musical Memory album, you'll receive a zip file with all the mp3s of individual songs for the album you purchased. You can use any MP3 player app you want to listen to those, download them on all your devices, or even burn CDs for the car if you're rocking one a pre-2021 minivan with a cd player.
You can use any mp3 or music playing app you want. Here are our app recommendations.
What if I want to share with my co-op or a group of families?
We offer custom discounts for homeschooling communities and co-ops! Whether you have a formal homeschool program, or are just a group of families who homeschool together, you can access our group license discount code by contacting us.

How do the songs help my homeschool?
We have created albums of songs that cover the fundamentals of several standard subjects. Just hit play on the playlists we send you, and help your children learn the lyrics over time.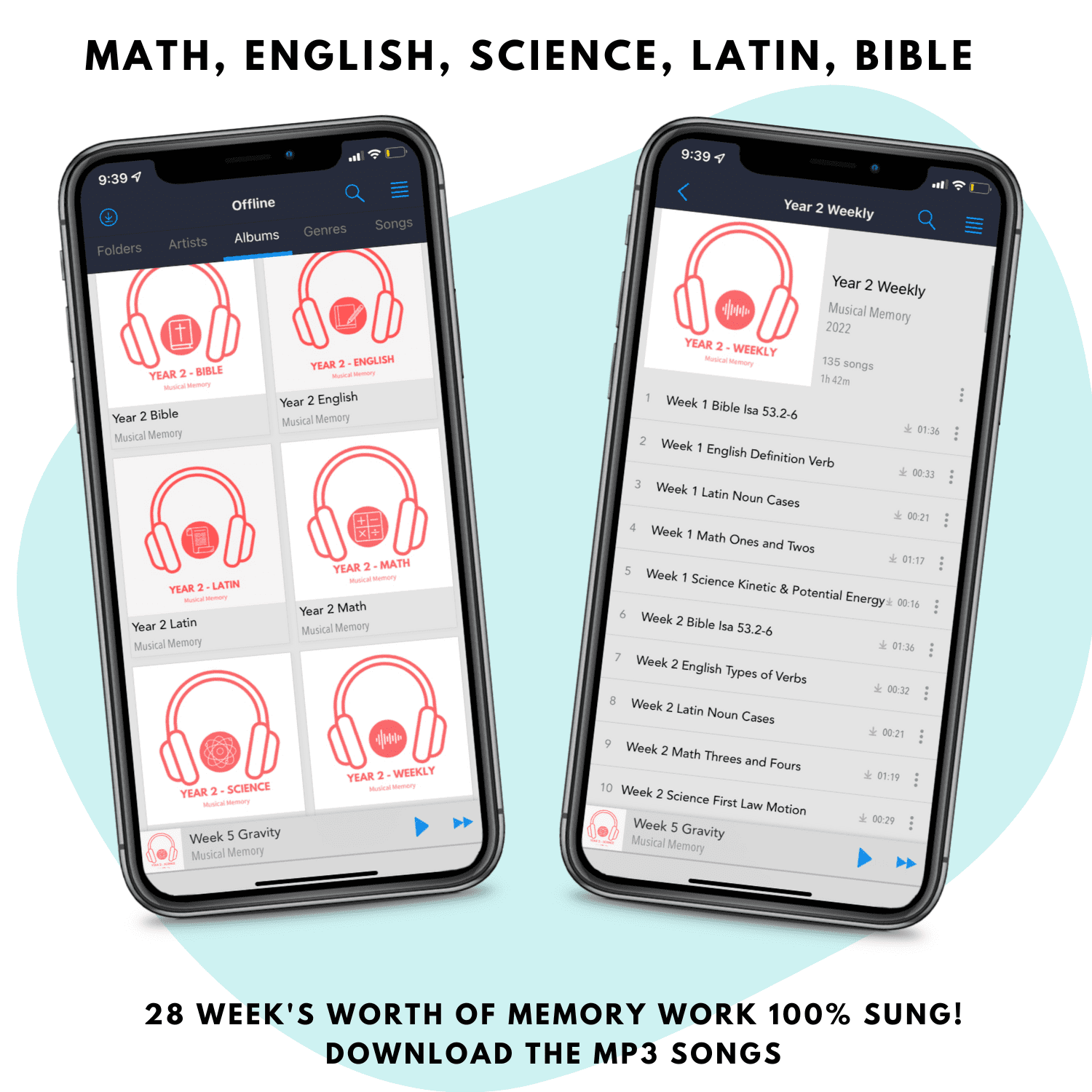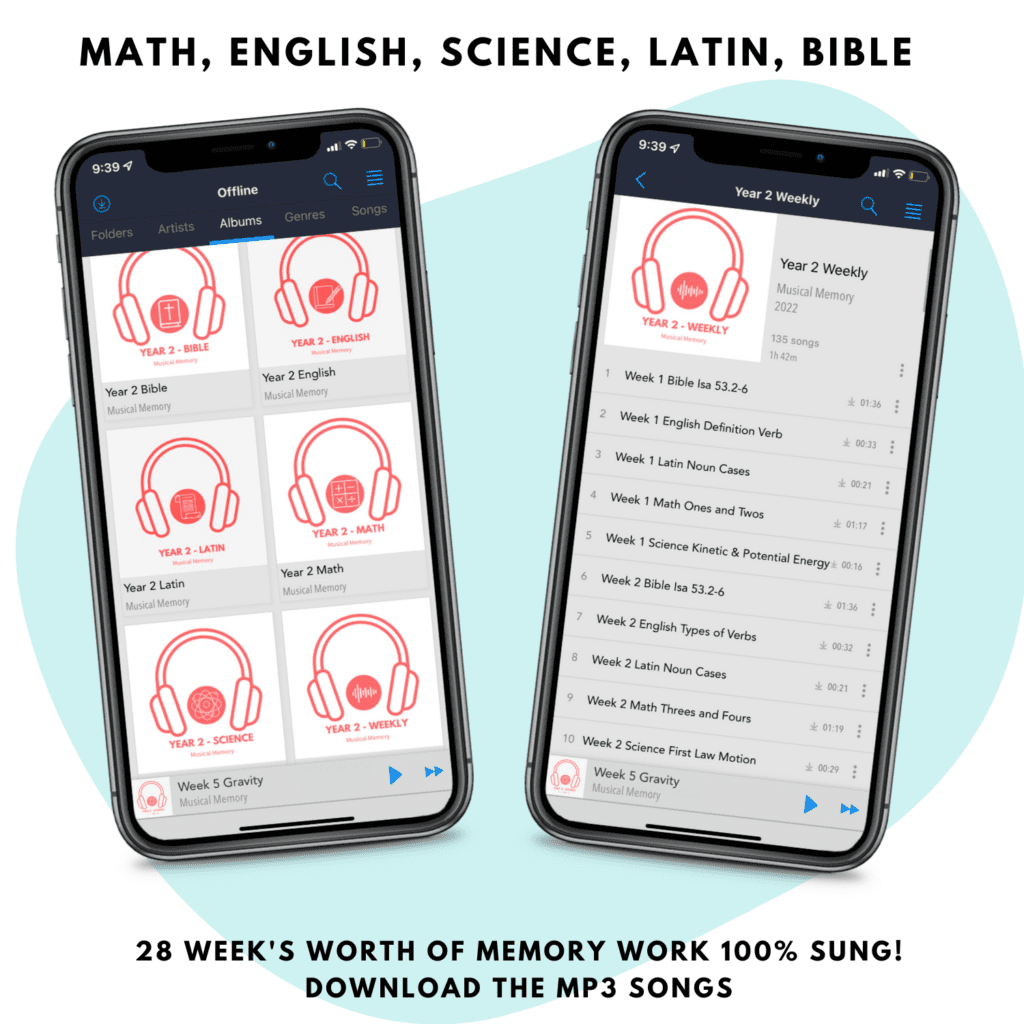 As your children study each subject more deeply, they will have the fundamentals of that subject already memorized, which will help then understand deeper concepts more quickly, and more thoroughly.
To learn more about how Musical Memory specifically enhances critical thinking and deepens understanding over the course of your child's developement, read this article.
How is the Musical Memory program structured?
Everything we've created is very flexible, and you should feel free to tailor it to your family's homeschooling. We offer the same songs organized a couple different ways.
Individual Subjects
You can purchase subjects individually, which works well if you don't want to do a comprehensive memorization curriculum with your family, but rather, you want to memorize specific subject matter.
For example, some families don't feel like they have the capacity to work on Latin from a very young age, but they want their child to be prepared to study Latin when he's older. The Latin album is perfect for that! (And it's coming soon!!)
3 Year Program
If you are interested in using Musical Memory in a more comprehensive way, we have divided all of our material up into three years of weekly work. If you work on one Yearly Album per year for 3 years, you'll complete the entire program. We recommend working on the albums twice during elementary school, so 1 album per year from K-2 and then repeat the albums from 3rd-5th.
The Yearly Albums are written for a 28 week school year, allowing for plenty of review & breaks throughout the year. Refer to our Program Overview Page for more information on the yearly approach.
Download our Free Sample Math Songs!
Is Musical Memory a complete curriculum?
Nope! It is intended to supplement whatever other curriculum you use by making it easy for your child to memorize the basic facts for each subject area. Musical Memory is not based on any other specific curriculum. It works well alongside many of the popular homeschooling curricula.
We worked together with experts in each subject area to compile the text for the program. Plus, we surveyed lots of popular curriculum & the good ol' dictionary to come up with standard definitions & formulas. Math formulas, English Grammar basics, and the layers of the atmosphere are fixed, and most of our program contains the basics that will be relatively similar across very curriculums, with occasional slight wording variation.
We've heard from families who use our songs alongside several different popular homeschool curriculums including: The Good and the Beautiful science units, TGTB language arts, TGTB Math, My Father's World HBL, Michael Clay Thompson Language Arts, Singapore Math, Saxon Math, Horizons Math, First Language Lessons, Elemental Science Grammar Science, and more.
How do families use Musical Memory in their home school?
Typically, families who use Musical Memory treat memorization as a family subject for elementary school aged kids, meaning all kids ages 4-11 practice the songs at the same time.
You can use our 3 year program and practice the "weekly lists" comprised of a few different subjects. Or, you can handpick the subjects you want to work on for the year and create your own schedule for learning the material.
You can do Musical Memory any time during your homeschool day – before/ after read-alouds, during a meal, or even in the car. Our family focuses on 1 week at a time for the school year, taking breaks for holidays throughout. Occasionally, we'll just play the entire playlist while the kids play legos or do other hands-on activities.
How do I listen to the songs?
We recommend putting all your Musical Memory songs on your phone! That way you can listen anytime, anywhere. Maybe someday we'll be fancy and have our own app, but for now, we have a top 3 app recommendations list over here.
I love it all! Can I get it all at once?
After all 3 years of content are complete (in time for the 2023-24 academic school year), the entire program will be available for purchase in several formats.
For now, you can purchase individual subject albums, Year 1, and/or Year 2. Check out our shop to compare the different options.
When you choose a YEAR'S worth of material, you will receive: a weekly grid layout (pictured left) of what to memorize plus all the songs in a weekly playlist (pictured right). Your printable guide also comes with overview pages of all the material for each subject (pictured middle). Plus, tons of other tips, review games, and individual subject song albums.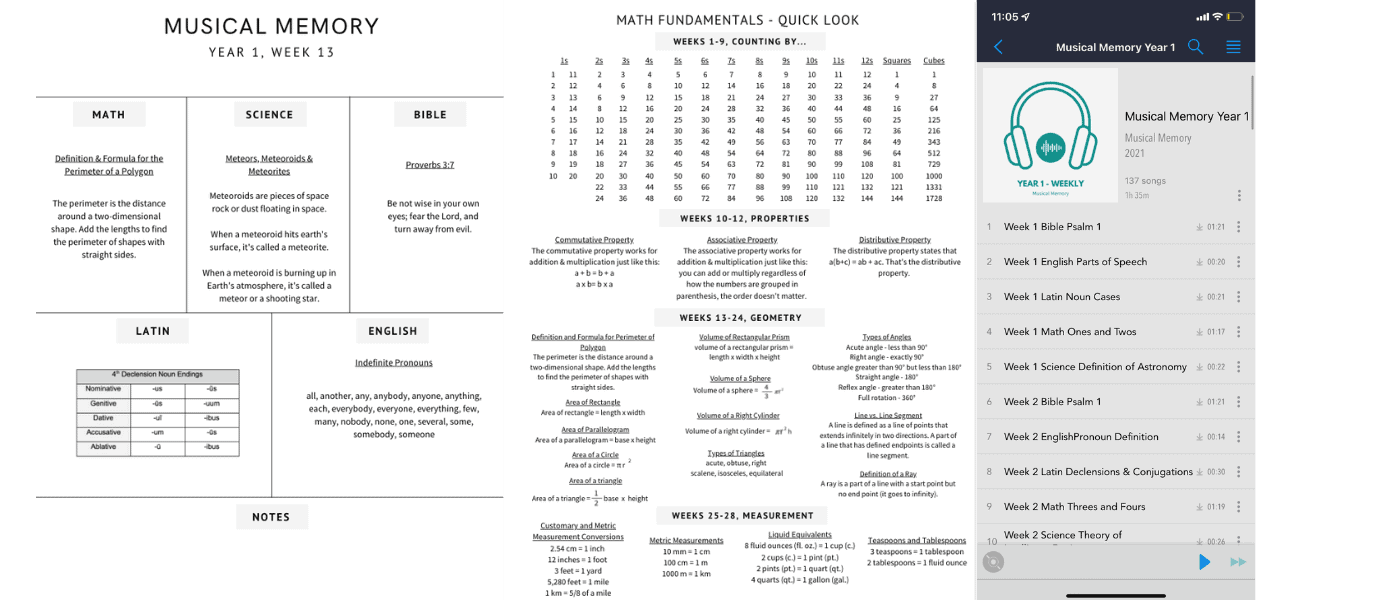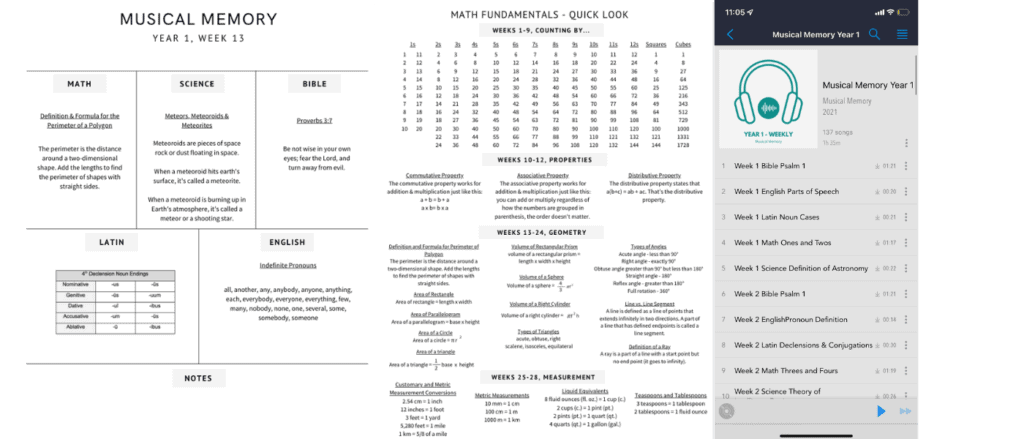 You can get a sneak peek at the entire program by downloading the 2 week sample here!
What about using Musical Memory in schools?
We create custom packages for classical schools and hybrid homeschool programs.
Email us to schedule a free 30 minute call to ask any questions you have about 100% customizing Musical Memory for your school's needs.
How do I practice Musical Memory at home? Do I just play the songs or is there more to it?
You can practice Musical Memory however you want in your homeschool. Here are some ideas for utilizing Musical Memory in your homeschool.
How did you choose the content for Musical Memory?
The program is written in collaboration with teachers and homeschooling parents who have been successfully using classical methods for years. They contributed to the subject content for their areas of expertise, and we organized the content into short, sweet, and catchy songs. We pored over multiple highly rated curriculums for each subject to compile a comprehensive, yet simple foundation for each subject area.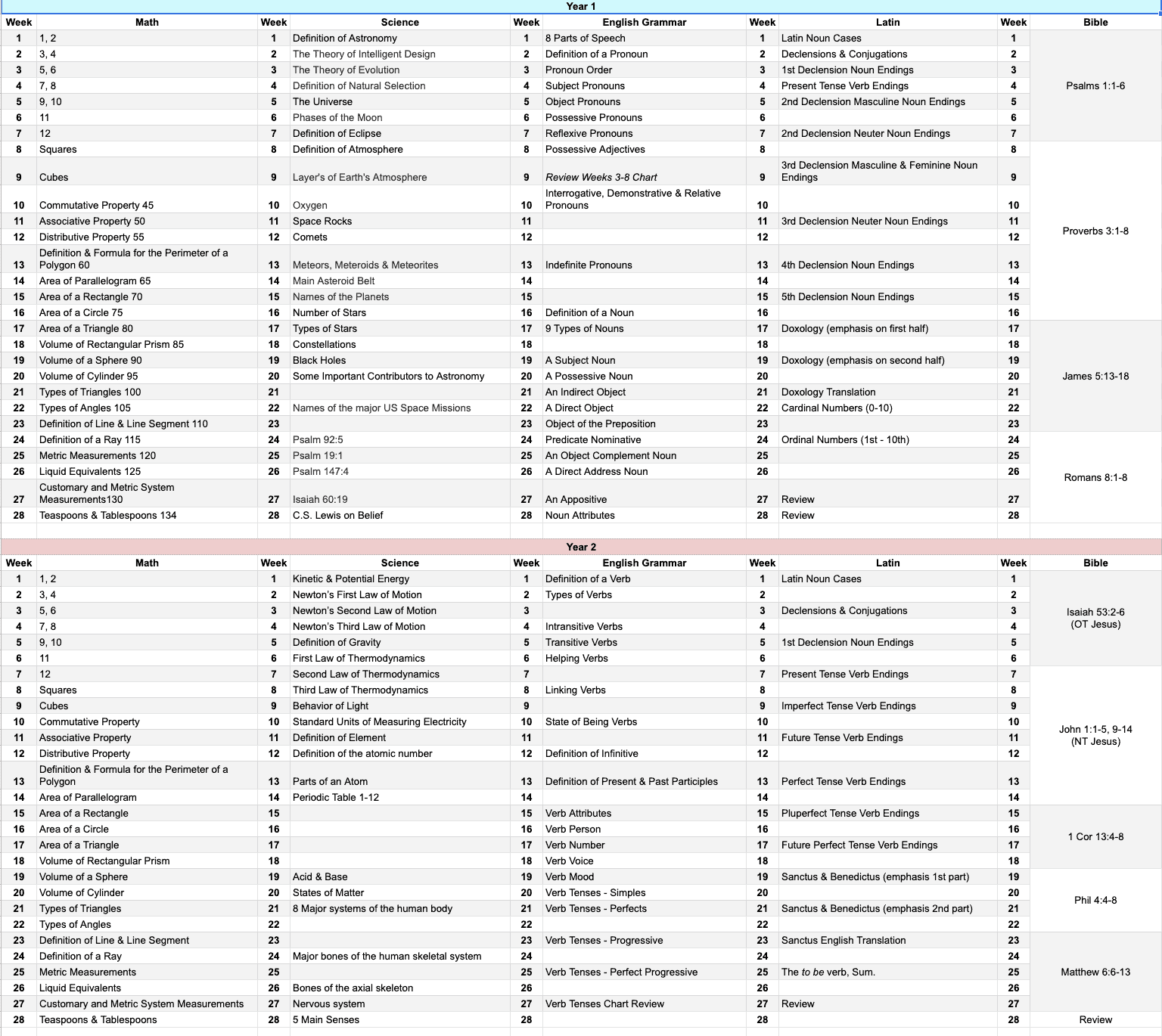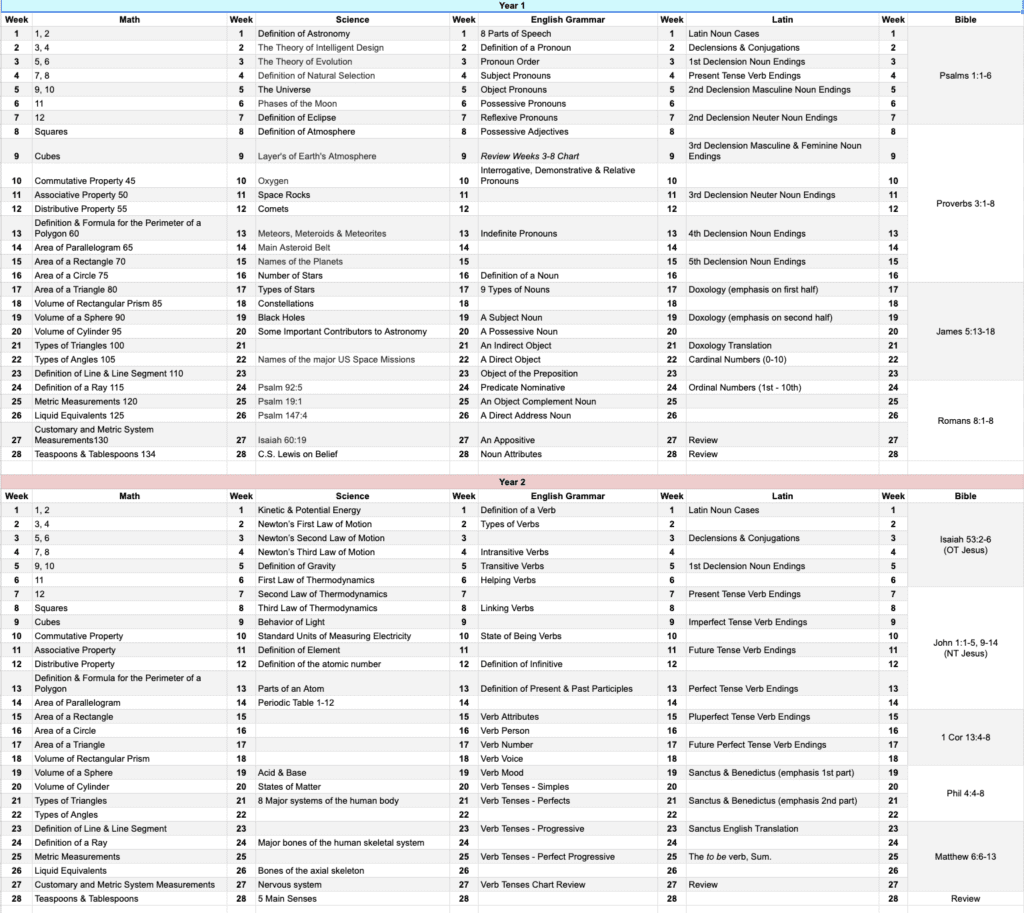 The goal of musical memory is not to teach your child everything they need to ever know. (That would be impossible!)
Rather, we aim to help you & your children learn the basics in a fun, simple way and inspire them towards asking questions and digging for answers on their own. The process of memorization trains the brain to sort & file information and builds a framework for drawing connections as children grow in their ability to think critically on a deeper level.
Download our Free Sample Math Songs!