There are so many great math curriculum options out there for homeschoolers. It can be very overwhelming to choose. In this post, I'll explain why we landed on Singapore Math and also review a great alternative.
First, I want to encourage you that there is no 'best' math curriculum. I've looked through many of them, read reviews of all the big ones, and used a few different ones in our home.
After a couple years of stressing over curriculum choices, I finally realized – there is no single 'best,' curriculum. (Though every curriculum claims to be the bomb.) In fact, there are many great options out there & the best curriculum is the one that works for you & your children.
The curriculum we should each use is the one that makes sense to us and that we don't dread using.
I also realized homeschool curriculum is a tool that serves our learning goals. We do not serve the curriculum.
So, take a deep breath & just pick the one that you won't dread teaching. That's a great place to start!
Preschool Math
Preschool Math at Home – You will learn so much about teaching math from this tiny little book.
We've dabbled in other preschool math curriculum, but I would honestly say none of it is worth it. I truly believe that expensive preschool curriculum does not enhance learning for young children. It's all for the parents – both to help you learn how to teach it, and also to make you feel like your kid is doing something. Haha. I needed that with my first child (and maybe you will too). That's okay. But after the first kiddo, preschool got a lot more haphazard around here & I wouldn't have it any other way.
Preschoolers learn a ton from living & playing in an intentional home environment full of books, conversation, and love. Children are designed to learn. If you talk & read with your child, you'll be amazed at what they start figuring out.
In the meantime, Preschool Math at Home will give you the tools to understand how to teach math. And, the hands-on activities have set our kids up well to start kindergarten & 1st grade math on the right foot.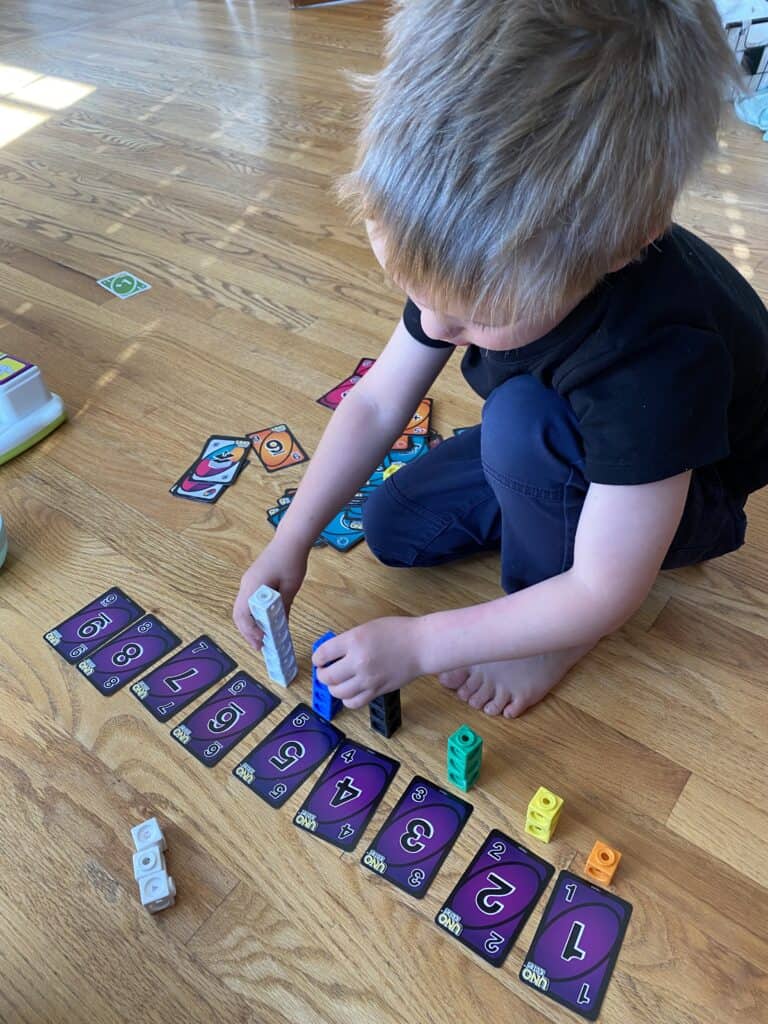 Top Elementary School Homeschooling Math Curriculum Pick – Singapore Math!
My all time favorite math program for the elementary years is Singapore Math. They have 2 great options, both of which will effectively teach math.
Their two main programs are called: Dimensions & Primary Math.
Dimensions was originally written for the classroom, but they now also have Home Instructor Guides which are highly effective. We used these for a while. The practice books can be tedious – you don't need to assign all the problems for practice if your child understands something.
They have video based subscriptions for Dimensions too, so if you want some video instruction, Dimensions would be a good pick. My kids generally don't like how slow video based instruction feels, so we don't use it, but they're well done. You can view the first chapter videos of any grade level for free on their website..
There are several versions of Primary Math, which makes buying it seem complicated. The "Primary Mathematics U.S. edition" is the long-time most popular edition among homeschoolers.
The curriculum writers recently updated it with a new version called "Primary 2022." This is what we've switched to and I absolutely love it.
(They also have common-core & state standards aligned versions of Primary Math, but I always tell homeschoolers to just ignore those to keep it simple.)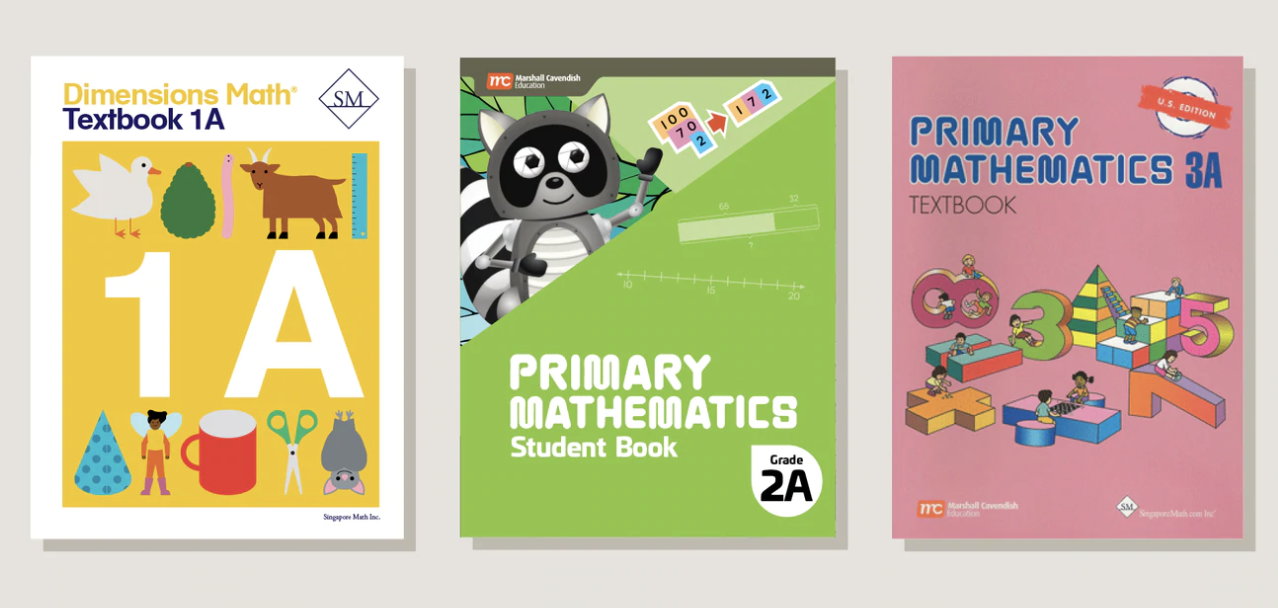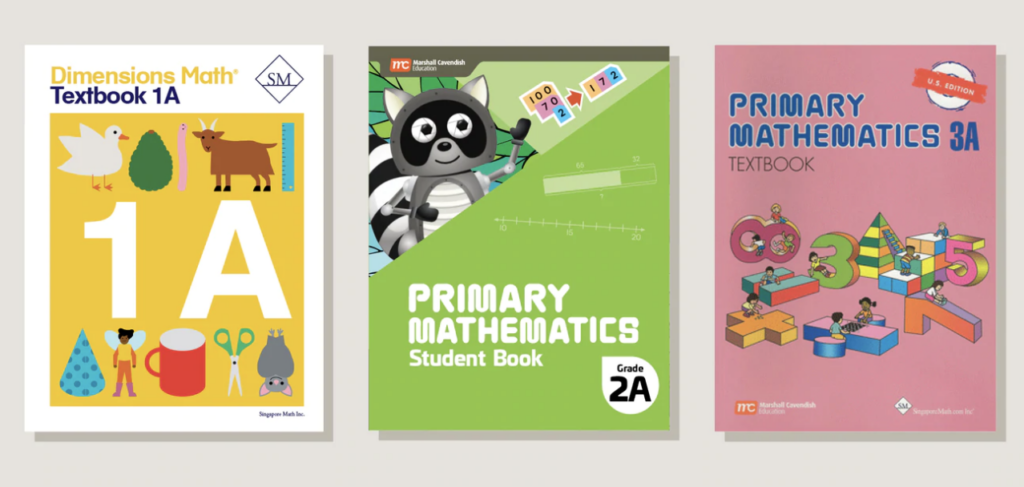 How Singapore Math Works
Each grade level curriculum is divided into A and B, representing approximately half the school year. You can use their placement tests & just buy the teacher guide, workbook, and practice book for 1/2 of your year to try it out.
I love love love Singapore math. I think it's the most effective program for elementary school math mastery and sets up students well for their future math studies. It also does a great job of gently & gradually teaching how math works in the real world.
Math is really not about repetitive worksheets with this math program… almost to a fault. I typically utilize the extra books (Additional Practice & Mastery and Beyond) for review as needed.
Singapore Math emphasizes hands-on and visual, which means it requires direct instruction. There is a gradually increasing amount of age-appropriate workbook work as well. But the primary means of instruction in the early years is hands on. Perfect for littles!
There are tons of extra workbook options for each edition of Singapore Math, but you definitely don't need them all. Here is what I usually buy for any given grade. The Home Instructor Guide is reusable year to year, the workbooks are consumable.
I've purchased from Rainbow Resource and the Singapore Math Website in the past.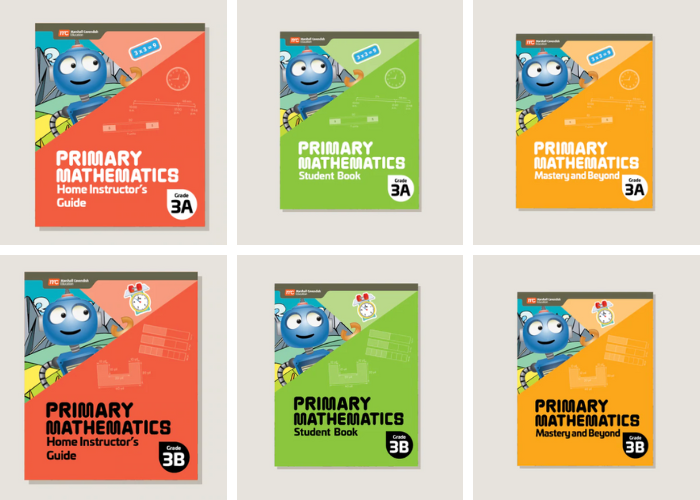 Math Facts Practice
For facts mastery, I mix it up with Addition Facts that Stick & Subtraction Facts that Stick. If you have multiple kiddos, I recommend buying the pdf, printing & storing in page protectors for repeated use. (Here's an Instagram tour of my Facts that Stick binders.)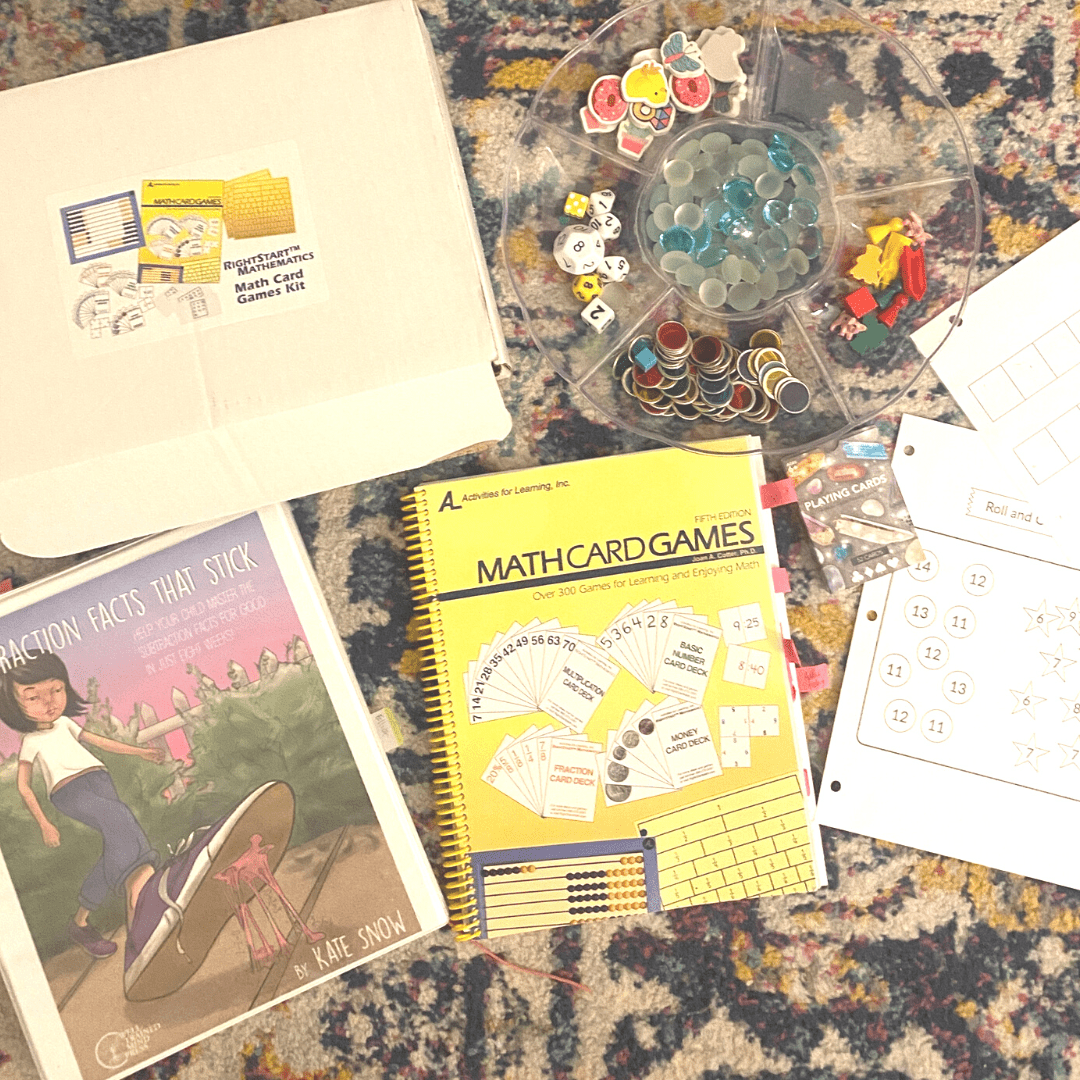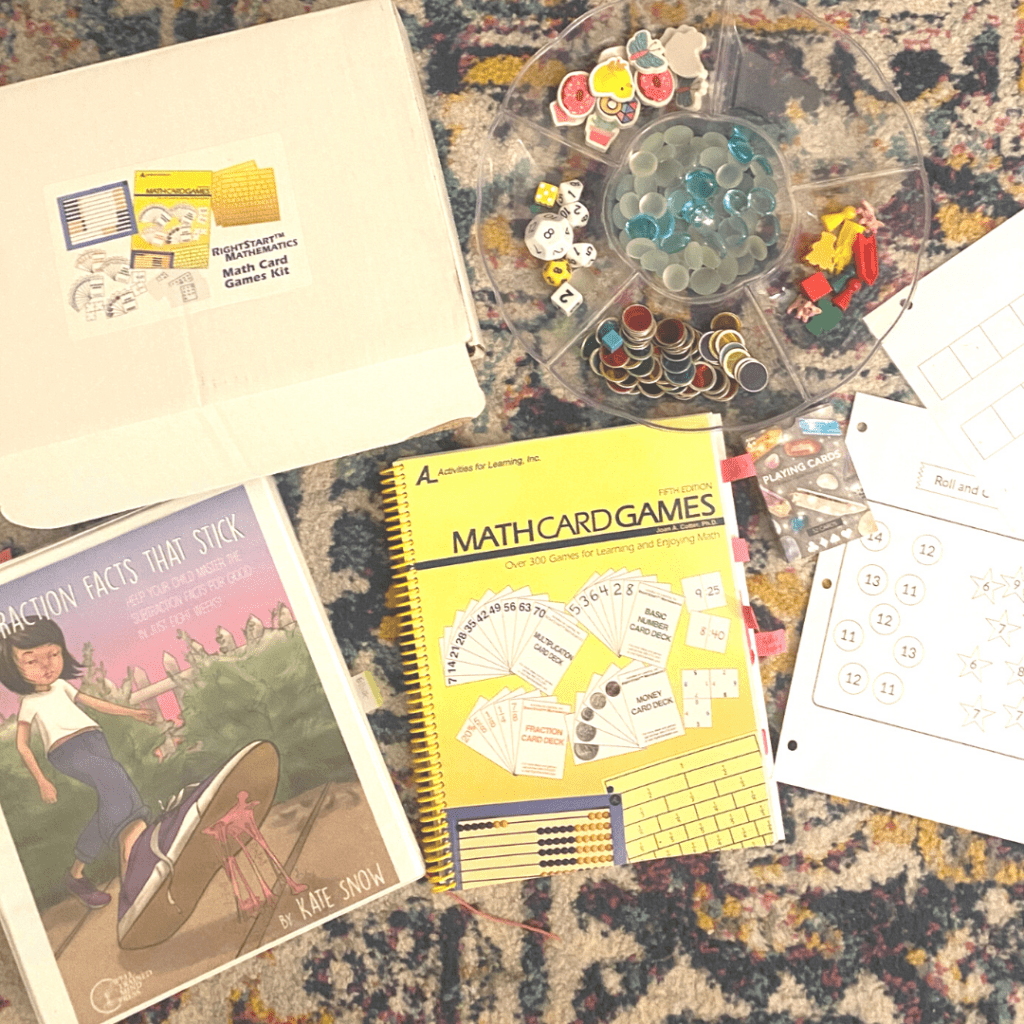 We also recently bought the Right Start Math Games kit & are really enjoying that. It takes a bit more effort to get a feel for it, but it's also much broader and has a LOT more practice opportunities with different types of thinking required.
2nd Choice for Math Curriculum – Open & Go Kate Snow Math
My second favorite Math option is Math with Confidence, by Kate Snow. It's published by Well Trained Mind and you can also find it at Rainbow Resource online.
It's brand new, so as of 2022, only Kindergarten, 1st and 2nd grade are released. But if you have a brand new kindergartener or 1st grader, she's going to release one grade level per calendar year. (3rd grade comes out June 2023). I wouldn't hesitate to use Math with Confidence if we didn't already love my
In fact, I've already purchased most of it and have used the 1st grade book to work through some of the concepts a little more slowly than Singapore Primary 2022 introduces them.
Math with Confidence is similarly conceptual and hands-on to Singapore Math. The lessons are still pretty short & sweet for little ones though.
The main advantage is that it is 100% open and go for non math teacher parents. The teacher's manual tells you every single activity to do. Everything is so simple.
And it's very inexpensive!!
Plus Kate is a Homeschool Math genius. She has a Math phD from Harvard, a teaching degree, and she homeschooled her own kids. I highly recommend poking around her site & taking her free homeschool math e-mail course.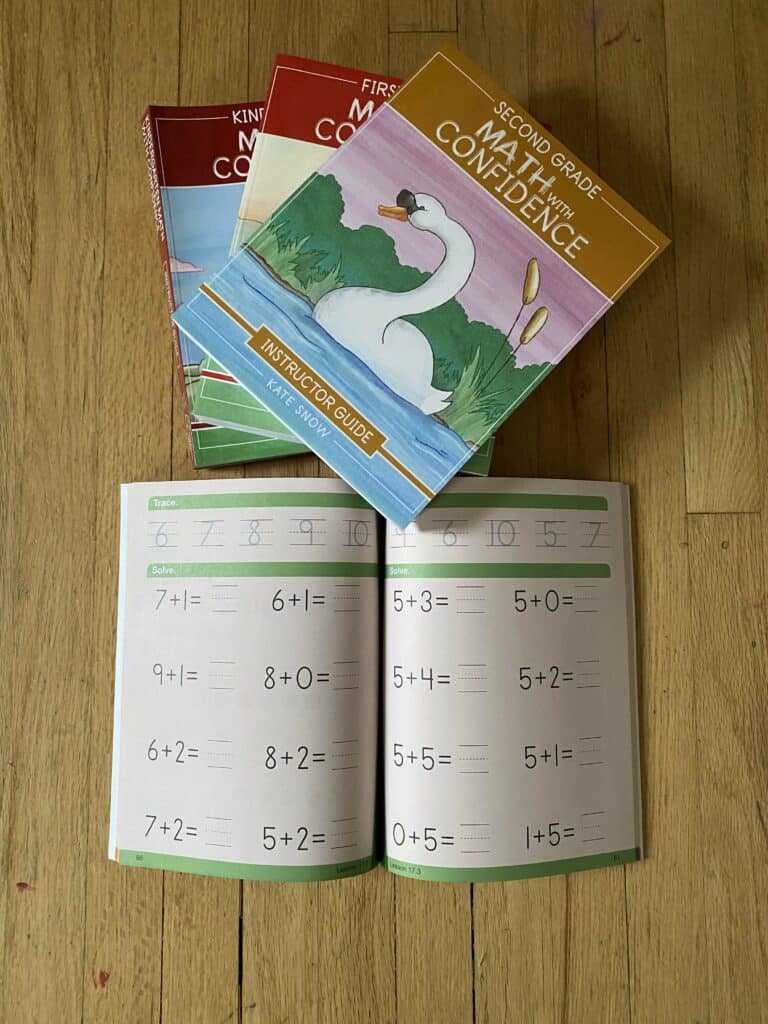 Math Manipulatives
My go-to math manipulatives are:
Math Printables Packet – includes part/part whole mat, 5/ 10/ 20 frame flashcards, 5/ 10/ 20 frame templates, all of which I use on a regular basis.
Counters or tokens – we use household items and these clear colorful ones
Random game pieces – whenever we get rid of an old game in our house, I save the pieces and toss them in a container in our math drawer.
Real coins – get a roll of each at the bank
Real dollars – a couple of each of the small bills
Number cards – write numbers 1-20 neatly on index cards or cardstock; laminate for long-term use.
Pattern blocks – plastic or wooden doesn't matter as long as they're all the same. Get a big set!
Base 10 set – 1 set of ones, 1 set of tens, 1 set of hundreds, 3-5 thousand cubes (you can always get more in the future years if you want)
Learning Resources clock – The precise, movable hands are key.
Mini white board, markers, erasers – I linked the ones we own & like, but anything will do.
Place value numbers & discs – especially helpful if you're using Singapore Math, but a good visual that would supplement any curriculum.