This post is full of ideas for what to do during your summer months as a homeschool family. Whether you take the whole summer off of formal schooling or continue your regular curriculum year-round, chances are things look different for your family in the summer than the other seasons.
There is no right or wrong way to spend your summer! Some families prefer to close the books for a true summer break. Others like to keep up with certain skills so their kids don't have to backtrack at the start of the next homeschool year. And many homeschooling families keep the books open year round, which provides for a gentle pace, consistent progress, and more breaks throughout the year.
Start with Why.
My goal with this post is to provide lots of ideas, inspiration, and resources for your summer months. But, I want to first encourage you to start with your why.
What are your family's priorities in life right now?

What are you hoping to accomplish this summer? Maybe you had a hard 6-12 months and need a break. Maybe you need to work with a specific child on something. Maybe you have a big house project to tackle or a new job to adjust to. Your circumstances and season in life right now should affect your daily rhythms.

How do you hope to spend the summer months & why? What do you want/need to make time for and what do you want/ need to say 'no' to?
I'd encourage you not to just pile things on (or off load them) just because of some vague sense of mom guilt. Or because you feel like your kid will be behind or you didn't cover enough during the school year.
Seek the Lord's wisdom for your family for these next few months & run that race. Ignore anything that's a distraction from what He's set before you.
Relax, Relationships, and Refresh
My favorite thing about summer is the time to relax & refresh. We hang out with friends late at night on the weekend. I say 'yes' to things like lemonade stands and things the kids want to try that are messy & time consuming.
We'll splash at the pool on a hot day, lay around and read on a rainy day, or invite people over to grill out last minute.
I reorganize, plan, and dream about the following school year & spend time thinking & praying about what each kiddo might need (without any time crunch since we're taking a break from lessons usually).
I asked my email subscribers to share their summer plans with me and they had so many great ideas! I've compiled several of their responses and linked some great resources below.
DO NOT read this list as one giant to-do list. Pick a couple things that suit your family or inspire you and spend a lot of time soaking up the sun in the warmer months ahead.
Fun Summer Homeschool Ideas (Learning)
Here are some learning-related ideas for fun summer school work if you're not year-round homeschoolers.
1. ​Read Alouds
Many families mentioned that they continue their read aloud habits all summer. If you don't have a read aloud routine, summer is great time to start, especially if your days are more open without full blown lesson plans to get through.
This may sound crazy, but we have grown to love reading several books at once. I usually have 5-10 books going at once & we read through them all really slowly!
Rather than reading the same book every single day, we read from for 5-10 minutes per book, 3-4 books a day. Some of the selections are super short – an Aesop's fable from this collection, a Psalm, a poem, etc.
It takes us a LONG time to finish any one book this way, ​but​ the kids seem to retain the details and stories more permanently compared to when we read the same book every day & finished it more quickly.
This method has surprised me! But, there's something about sitting with characters in a story for a long time that's made it even more enjoyable for us. ​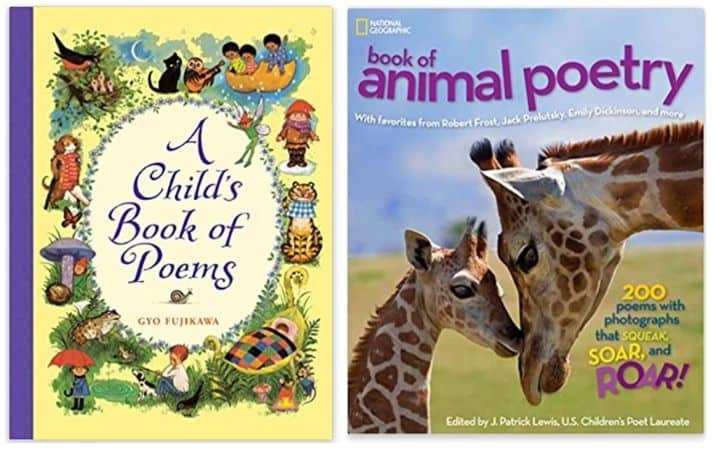 2. Independent Reading Book Baskets
We started book baskets recently, and it's been a hit! Each child has their own reading basket of books I've chosen that would be relatively easy for the child to read independently. We have 20 minutes of required reading basket time a day. This counts for our local library's summer reading program too.
To find books, I mostly look through the booklists from the Sonlight & Memoria literature selections for the child's approximate reading level.
I also try to add a couple nonfiction books to their baskets – either from what we have on hand or from the library.
You could totally start this concept with just 1-2 books in each child's basket. I prefer to find several books, plop them in a basket and let the kids work through them at their own pace because I don't want to have to keep finding new books all the time.
If your kid is new to reading independently, start with 5-10 minutes per day and increase over time. Readers enjoy reading, so if it's a new hobby it might take awhile before they actually enjoy it. That's okay. It can be like eating vegetables for a while.
3. Math Skills Review
Lots of people said they use some sort of easy independent math book for review a 3-5 days a week.
Some curriculums that were recommended for summer review were:
Mastery & Beyond books from Singapore Primary 2022 (colorful & designed for review by topic within grade levels)
Masterbooks Math for a Living Education
The Good & the Beautiful. (With TGTB, you can download your child's grade level for free and just print the review pages from each lesson.)
The above books are designed for school year use, so don't stress if your child doesn't get all the way through the book. Just use it as review and then move on next school year when you start the next level.
Kumon also has workbooks for individual skills at various levels. They're about $8 each and you could just choose one or two based on what your child needs to review. If your 3rd grader worked on multiplication his year, you can grab the Multiplication book. If your 2nd grader needs practice with problem solving, there's a 2nd grade word problem book. Just browse around the Kumon store on Amazon & there are tons of options.
My neighbor was just telling me she puts her middle school aged kids through Kahn Academy courses in the summer. Everything I've watched on Kahn Academy is so well done & well explained. If you have a kiddo who can work more independently & would enjoy the format, that's a great option too. And free!
4. Math Games
Some people said they stick to games rather than books for summer math to keep the learning fun & lighthearted.
I've used Math Facts that Stick for Addition & subtraction – I order the PDF from here and organize it like this.
Some other math board games that were recommended are: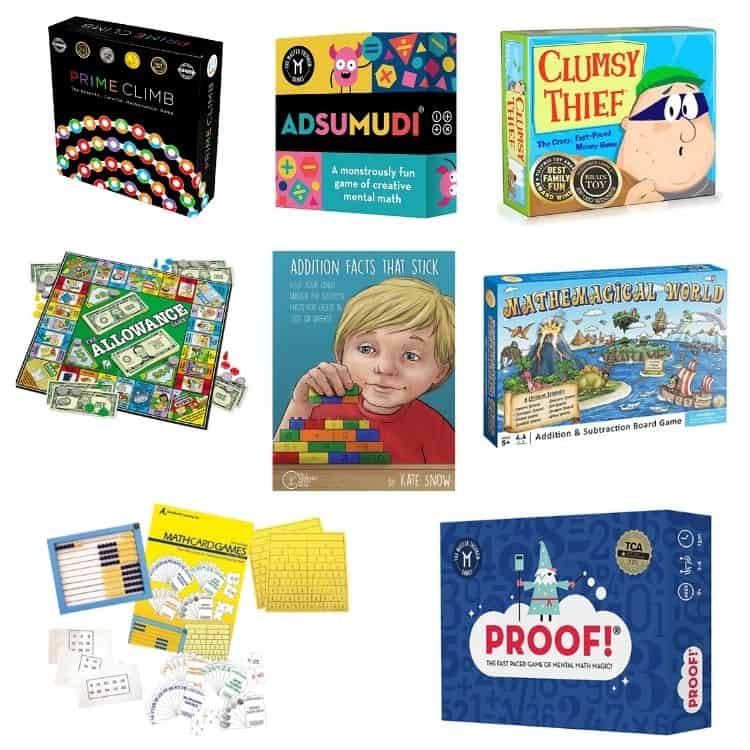 Every single one of those has great reviews from multiple sources. Summer is a good time to try a new game together.
4. Logic Games
My kids' favorite independent logic games are Rush Hour, Cat Crimes & this Tetris type puzzle.
IQ FOCUS is a favorite here. These are games kids ages 4-6+ can do independently, so they're great for quiet time & waiting rooms.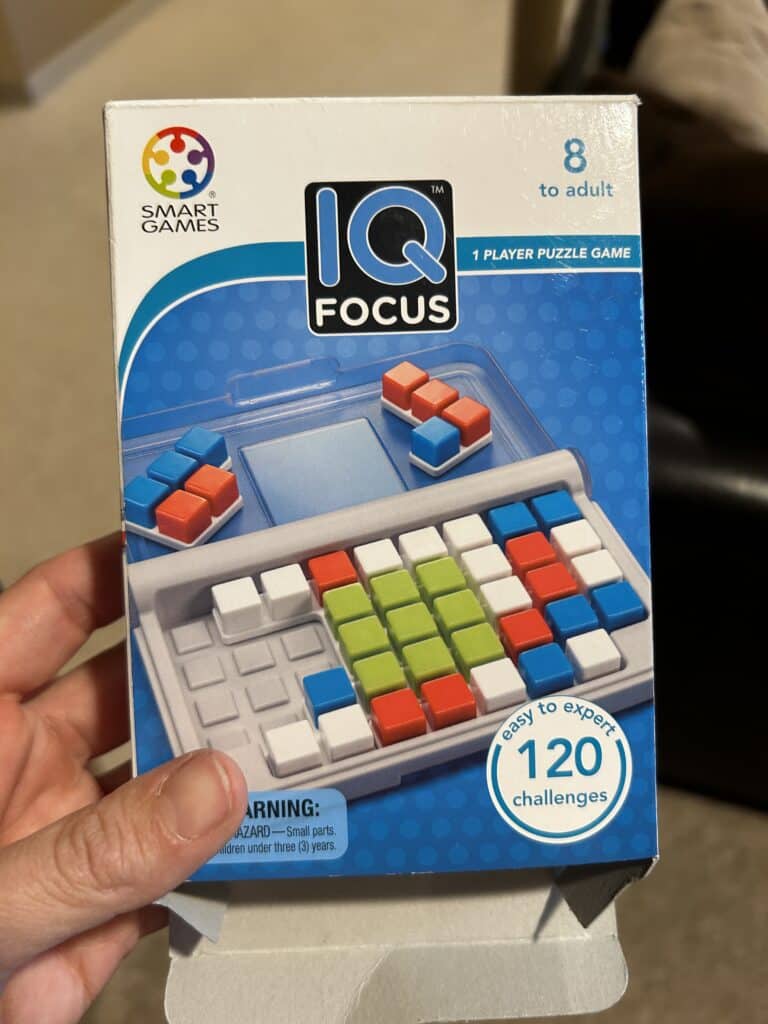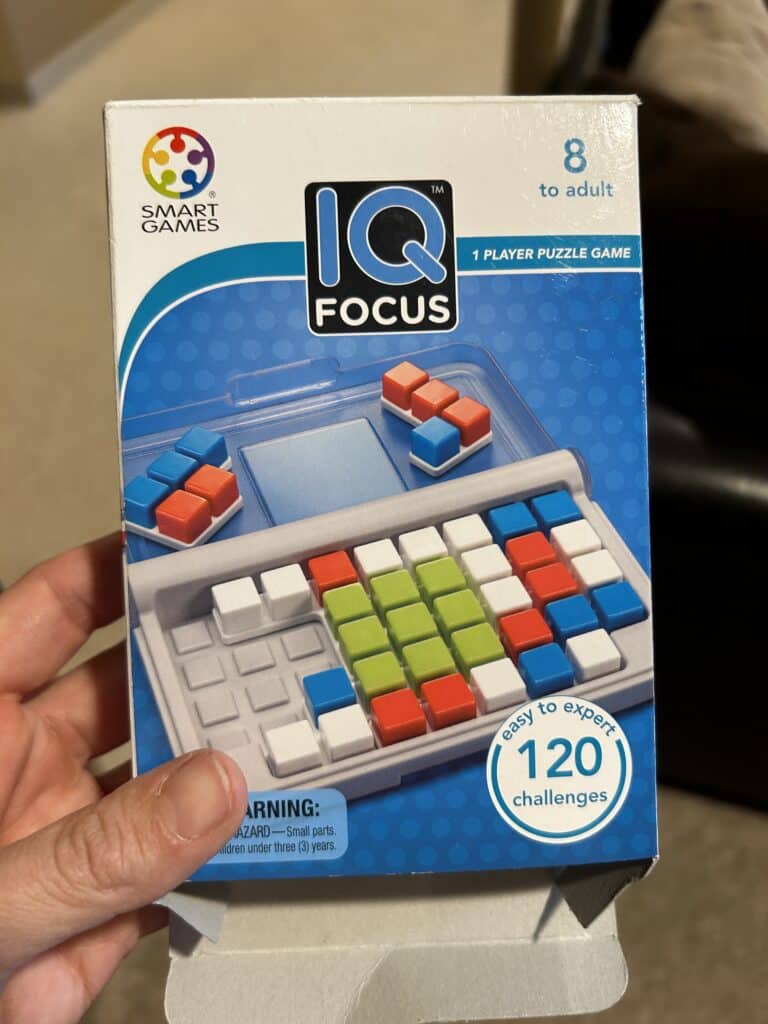 Other favorite logic games at our house are Chess (here's the version that's taught our kids the basics) & Ticket to Ride.
5. Geography
Seterra geography online – a good friend swears by this for her kids' geography. Plus it feels like a game, so that's fun! We plan to add this to our schoolwork this summer.
6. Typing
My kids use and love Typesy​. You get 5 year access for 4 kids for $67. If you have a larger family, you get 5 year access for up to 10 for $97. You can download the program (app) on to your computer and create individual accounts for each of your kids. It takes a little bit of time to set up, but once you have it installed and setup, it's amazingly easy. It walks the kids through incremental typing lessons. My kids love it too! 5 stars from all 6 of us.
For what it's worth, the geography & typing programs above are super simple & basic. But if your kids don't have much other screen time (ours don't!) then they'll probably think these games are the bees knees. Ha!
7. Scripture Memory
We try to memorize a passage of scripture each summer and then we go out for ice cream when we finish! It's simple, but after 2 summers, it's officially a tradition, and my kids are already asking what we'll memorize.
The past couple summers, we've done Psalm 23 and Philippians 2:1-16. I print the whole thing on a sheet of paper and keep it on the table so we can work on it at breakfast and/or dinner.
8. Language Arts
We don't do formal language arts curriculum through the summer. EXCEPT – if I have a child who's learning to read, we keep on going with daily practice, even if just for 10 minutes.
For kids who have started to read but need more practice, Explode the Code books are an awesome supplemental resource. Easy for no-prep instruction + independent practice.
9. Cursive Copywork
Cursive is a great skill to keep up on over the summer. 5 minutes a few days each week goes a long way to not having muscle memory learning loss from any progress your kids made this school year.
We have used and loved Memoria Press' New American Cursive Curriculum for a few years now. A friend sent me the link for their review packets, which look perfect for 1st-3rd graders who need cursive practice. I'll be using these with my younger cursive writers.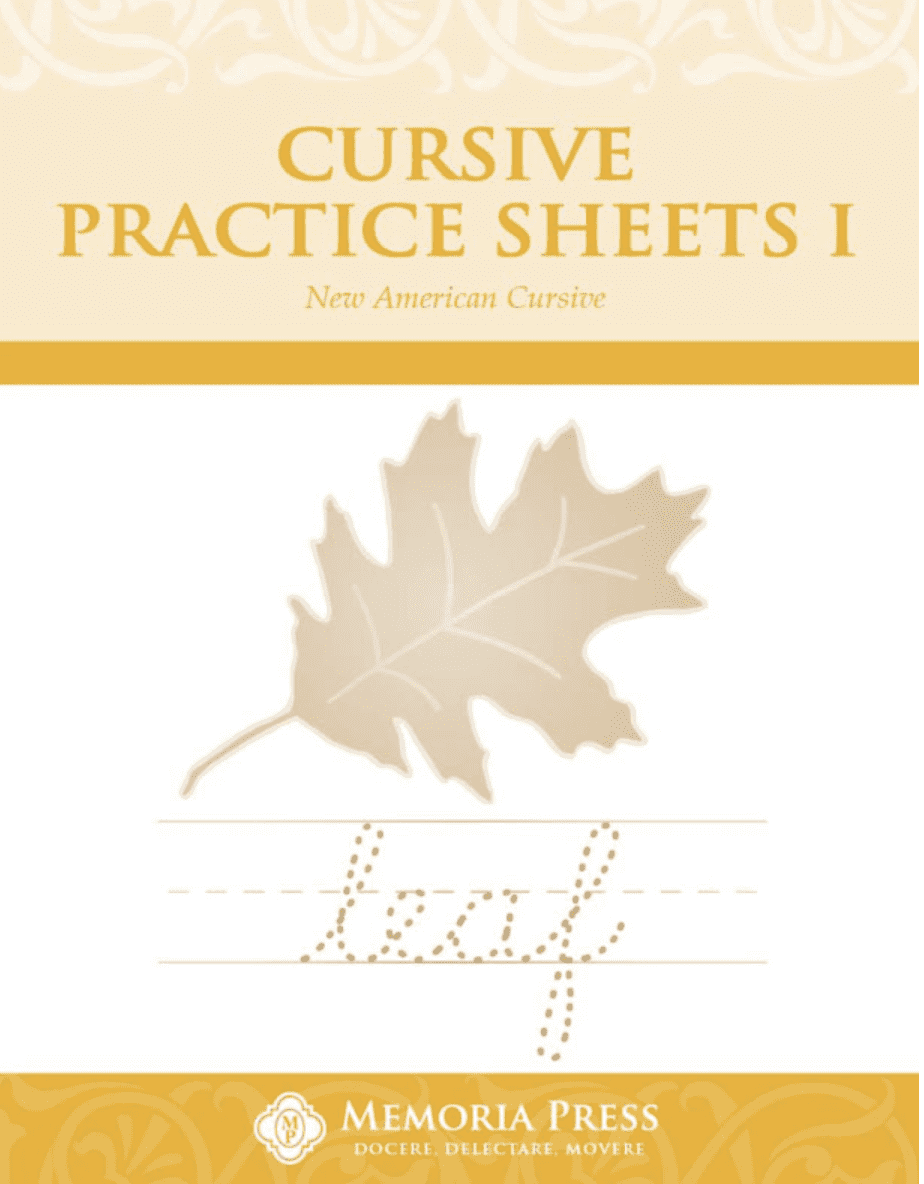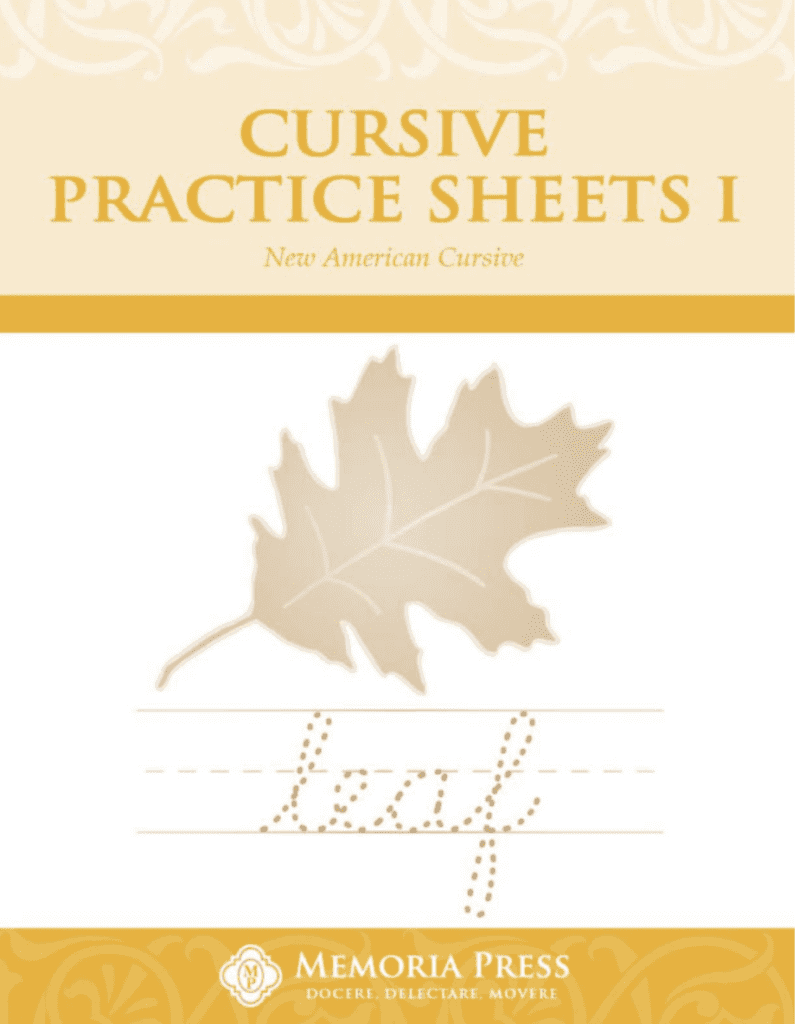 Hobbies, Classes, Outings, etc. …
Remember, life is full of learning. Don't fall into the trap of thinking that if it's not a graded/ leveled workbook it somehow doesn't count.
Maybe summer is when your kids learn life skills like cooking, cleaning, fixing things, helping with house projects, whatever… Or maybe you take an awesome family vacation to a national park, historical monument, or well-loved cabin full of family traditions.
Little by little, I've been freeing my educator-trained brain that worksheets & curriculum plans make an education.
"Education is a discipline, an atmosphere, and a life," as Charlotte Mason noted. Don't discount the fun activities you're doing this summer just because they don't feel like they make up a regular ol' school day.
There will be plenty of time for workbooks in February… especially if you're in the midwest!
10. Classes & Camps
Between community centers, summer camp, church programs, and local organizations, you can find a class for almost anything these days. Art, sports, music, programming, photography, whatever! Summer is a great time to find a class that meets for a short time and try something new.
11. Gardening
Lots of my email subscribers are into gardening! How fun!
I don't have a ton of ideas for you because we only get enough vegetables from our garden to eat like 3 meals. Ha!
BUT – even if you're not a great gardener, you can still let your child plant a bean seed or small tomato plant in a pot & have the responsibility of watering. We love this ​From Seed to Plant​ picture book!
Our local library even has a seed "library" where you can get seeds for free – maybe yours does too!?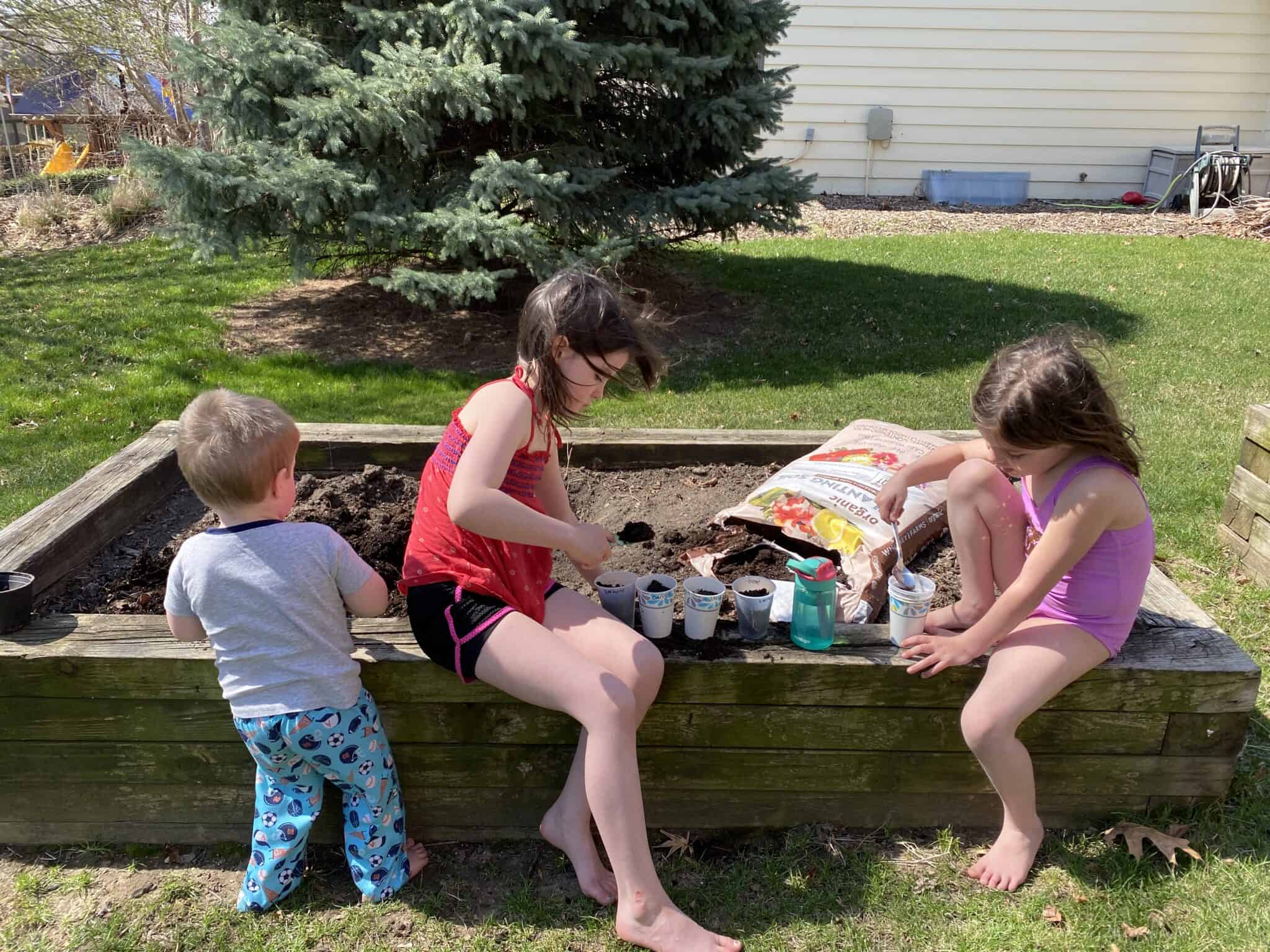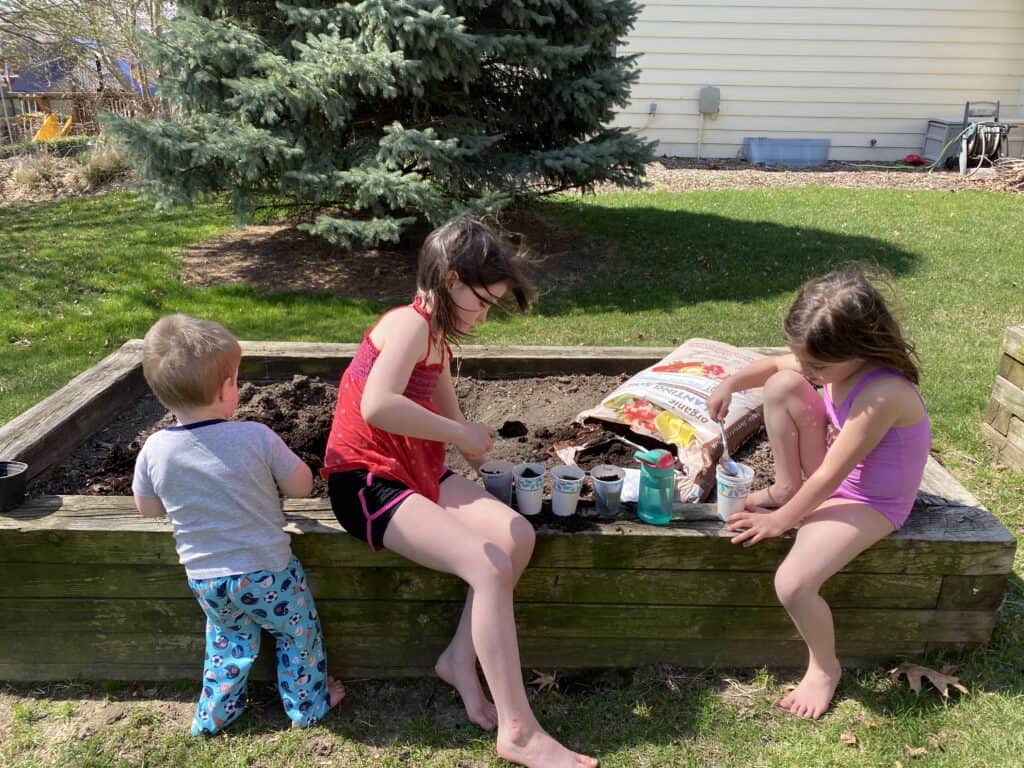 12. Hobbies
One summer homeschooling idea I read was to pick a new hobby to all try together for the summer – woodworking, carving, cross stitch, hand sewing, quilting, Snap Circuits, Lego robotics, photography, crochet, knitting, and computer programming were just a few that came to mind.
I snagged this digital camera (~$55) for my kids to take turns with this year. Our oldest is taking a mini photography workshop this summer and I'm hoping she can teach us all some tips.
13. Sensory Play & Outdoor Activities
This might be silly to include, but a few email readers mentioned things like water tables, sand boxes, bubbles, sidewalk chalk, and good ol' bike riding.
Truthfully, most of our summer is wide open. We love having hours of time for unstructured, unsupervised outdoor play. Letgrow.org is a great resource for getting your kids outdoors and unsupervised. They also have links to all the research on how unsupervised play outdoors helps kids' grow mentally & emotionally.
Some of my favorite ways to entice kids to play outside are:
New bucket of sidewalk chalk
Jump ropes
Simple sensory bins with something easy to clean up (dirt, rocks, etc…)
Putting an open ended craft kid on some trays/ old blankets outside
Sprinkler under the trampoline – ha!
14. Nature Outings
This probably goes without saying, but summer is a great time to explore the outdoors. Our city's local parks are all listed & mapped out on their website. We love exploring different ones, and they're almost always free or very inexpensive.
Now that our youngest is 4 (and is riding the tiniest 2 wheel bike), we can handle a little bit more time spent exploring before someone has a meltdown. LOL. We've never been outdoors long enough to need more than a few snacks & water bottles, but I've been thinking about stepping up our gear this year.
I was looking at getting water bottle holders for my kids' bikes this year & the guy at the bike store was saying they're apparently hard to install on children's bikes. He suggested those hydration backpacks that hikers wear. Coincidentally, an acquaintance who lives the RV-life-with-kids swears by her kids hydration water bottle backpack things too! (What's the official name foe those?!)
Anyway, I did a little research, and I think we might splurge on this one for our 4 year old, this one for our 6 and 8 year old, and this one for our 9 year old (who is as tall as a 12 year old… haha) I picked those brands based on reviews/ price/ size of kids.
I'll also snag a backpack cooler like this for me to lug around. We'll all be in great shape! haha!
15. Field Trips, Fine Arts, & Extras
Some families said they make a summer bucket list for their summer! That's such a fun tradition!
Personally, we spend a lot of the summer at the pool and save a lot of the "be-your-town's-tourist" type activities for the school year when interesting places are less crowded during the day. #homeschoolperks
But, depending on your schedule, summer might be a great time for the extra field-trip type outings.
Think – museums, art shows, nature centers, hands-on educational STEM programs, outdoor concerts & theaters, etc.
Something like a picture study paired with a special exhibit (or a composer study paired with a concert, or a Shakespeare story paired with seeing it live) is a great way to experience fine arts.
Don't be intimidated by this either! This process was new to us this past school year, but it's been such a simple & fun way to dive into studying art.
Here was our simple process:
I found one children's book about Van Gogh.
I ordered 6 8×10 prints of his most famous paintings on Shutterfly.
Once or twice a week at breakfast, we pass around a printed artwork of his. The kids make observations (we're new to picture study, but we're all getting better at noticing details like light/ shadow, mediums, etc.) and I read the wikipedia info for that one painting. Then, I read a couple pages in the picture book about Van Gogh.
You could do the same thing for a classical composer or Shakespeare. Just look up your local concert/ theater series for the summer & pick something you want to attend with your kids. Then prep for that event by reading or listening to relevant music/ books a little bit 1-2 days a week. 10 minutes a couple days a week goes a long way.
Summer is the perfect time to dive in to some sort of 'extra' like music, art, or theater that you don't feel you have time for during the traditional school year. It's especially fun when paired with a field trip.
Our Summer Plans 2022
For the sake of inspiration & transparency, I'll share our summer plans. They may or may not be similar to yours – that's okay!
Each summer since we started homeschooling has looked a little different for us.
This summer, we plan to take a couple weeks off from ​everything​ except a shortened morning time & daily music practice. Since we're not going on a summer vacation, I'll spend those weeks organizing, purging, and catching up on alllll the neglected piles in my house 🤭​
During these weeks off, I switch out seasonal clothes/ gear, go through schoolwork to save/ toss, plan a couple fun outings (before other schools let out & places get crowded), and say yes to the fun stuff like walks, parks, s'mores nights & board games.
I also like to spend more time reading in the summers, so I usually grab a few fiction & non-fiction books that have been sitting on my list plus a couple homeschooling inspiration books.
After a couple weeks completely off of bookwork, I'll probably pick 1-2 things for each child to work on for 4-6 weeks and then reevaluate. This will be based on what that individual child likes & needs to work on.
Some years, I've focused on a particular type of math fact with a child (addition, subtraction, multiplication or division) with Facts that Stick Games. (Here's how I organize them for Addition/ Subtraction). Or if we have a new reader, we might do an Explode the Code book. Anything on this list would typically be 10-20 minutes a day total, a few days a week.
We typically have a mix of structure/ unstructured time during our summers. (Actually, that's true year-round for us. haha!) As I've been thinking and praying through our summer rhythms, I think it will look something like this for 2022:
​Breakfast + Bible
Slightly shorter-than-school-year morning time (continued from school year)
Chores/ music practice/ 10-20 minutes review skills type practice as needed
20-30 minutes of reading basket some time during the day (required before typing/geography computer games… details below)
FREE TIME!! Play/ outside/ explore nature/ pool/ friends
We are morning people, so the first few things on that list happen before 10:00 am. I wanted to keep part of our summer homeschooling schedule similar to our school year rhythm.
But, for the summers, the rest of the day will be pretty relaxed and dependent upon our family's calendar. We love to go to the pool, soak up the warm weather in nature, and spend extra time hanging out with friends and family.