Oh gifts. They're so fun to pick out, but quality gifts add up quick ($$$) and if you have more than a kid or two, the amount of things in your house can pile quickly.
Truthfully, when our kids were younger, we didn't do much for Christmas or birthdays. We always got them something small, but we didn't have much disposable income, and we did have generous grandparents. The grandparents mostly covered the needs (clothing, shoes, etc.) and all the fun toys/ games/ books.
Open Ended Toys
TLDR: As the kids got a bit older and the birthdays + Christmases multiplied quickly, grandparents started asking for gift ideas. I stuck to requesting books, games, art supplies, and open ended toys that could be played with by lots of kids for years to come. Think… blocks, magnetic tiles, legos, dolls, wooden trains, and pretend play things. These are the toy staples we've had for 8+ years that our kids and tons of other people's kids that come over have played with for endless hours.
(Side note – keep the batteries out! Call me scrooge but I hate kids' toys that make noise.)
Simplifying Gift Giving – Less is More
Don't be fooled by the length of this gift guide. Haha I put alllllll these gift suggestions in one post, but really, I'm a big fan of just keeping gifts simple.
While I love picking out good gifts, I'm also a kinda-sorta-minimalist & I do not like the entitled attitudes that come with giving kids loads of presents. Ha! So we keep Christmas & birthday gift giving to our kids intentionally restrained.
Birthdays – usually one bigger item and a couple small things that reflect what the child is interested in.
Christmas – usually one bigger wishlist item per kid, a book or book collection of sorts, something smaller, and a few stocking stuffers. We often do a family gift too.
That being said, between our 4 children, nieces and nephews, and sweet friends, we have bought a lot of kids' gifts over the years.
All my suggestions below are based on the things that have been used extensively in our own home.
Categories
Toys kids actually play with
Pretend play things
Little kid art supplies
Big kid arts & crafts
Games & puzzles
Best books & book sets to give
Active Gifts
So, without further ado… here are many, many gift ideas for kids that I either have bought or would buy for a kiddo I love.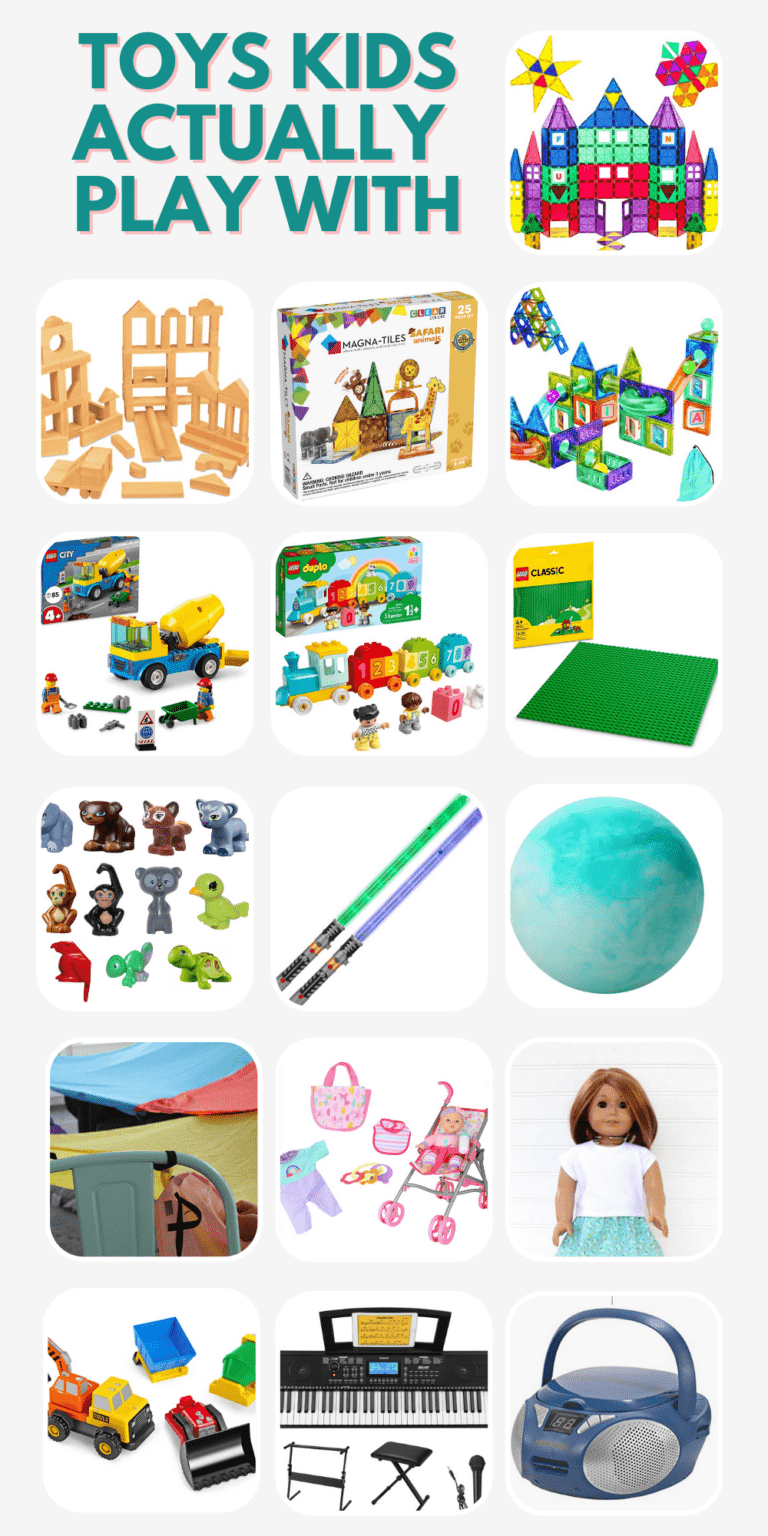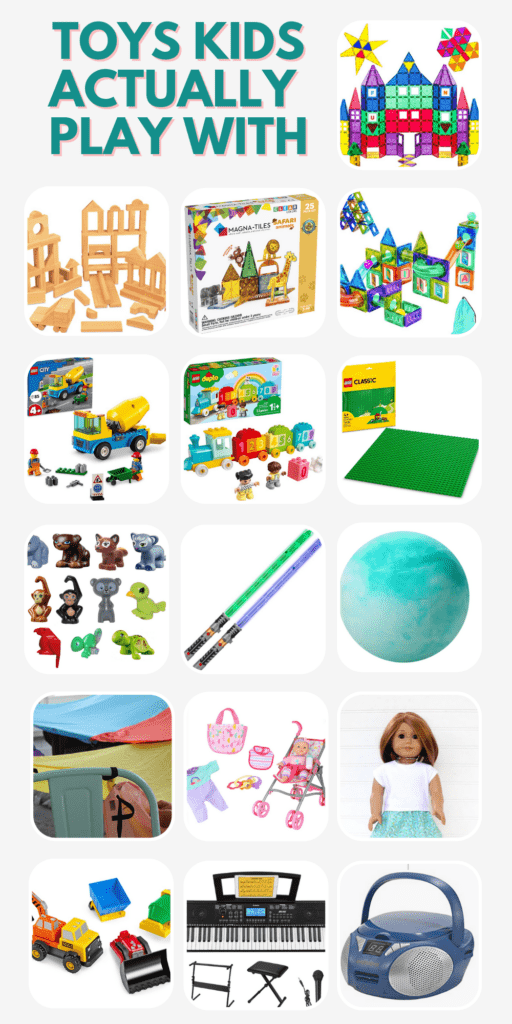 Magnetic Tiles – we have hundreds of magnetic tile pieces and they get played with all the time by kids of all ages. We have several of this exact set (Black Friday sale of $42), these platforms, these cars, and this cute safari kit. (The magnetic animals are a hit, and my kids also use other toy animals and lego people to play with the magnets too.)
High quality wooden blocks – one year, our family gift to our kids was a bunch of wooden blocks from Lakeshore Learning. I splurged on a the basic set & then ordered large, flat individual pieces and platform style blocks. We keep them on a bookshelf. You don't need a lot for them to be fun. One gift set is a great starter kit! You can add to the set over time. Just encourage the recipient to store them on a shelf, not in a basket. Children are significantly more likely to play with blocks that are on a shelf.
Legos & Duplos – This train set (pictured) is a go-to gift for me to give 1-2 year olds. It's inexpensive and toddlers will play with a small amount of Duplos for a really long time! I also love giving a regular box of Duplos along with a Duplo brand platform/ baseplate. For Legos, I usually go by the age recommendations on the box for 4-5 year olds. Older kids, I give based on interest and I like to give baseplates for creative play as well. Our kids love people & animals too, which you can find on Ebay or Etsy.
Light Sabers (pictured above) are always awesome. We've had cheapo light-up ones from $5 Below for a long time.
A giant ball – these are usually less than $5.00 at Walmart
Fort Materials – We've had a few of the trendy tepee or pop up tent type things over the years, but they all kick the bucket. The long-standing favorite fort materials here are regular old top sheets (snag extra ones at a thrift store or cheap ones at Walmart) and a basket of heavy duty clips that hold the sheets in place. I did see a similar fort kit idea with velcro sheets that actually looks like it might work well (pictured below on the left.)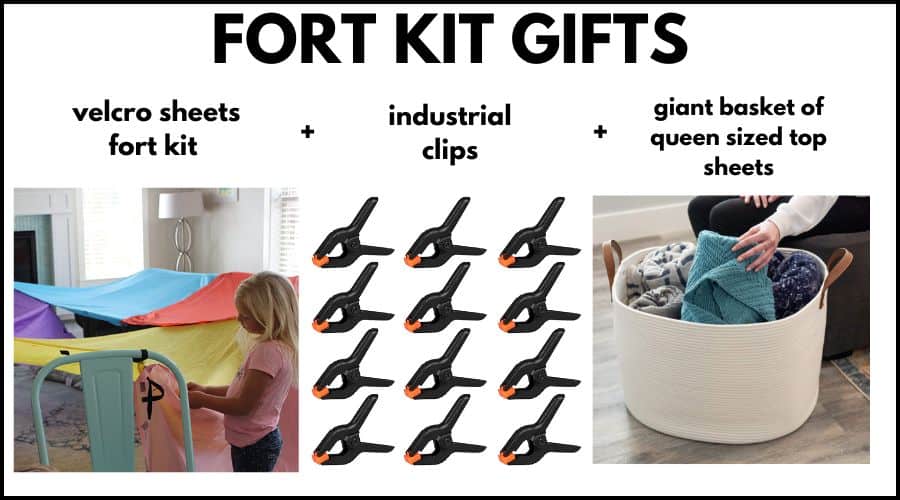 Something to push stuff in – stroller (pictured), push wagon, grocery cart. Little kids love pushing things around, taking them out, putting them back in. We've had the cheapo stroller pictured for years, and it's a favorite with every 1-4 year old who comes over. My kids even pushed each other in it when they were smaller. Ha!
18 inch dolls & Accessories – I like giving a stroller & baby doll (pictured) to 1-3 year olds. For kids 4+, I'd give a nice 18 inch doll, such as an American Girl Doll, Pottery Barn Gotz doll, or even the Target brand Our Generation doll. I try to find accessories & furniture on Facebook marketplace.
Trucks – We've had these cute magnetic mix & match trucks forever! They're great for a 2-4 year old.
CD player – We actually have one of these in each bedroom. We get CDs & audiobooks on CD mostly from the library, but the kids have received a few CDs & audiobook gifts over the years too.
Keyboard – We were given a secondhand keyboard one year and it has been so fun to have. All our kids take piano lessons and practice on a regular piano, but the keyboard is super fun to have around. Here is the one pictured – it's under $200.
Trains – Not pictured above, but I bought a used set of wooden trains on Facebook marketplace 6 years ago and they are one of the most played with toys at our house. Buy a big set secondhand, and then add a few cool individual bridges like this one and this one. All wooden train sets are compatible, so brand doesn't matter.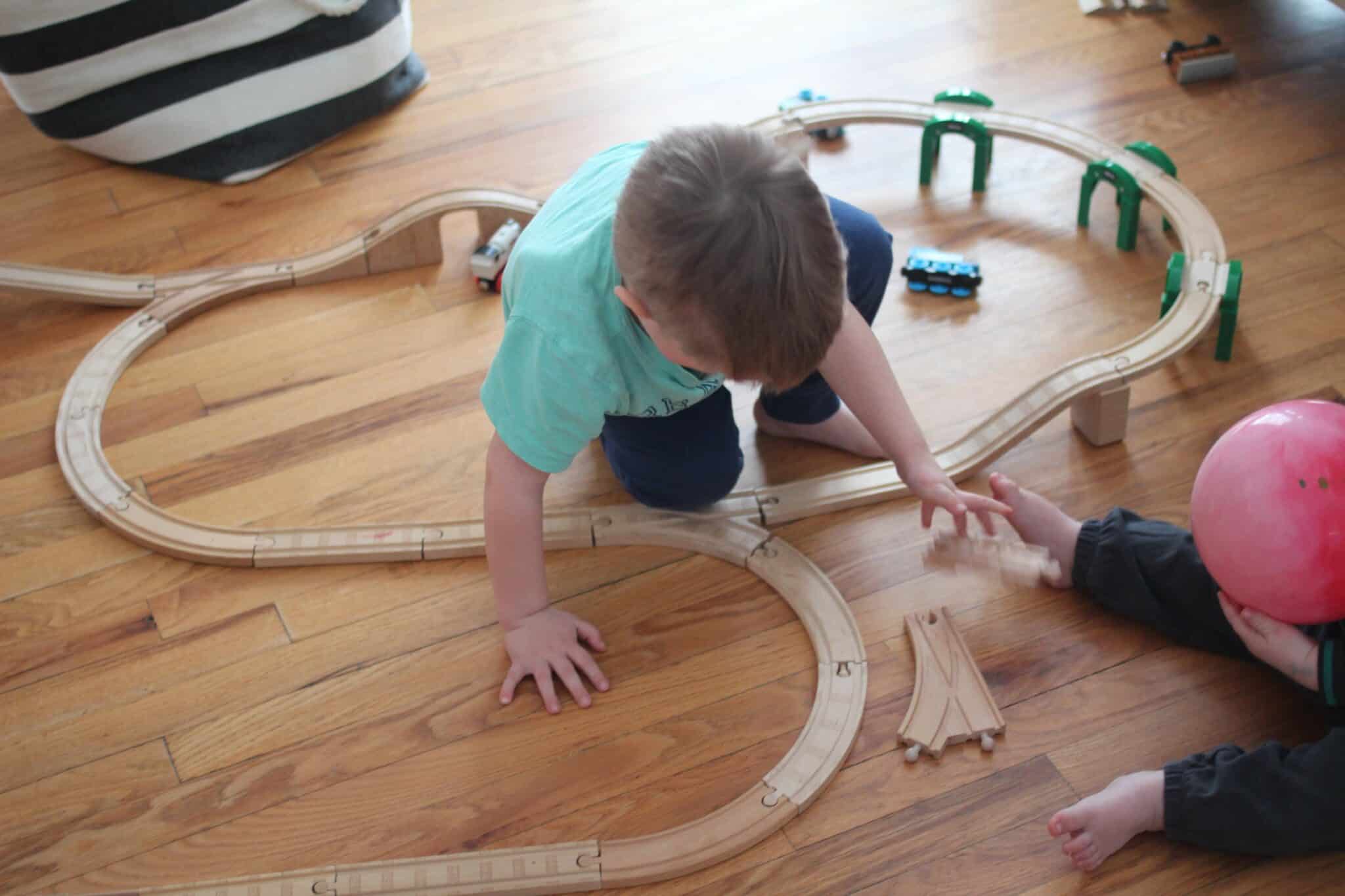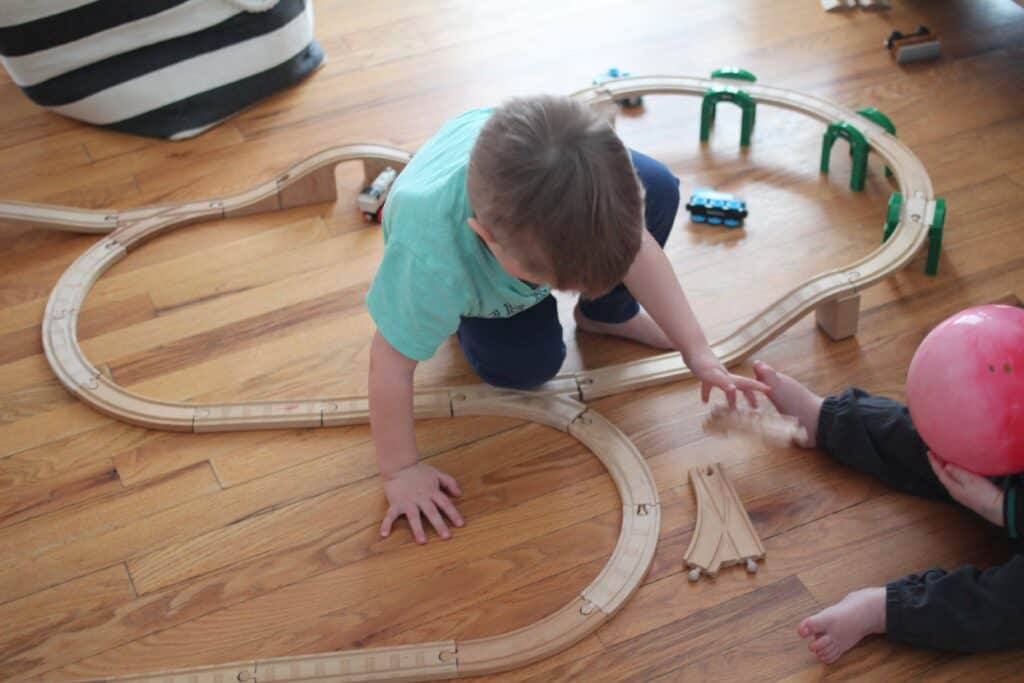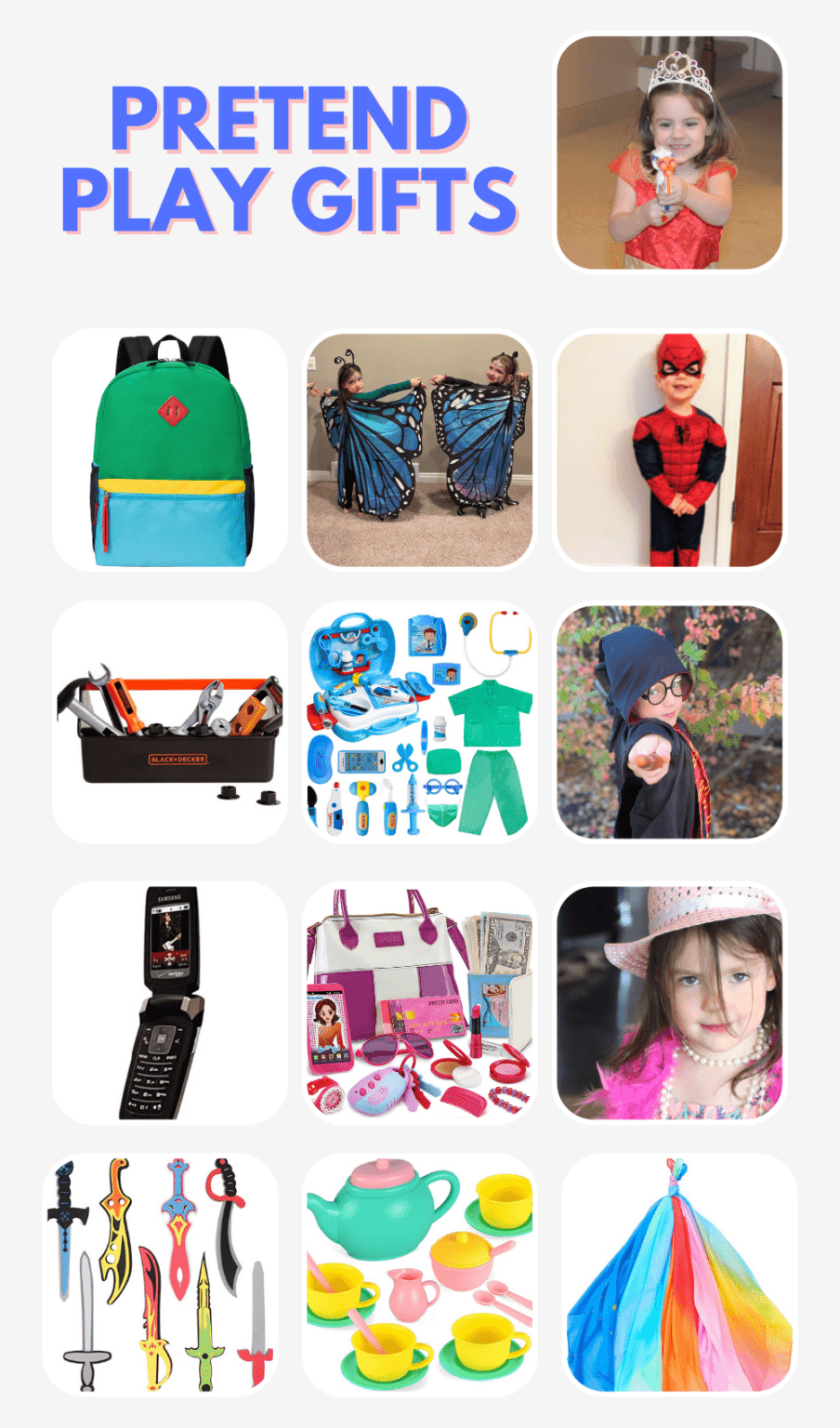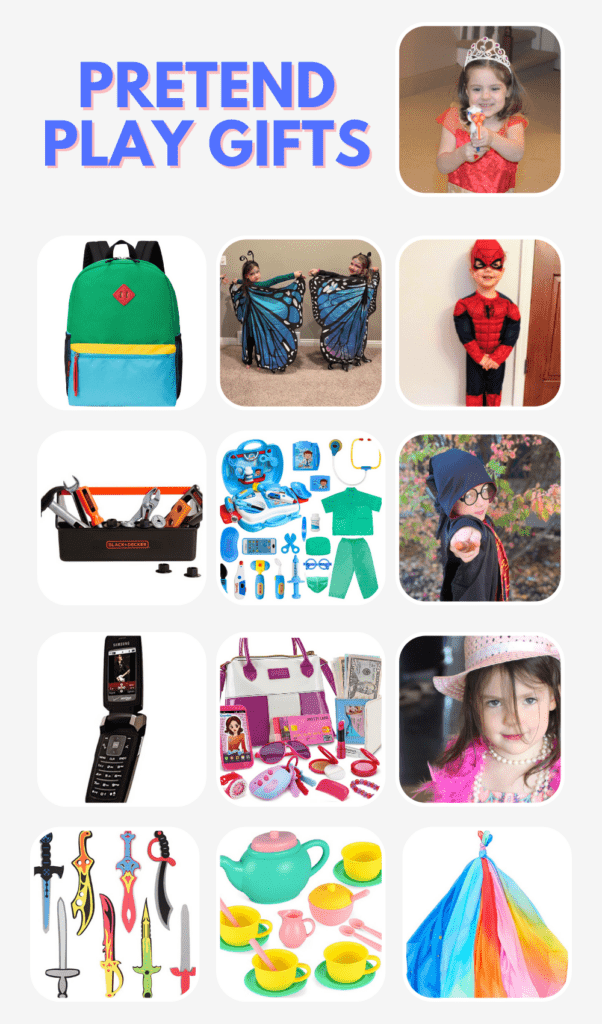 Dress up + Gun – This first picture captures play at our house very well… dress up gown, crown, and a nerf gun. Ha!
Mini Backpack – These get a lot of use at our house. Fun for play & practical for travel.
Giant Butterfly Wings – These were a favorite here for a long time. When little girls come over, they're still a go-to.
Fun Costumes – costumes make great gifts. Princesses, super heroes, and of course Harry Potter (pictured)!
Doctor kits – a classic. This isn't one that gets played with all the time… I put it way and pull it out.
Simple tool kit – our youngest is obsessed with building things and taking things apart. He carried around this tool box for a year straight after he got it for his 3rd birthday.
Dummy old school phones – you can buy them on Amazon, or you can usually find old ones at a thrift store!
Pretend play purse kit – this one is actually really cute. My girls loved stuff like this ages 1-6. Now, they love having their own purses, wallets, etc.
Foam swords – cheap & fun for all! You can actually fight each other. Haha our kids love these.
Tea set – Go plastic for the little kids… Ha! My girls played with this exact tea set for years. Then, I gave one to my niece and she loves it!
Silks – Apparently, playsilks are an actual thing and all the rage with the Waldorf folks. I didn't know that, BUT my kids have been given hand-me-down silk scarves from grandmas and play with them all the time. Capes, blankets, playing house, forts, caprturing things, sailing on "boats," and the list goes on. Haha, it may seem like a strange gift, but again, they get played with in lots of ways, for many years. You could even just find several silk scarves at a thrift store and wrap them in a cool box.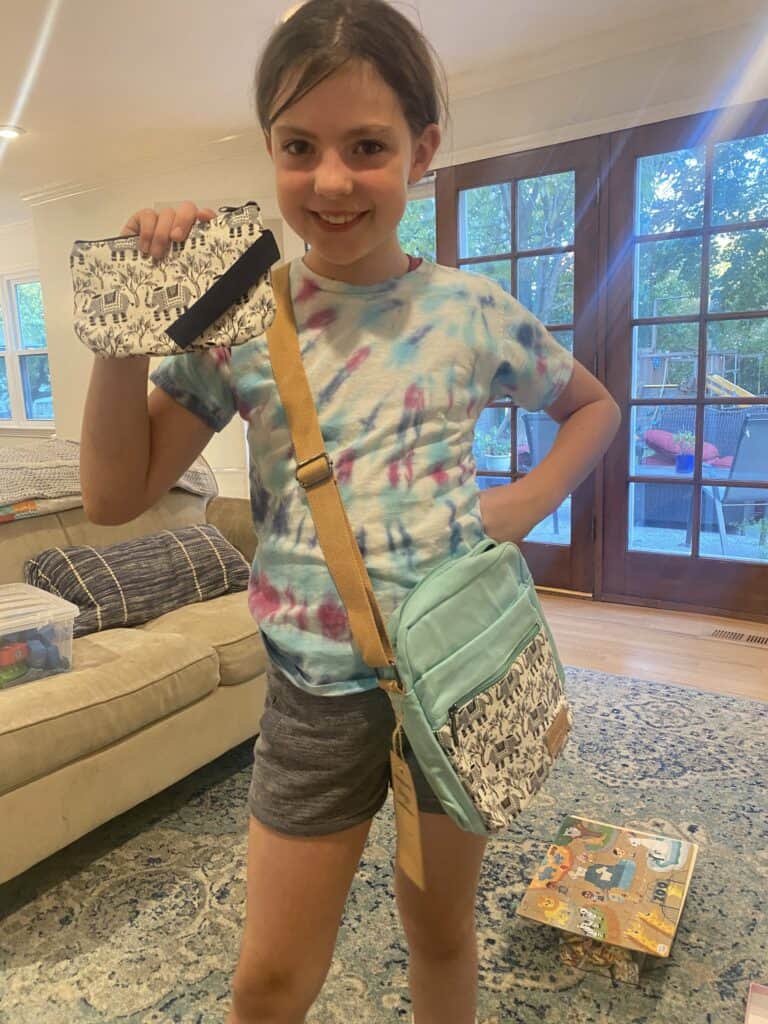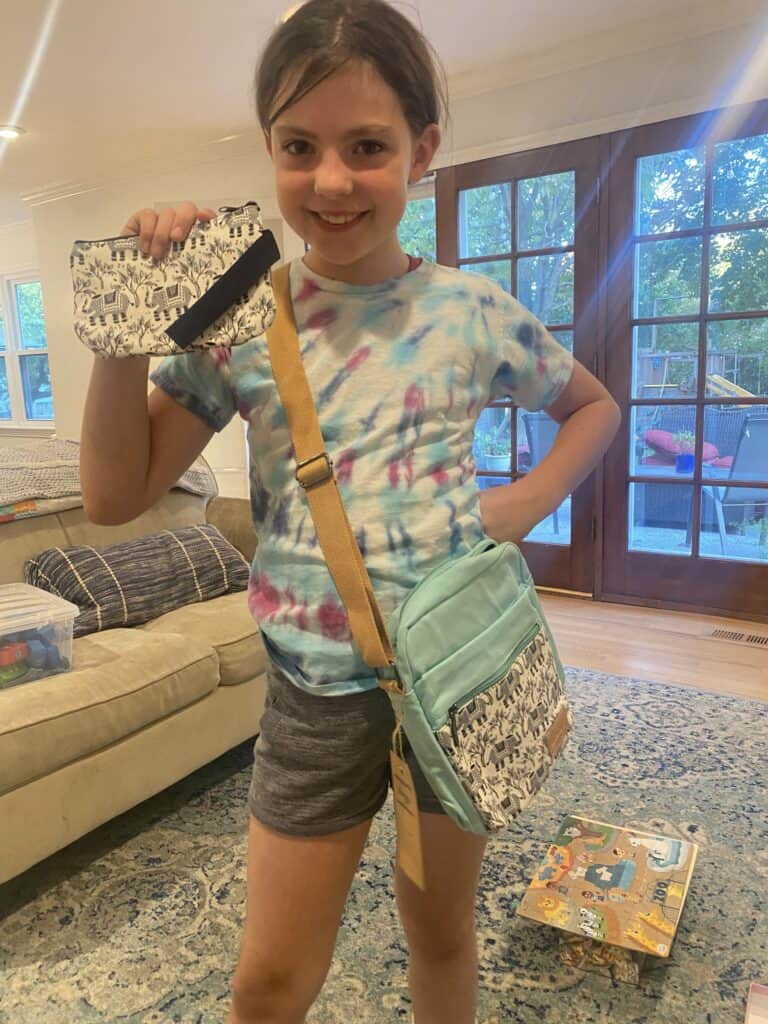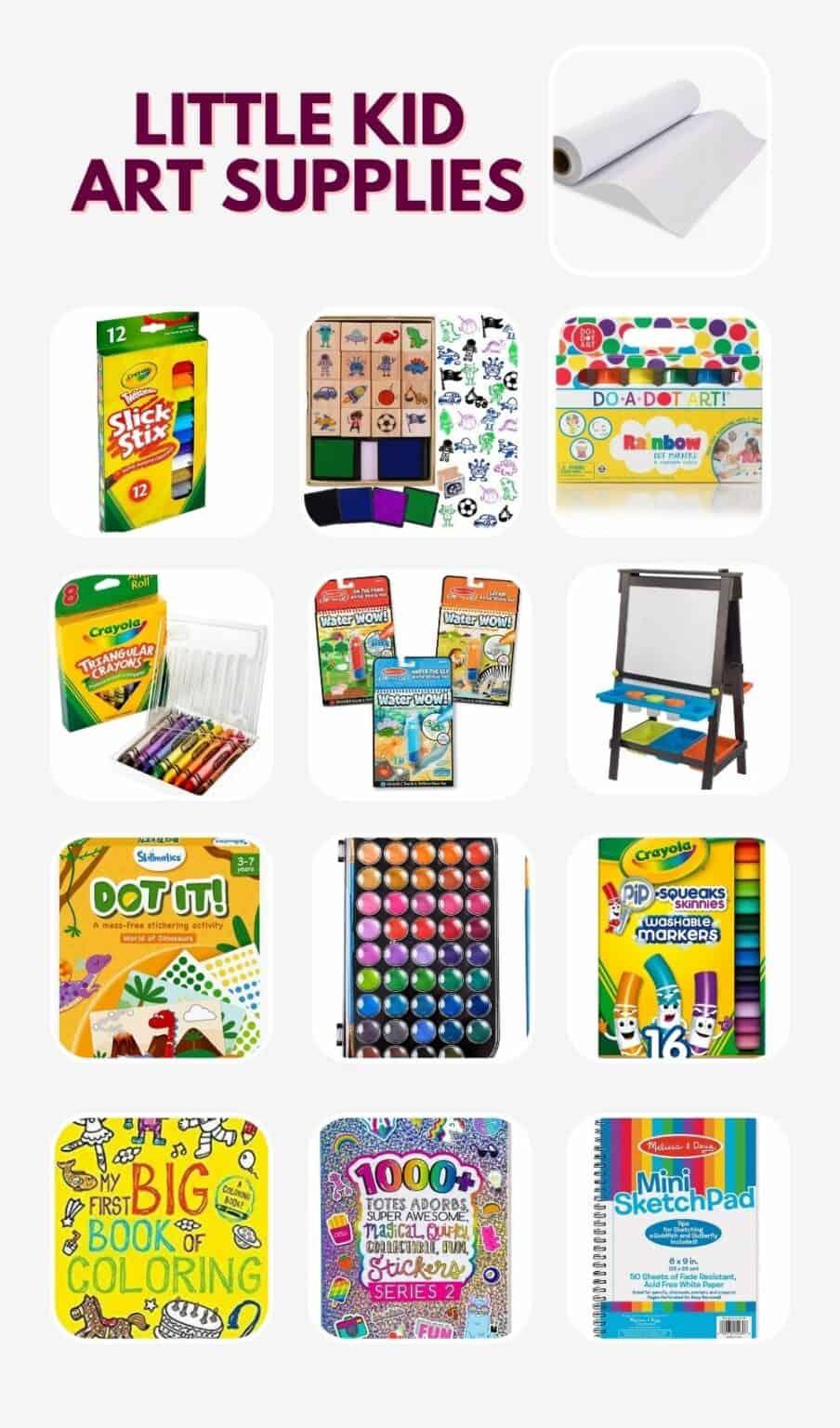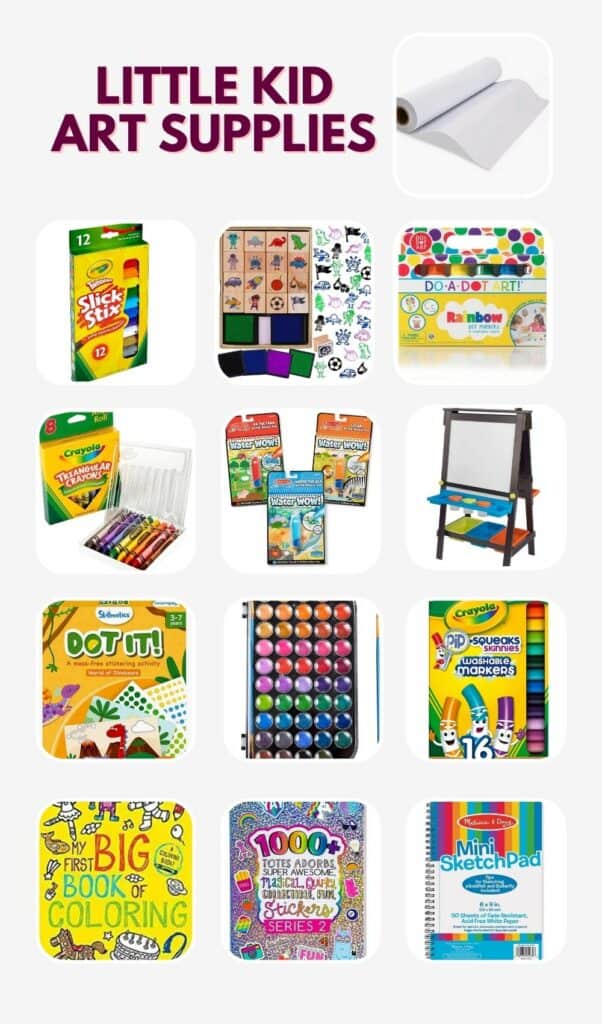 Paper roll – a giant paper roll is super fun on the floor
Crayon Slick Stix – These are a cool hybrid of crayons + oil pastels. Very vibrant & fun to color with.
Stamp kit – I feel like 3 year olds love stamps. Stamps and a giant roll of paper would occupy a 3 year old for quite some time.
Do a dot – we've had a set of these for 5 years. Haha they last forever. I'm not sure they ever run out.
Triangular crayons – Triangular crayons are great for little hands learning correct pencil grip. Plus they don't roll off the table.
Water Wows – my kids love these! We use them on road trips only, though.
Easel – if you have the space, an easel is really fun.
Dot stickers – I've been letting my kids play with dot stickers since the oldest was 2. I always bought office store dot stickers and printed dot sticker pages offline or just drew lines on paper for the kids to cover. This dot sticker kit is super cute though!
Water colors – my kids love having their own individual water color sets, the 3 year old too!
Pipsqueak markers – a great first marker for 2-4 year olds.
Coloring Book – This is the best preschool aged coloring book series. The image sizes are PERFECT for 3-4 year olds. Our resident 4 year old has already meticulously colored through 3 of the books in the set. I love that there are several options.
Fun sticker book kit – My 4 year old got these for her birthday once and loved making sticker designs.
Blank sketch notebook – this 3 pack is a great quality & size for using all the fun art supplies on the list!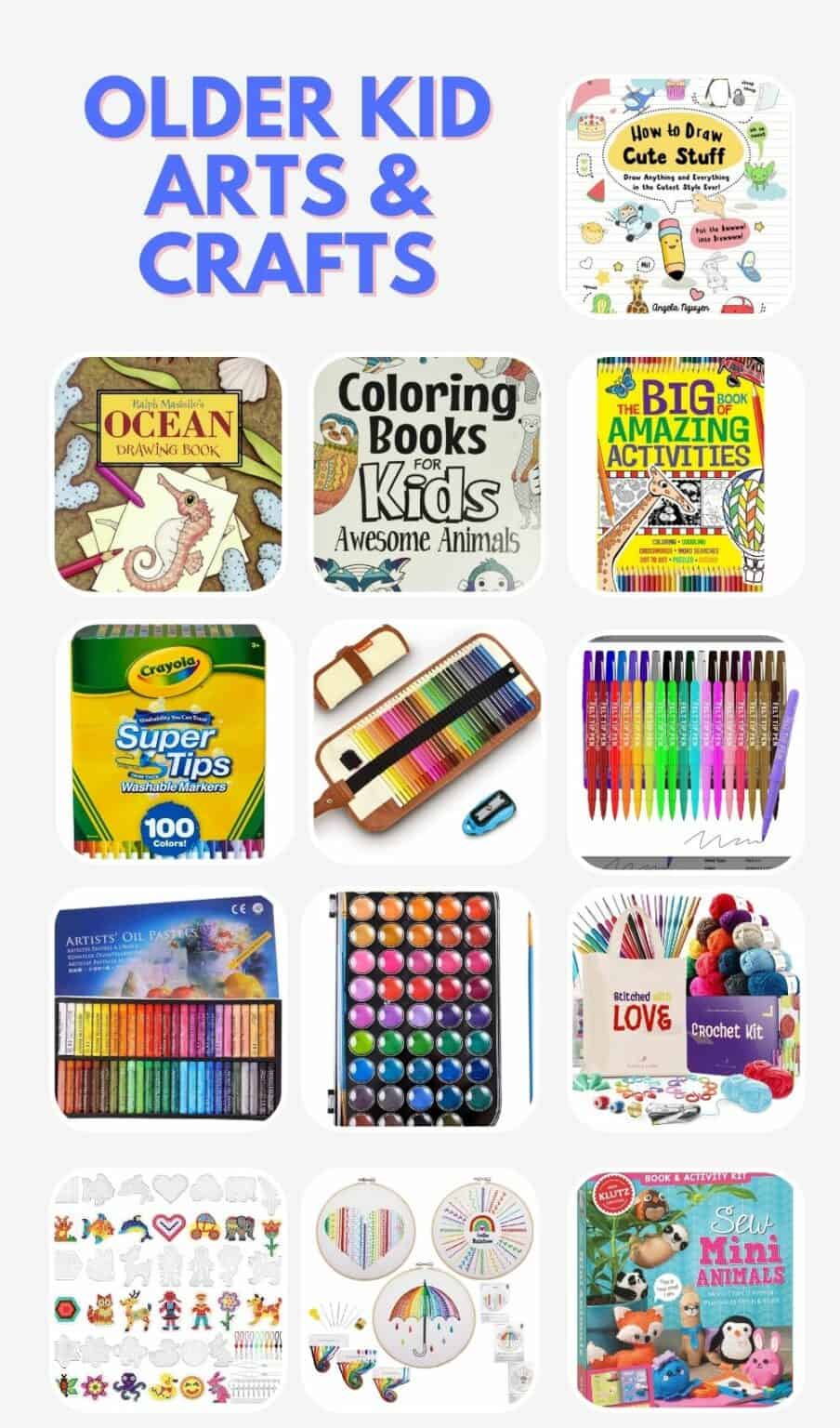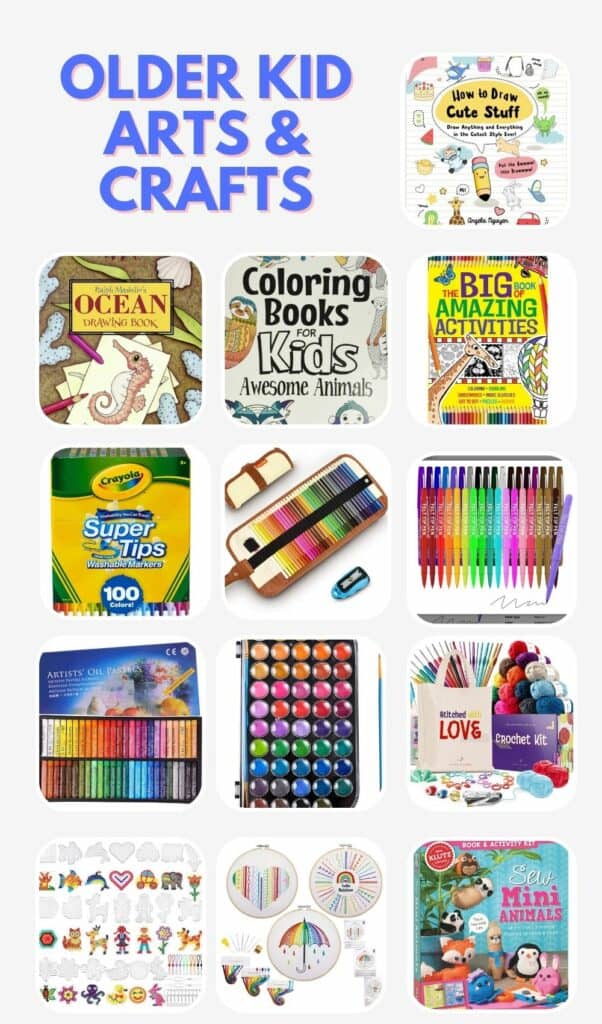 Drawing books – I've given various art/ drawing books over the years. The 2 authors pictured here are our most used favorites! Angela Nguyen & Ralph Maisello books. I usually give a new blank sketch notebook with a drawing book.
Coloring Book – This is the best series of coloring books. My kids ages 5-10 actually all love them.
Activity book – This is the best activity book our kids have ever had! They lasted a really long time. Barnes & Noble usually has a ton of cheap activity books on their clearance shelf too – word searches, mazes, sudoku, dot-to-dot, etc.
Super Tips – My kids all think these are the best markers.
Colored Pencil Roll – I gave each child a roll of their own for the beginning of the school year. They've been super fun. This one comes with colored pencils and a sharpener.
Oil Pastels & Water colors – You could give oil pastels & new water colors with a big sketch pad to a budding artist.
Felt pens – I like giving new art supplies because they're useful & fun & somewhat consumable. You use them for a long time and then toss & replace.
Crochet – It's a little tricky to learn to crochet, but there are plenty of great Youtube videos. My daughter received a starter kit like this and loves crocheting.
These next 3 items are some of our go-to birthday party gifts for 2nd-4th grade girls.
Perler beads – these are by far the most used craft item at our house. My kids create with them for 30-60 minutes almost daily while I read aloud. Kids who come over to play love playing with them too. I dumped them all in a $1.00 plastic shoe box with a lid, and we keep our huge collection of platforms in a giant zipper bag.
Beginner Embroidery Kit – Embroidery is a great gift for an 8-12 year old who loves crafting.
Sewing Mini Animals – A sewing kit is another option for an 8-12 year old who loves crafting.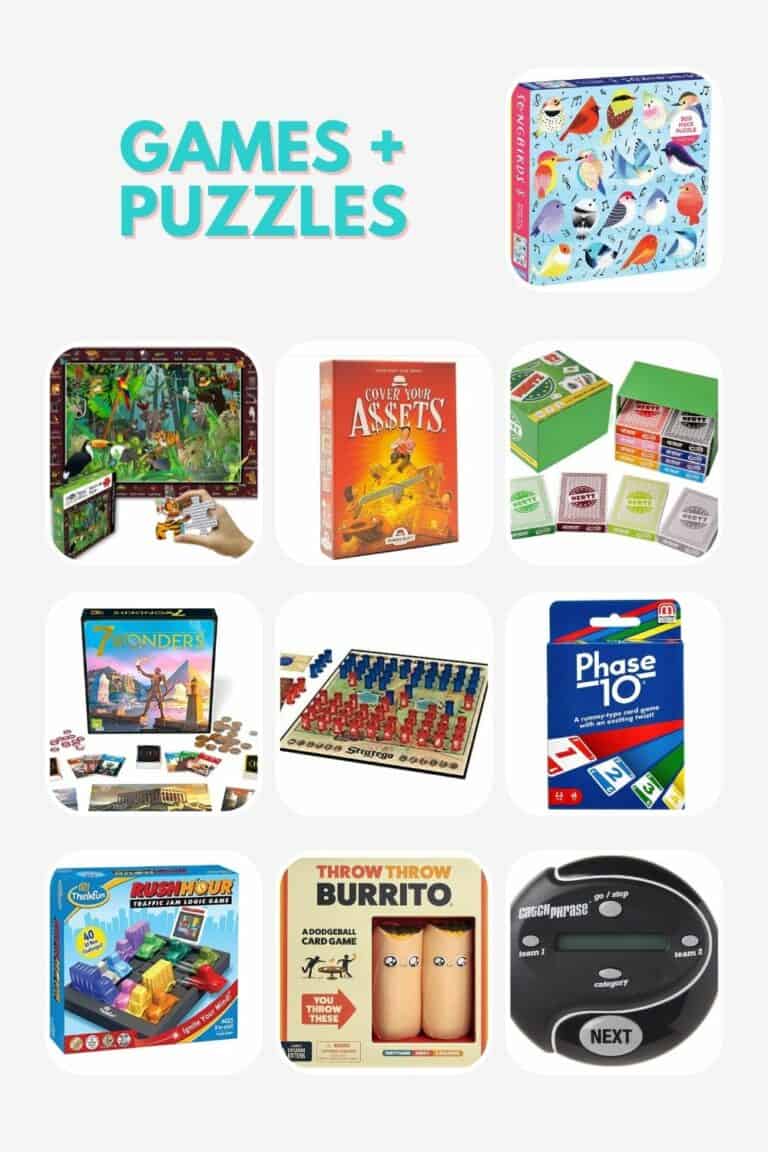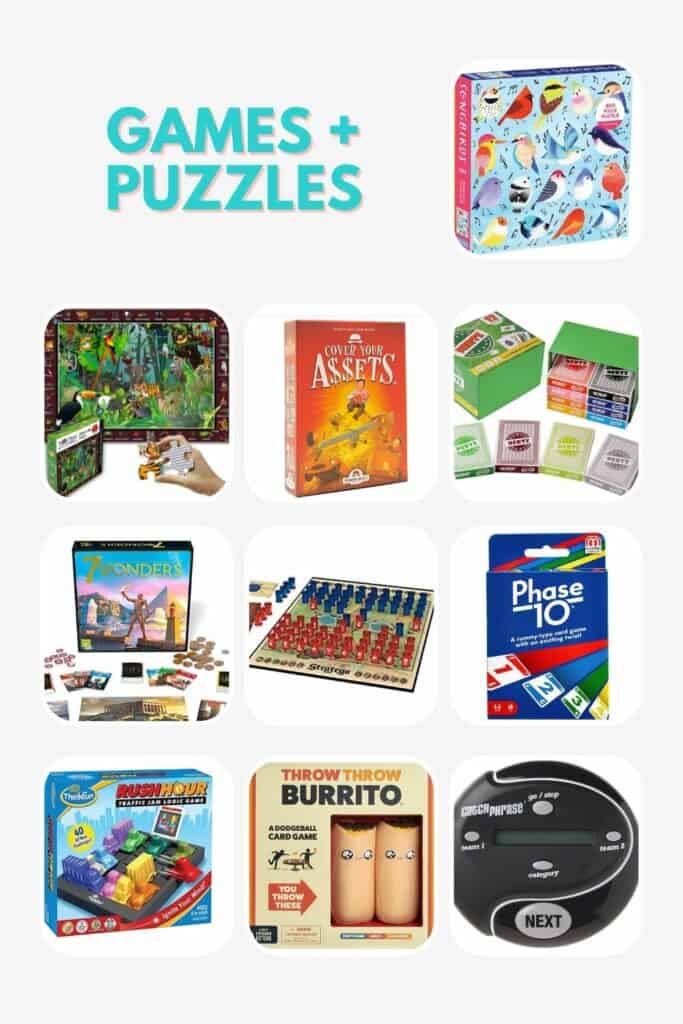 High Quality Puzzles – we've liked this brand (lots of different size options). They're a fun family gift. I copied a friend's tradition this year and snagged a 500 piece Christmas puzzle to work on in December.
25- 100 piece puzzles – great for 4-6 year olds. We've had some Djeco brand ones for years and they're still in tact.
Cover your Assets is our favorite all-ages family game. Bonus… our 5 year old was obsessed with it one year and it singlehandedly taught him how to add 5s, 10s, 15s, 20s, and 50s. Ha!
Nertz – I would say kids can learn it around age 6-7, and get pretty good around 8 or so, depending the kid. It's a great big-family game! And Nertz sets are just regular decks of cards, so you can use them for other things too.
7 Wonders – This is a fun game in the Settlers of Catan category. It's not as strategically intense as some nerdy board games, and my 9 year old really loves playing it & teaching it to friends.
Stratego – This was my all time favorite game as a kid. I played it endlessly with my younger brother. My 9 year old and her game-loving friends love this game too!
Phase 10 – Another large family favorite. Card holders are helpful for younger players since you always have to have 10 cards.
Rush Hour – Great gift for all ages of kids, really. It's fun because it can be played individually. It's also a fun teacher gift if the teacher has games or stations in his/ her classroom.
Throw Throw Burrito – this game is ridiculous but my kids love for all 6 of us to play it. It's fun because even the 4 year old can sort of participate.
Catch Phrase – This is one of my all time favorite party games. It's great for all ages, people who know each other and people who don't. Our kids have recently gotten into it & really love to play a few rounds at night. This version is only $20!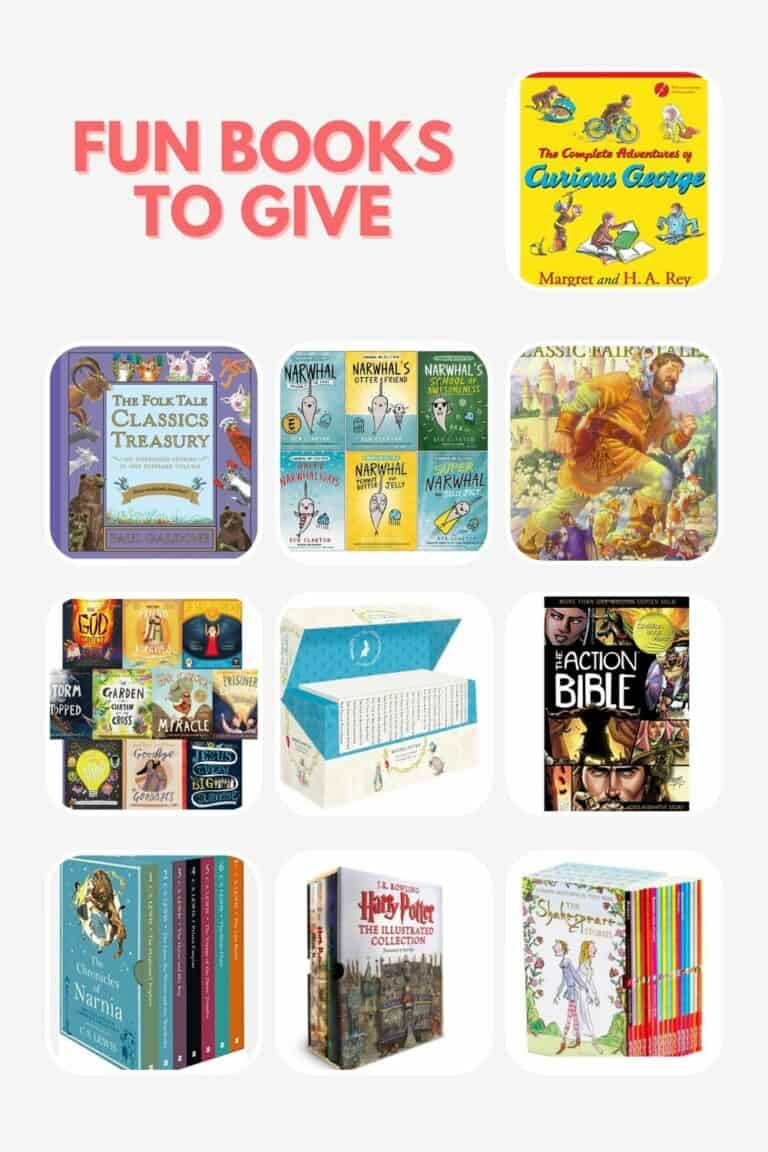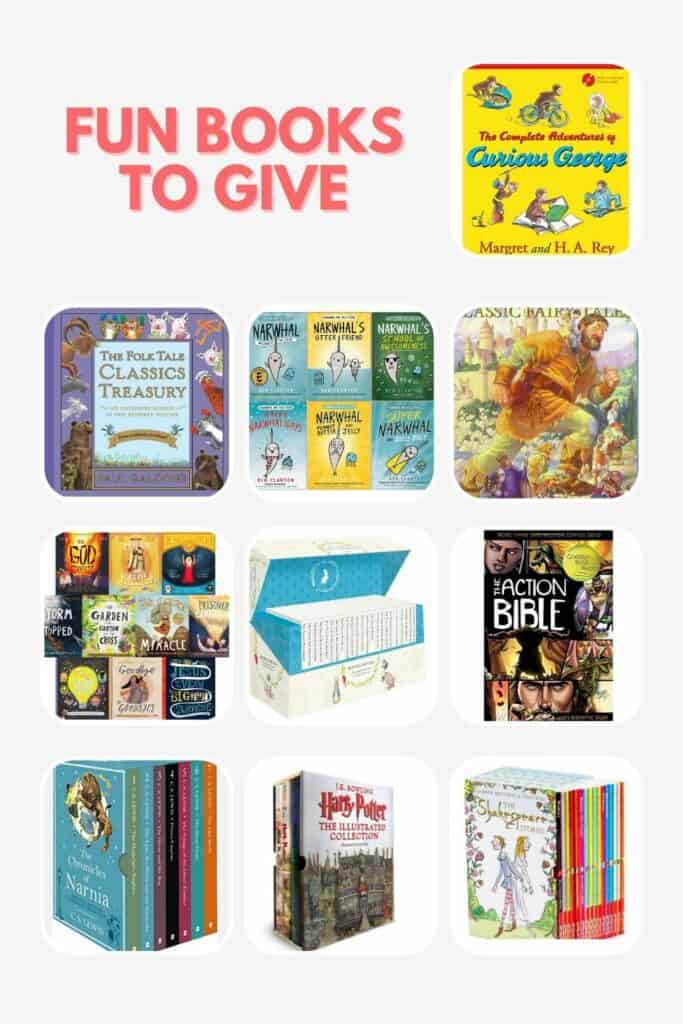 I love giving books. And buying them for our growing home library. For birthdays & Christmases, I think giving a collection, treasury, or book set is really fun. It was so hard for me to choose our favorites, but I tried to pick our top 10 favorite sets to give.
Original Curious George Treasury – great for 3-5 year old
Folk Tales Treasury by Paul Galdone – he does an amazing job retelling & illustrating so many classic children's stories. Any treasury or collection of books by him would be an amazing gift. The kids and I love reading them over and over. They're especially great to give kids who are just learning to read.
Narwhal & Jelly – Ben Clanton is one of my all time favorite author/ illustrators. This Narwhal & Jelly set is my favorite set to give a new reader! (A close second are these Elephant & Piggie collections.)
Scott Gustafson Collections – his illustrations are amazing!! You can't go wrong with any of his books. They're great for all ages & I love giving the Mother Goose collection to new parents at a baby shower or 1-3 year olds.
Tales that Tell the Truth – you could get the books individually or gift this set pictured. These stories & illustrations really make classic Bible stories come alive.
Beatrix Potter Gift Set – I feel like my kids really love these stories from ages 6-8. The tiny books are so fun too.
The Action Bible (Graphic Novel) – Some of the illustrations are pretty intense, but we love that this Bible sticks to the whole narrative of scripture, rather than picking and choosing like other children's Bibles. It's a great gift for any kid who can read, especially 7+.
Narnia Set – I still have the hardcover set I grew up reading with my parents & I now read from it to my kids. This is a classic story that lasts a lifetime.
Illustrated Harry Potter – The regular chapter books are a classic, but man, do our kids love these illustrated ones. They're really big and heavy though. Only the first 5 books have been released in illustrated form so far. The set pictured includes books 1-3.
Illustrated Shakespeare for Kids – Maybe this is more of a gift for a homeschool mom, haha, but I bought this for our home library and my 8-10 year olds devoured them! These retellings are very good and the illustrations remind me of Roald Dahl books. They're a great introduction to Shakespeare's works in a fun way.
Rhyming Books – Not pictured, but here is my list of our favorite 20 rhyming picture books. If you want to give a great picture book that will be enjoyed for years, try one of these.
Outer Space Books – if you have a kid who loves outer space, I recently put together an awesome picture book list of books about astronomy. They're seriously so beautifully illustrated and inspiring. Maybe one of these would be a good fit for your outer-space loving kiddo.
Active Gifts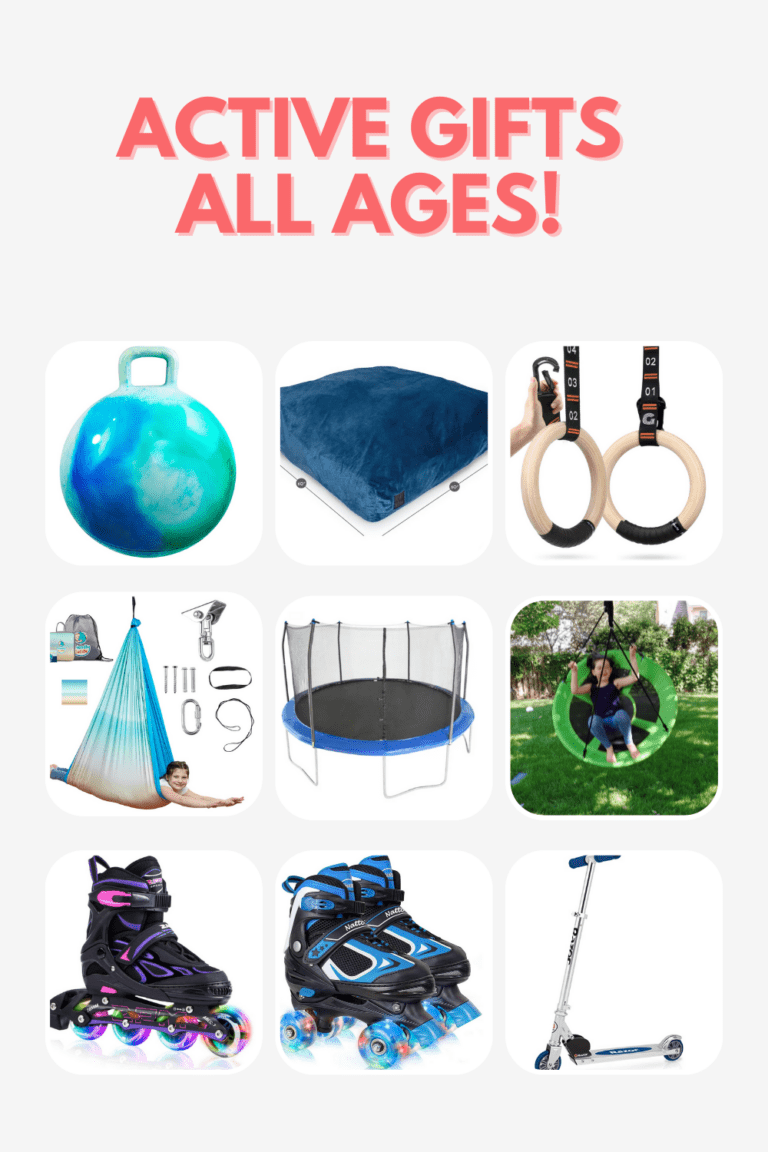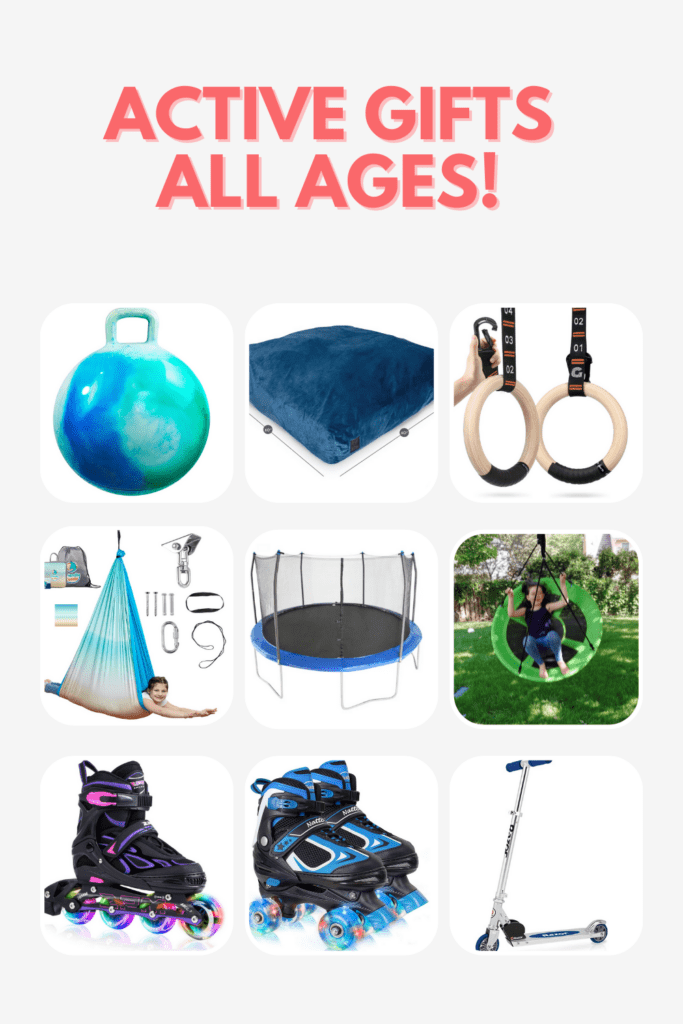 Some years, we have done a "family gift" where we spend most of our gift budget on one big gift and then just get the individual kids something small.
I usually send the kids on a scavenger hunt to find that type of gift and they love it! I just write clues on index cards or post it notes. I wrap the first clue in a box and it says something like, "Go on a hunt to find this gift. The next clue is under the bench you tickle the ivories on." And then the next post it note is on the bottom of the piano bench. Super simple.
Jumping/ Hopper ball- I feel like I always have a kid bouncing on this through the winter. Haha they practice poetry on it, make up games, chase each other around, have timed races. Fun & cheap!
Crash Pad- My kids call it the "big blue jumping thing," but this is a hit. We've had this exact one for years and years. It was our first "family gift" several years ago. The downside is – it's big! 5 feet square. And it doesn't fold up or anything, so you have to have somewhere to keep it. Ours lives in a corner of the basement. The kids mainly jump onto it from the stairs or from furniture. LOL.
Gymnastics Rings – We copied a friend and put these on our basement ceiling. You just have to drill into the studs. Again, they get used all the time & aren't that expensive. It's kind of weird to have gymnastics rings hanging from your ceiling, but it's also kind of awesome. Bonus – I use them for working out! Haha!
Sensory Swing – Full disclosure, we don't have one of these. But, we had 2 of those trendy looking hammock swings in the kids rooms for a while. The kids loved them, but they were constantly sliding on the poles and weren't very practical for heavy use. If I were to gift swings in rooms again, I'd do this kind (pictured above) instead… even though the hammock ones are super cute.
Trampoline – We have had this giant trampoline from Walmart for several years now. It's probably the #1 most used kid item in our entire lives. We live in the midwest, but the kids are on it year round. We have a shoes off rule except when it's snowing, then they're allowed to play it in with snow boots. And they do! Ha!
Ours is 15 feet and we've probably had 12 kids at once on there… maybe more. No one has ever gotten seriously hurt on it, either. The exact one we own is under $300 and it's still held up to so much abuse. Haha. The one thing that's sort of low quality about it is – if the kids hang on the net, it'll bend the poles over time. So they're not allowed to hang on the net.
Disc Swing – This is another favorite back yard item. You have to have a strong tree for it (or a playset bar), but it's super fun! Sometimes, one kid goes out and swings alone or reads a book on it. Other times, they load up on it with 3 or 4 friends or take turns pushing each other as high as possible.
Roller Skates & Blades – My kids have skates, but I'll probably gift blades one of these years. We gave hte girls cute vintagey looking skates, and they haven't held up as well. This adjustable brand (pictured) have held up really well though! You can even use them inside on the hard floor if you don't mind the noise & chaos.
Scooter – I feel like my kids might use their basic razor scooters more than their bikes. They're easy to throw in the car for going to different parks & paved trails. My biggest complaint is they don't stand or fold up easily. We hang them on the garage wall on hooks like this.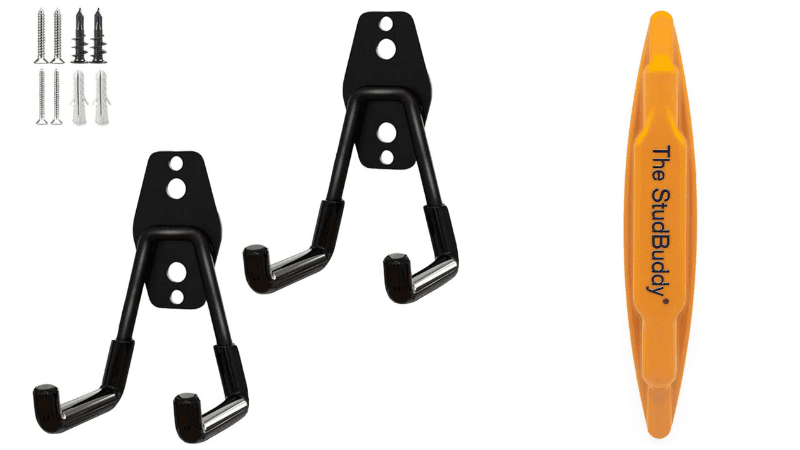 Gifts for Every Occasion
I hope this all-in-one guide gives you all kinds of ideas for kids birthday & Christmas gifts that they'll actually use & play with for years to come.