Are you a do-math-over-the-summer homeschooler!? I know some people find it easier to just keep plugging with math so they don't have to do any review come fall and others don't want to pick up a workbook until after Labor Day.
Whatever floats your boat. We've been in both boats throughout the years.
Some summers, the only remotely academic thing we did was reading. (And that's enough!!) Other years, we've used the extra time in the summer to really get over a mastery hump in a specific subject area. (I'm looking at you, multiplication facts!)
If you want some ideas for summer math, here are a few that I have used and can recommend.
First I'll give you my 5 favorite legit actual mathy feeling math curriculum options that work well for summer review or continued practice/ learning. Then I'll just list some fun, sneaky math things that don't feel like math but are good for building logic & problem solving skills.
#1 – Beast Academy
Beast Academy is pretty new to us, but my kids love it. It's engaging, fun, and challenging. The guy who teaches the optional videos is engaging, but not "entertaining," if that makes sense. He's fun but not gimmicky. Quality instruction too! He's great at succinctly walking kids through how to actually think about math.
[Update – 6 months in, we're probably going to move all kids who are able to this program. We all love it!!]
We jumped into the online format because it was relatively inexpensive and easy to try for a month, but now we're hooked. Haha! The online option includes:
Access to all 5 levels
Options for the parent about whether to unlock the whole level or force the progression through the chapters
All the comic books in digital format (which you can also buy printed)
Many practice problems with instant feedback about if something is correct or not & chances to retry with different numbers
A puzzle lab…
and more. There are also relevant instructional videos linked for each problem.
It's designed to be a complete math curriculum for kids ages 6-13 (ish). BUT, it can totally be a fun supplemental math thing for the summer too. It's pretty flexible.
#2 – Math with Confidence Workbook (K-3)
Note: Kindergarten workbook requires a parent to help. The 1st- 3rd grade books would be great for review. The 4th grade book will be out in June 2024.
This program is newer and generally one of my favorite curriculum options for families who want math that is both simple to teach, yet extremely thorough. Kate Snow, the author, includes a mix of hands on & written practice with options for adding or lessening either. The teacher's manuals are the absolute best in guiding parents through teaching math well. The workbooks have an age appropriate amount of work for the grade levels and provide meaningful practice of current concepts and review.
These workbooks are not designed to stand alone, really… they're meant to be used alongside the whole curriculum. But if you've already taught a whole year of 2nd grade math and want to give your child an easy summer review option, the workbooks are colorful, fun and have a lot of variety.
#3 – Primary Math 2022 Mastery and Beyond
These are one of the review books of the Primary 2022 curriculum. They're in full color and if you don't use Singapore math, they provide a different way of practicing math review than many other math programs. One thing to note is that Primary Math 2022 is slightly "ahead" of some other math curriculum. Depending on what curriculum you use regularly, it might make sense to go down a half or full grade level for summer review.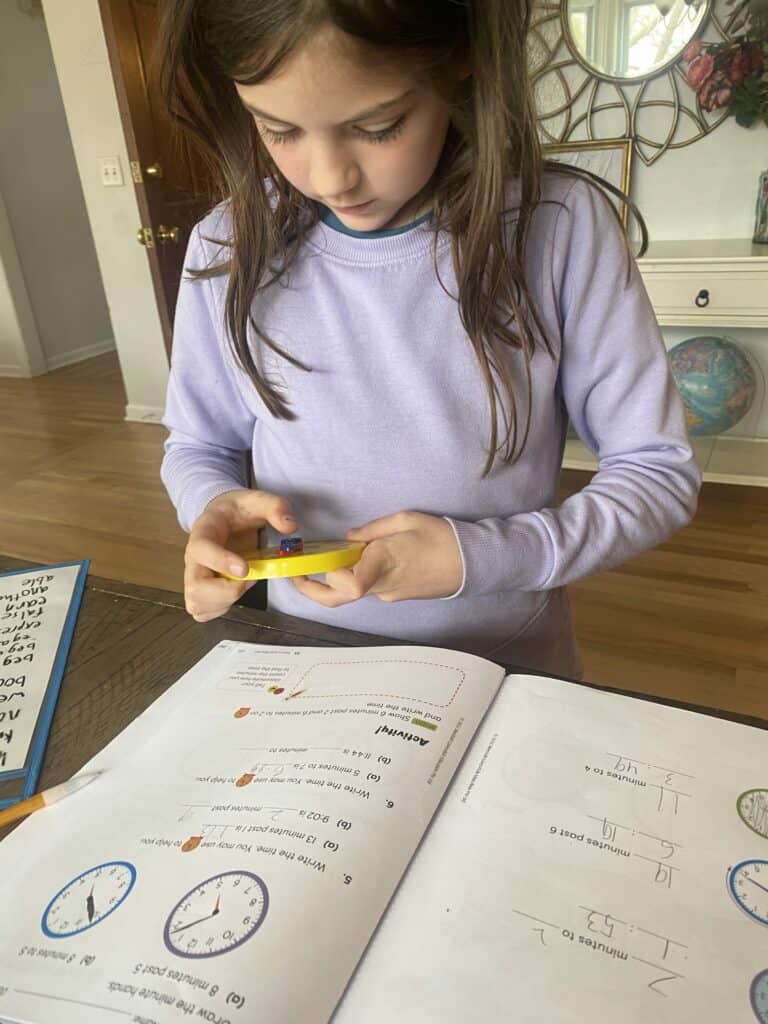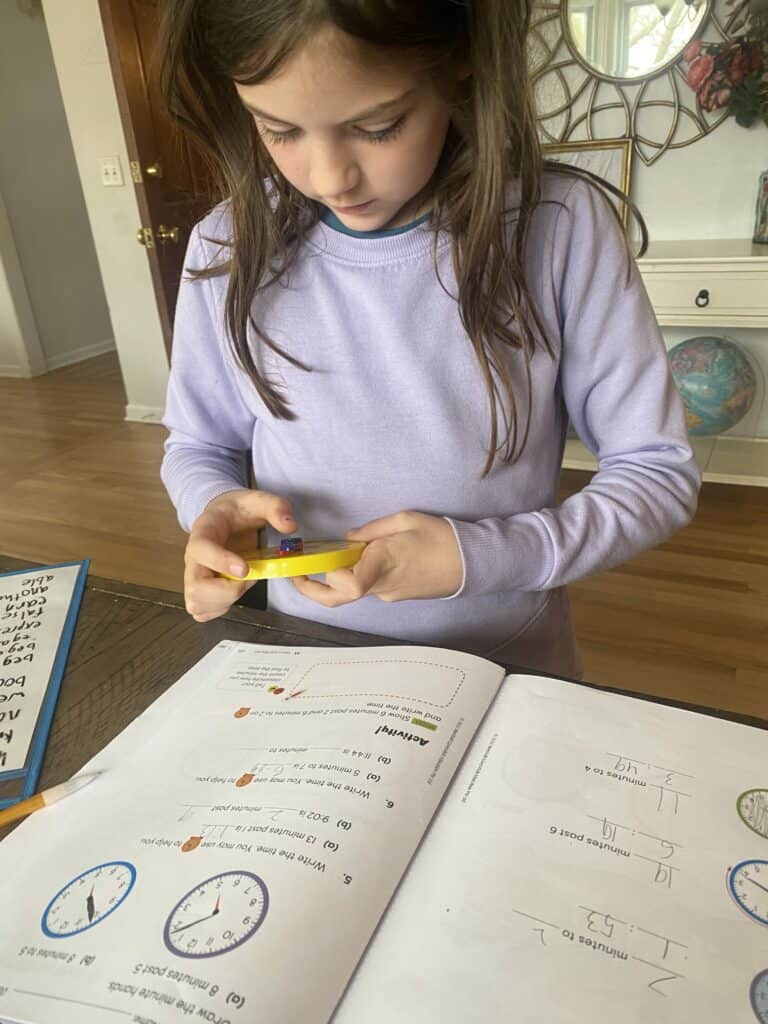 #4 – Math Facts That Stick Series
This is a great option for focusing on a set of math facts. We really liked the addition & subtraction game books. I bought them in PDF on Welltrainedmind.com and printed everything out and put it in binders for easy use with multiple kiddos. If you don't want to print them out, you can just snag the workbook on that website or on Amazon. Full disclosure, my oldest got bored with the multiplication & division ones. After a while, the facts sort of just stuck for her and I bought the Right Start Math Games kit to enhance our hands-on math options.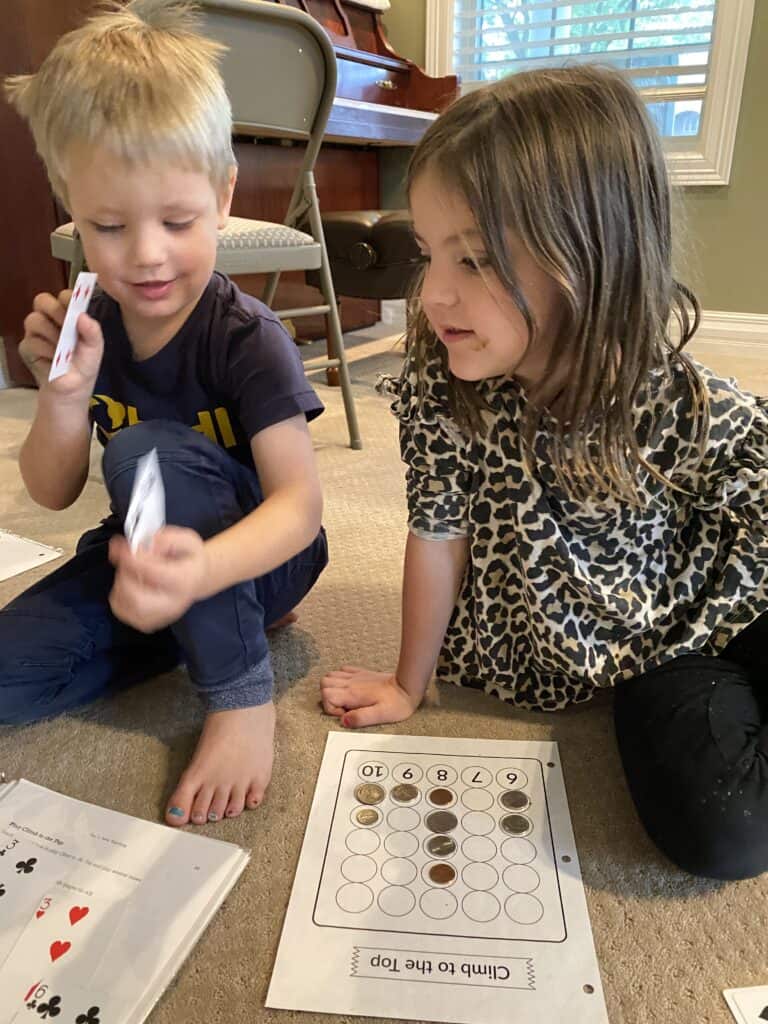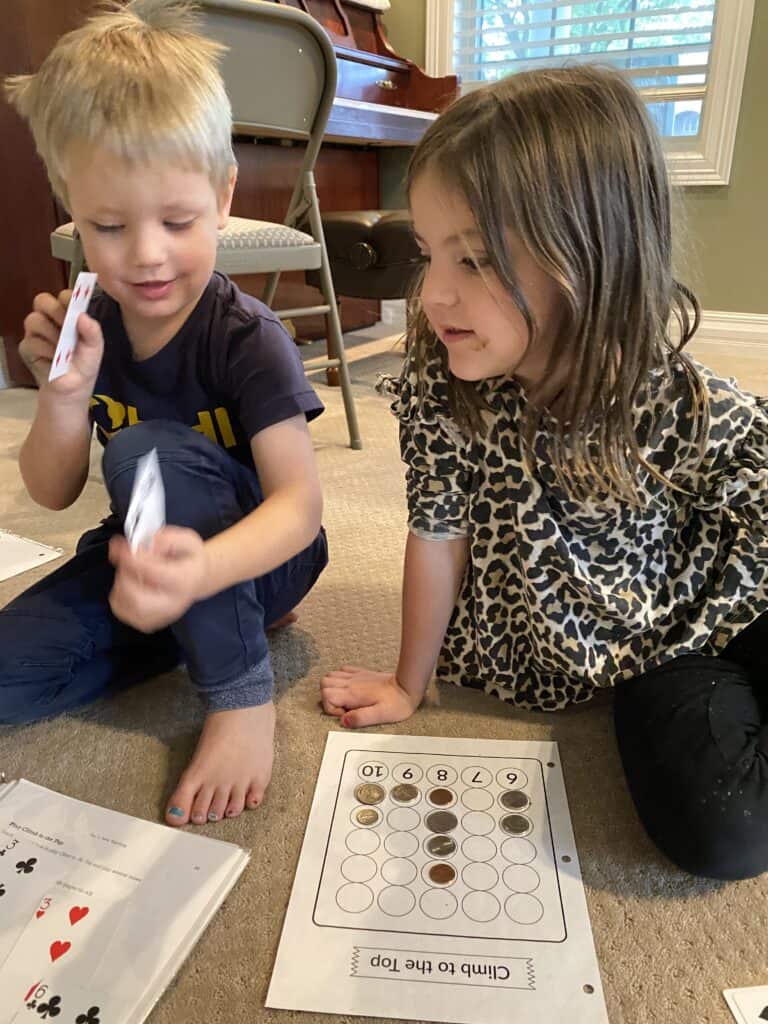 #5 – Right Start Math Cards & Games Kit
This is very different than anything else out there, but effective and kids love it. When it first came, I thought, Oh no… I'm going to have to figure this out. Haha! It wasn't what I was expecting in the "game" department.
But I just read through the game book introduction over a couple afternoon cups of coffee one week and started to get the hang of it. I really understood it more once I started playing the games with the kids.
Now that we've used it for a while, I feel very confident recommending it. It's a good use of your time/ money if you're willing to figure it out. The approach was so different to me in some ways, which was a little intimidating at first.
But there are activities & games in this book to teach any elementary math concept! The number sense and addition games would literally be all you need for kindergarten math if you want to go rogue. Kids at multiple levels can play together, and I increasingly don't mind ditching a day or a week of our standard math curriculum to play these. They teach a ton of math concepts & problem solving just through playing games.
There are a lot of independent modifications too, so kids can practice math facts or a certain skill without a worksheet once they get the hang of it.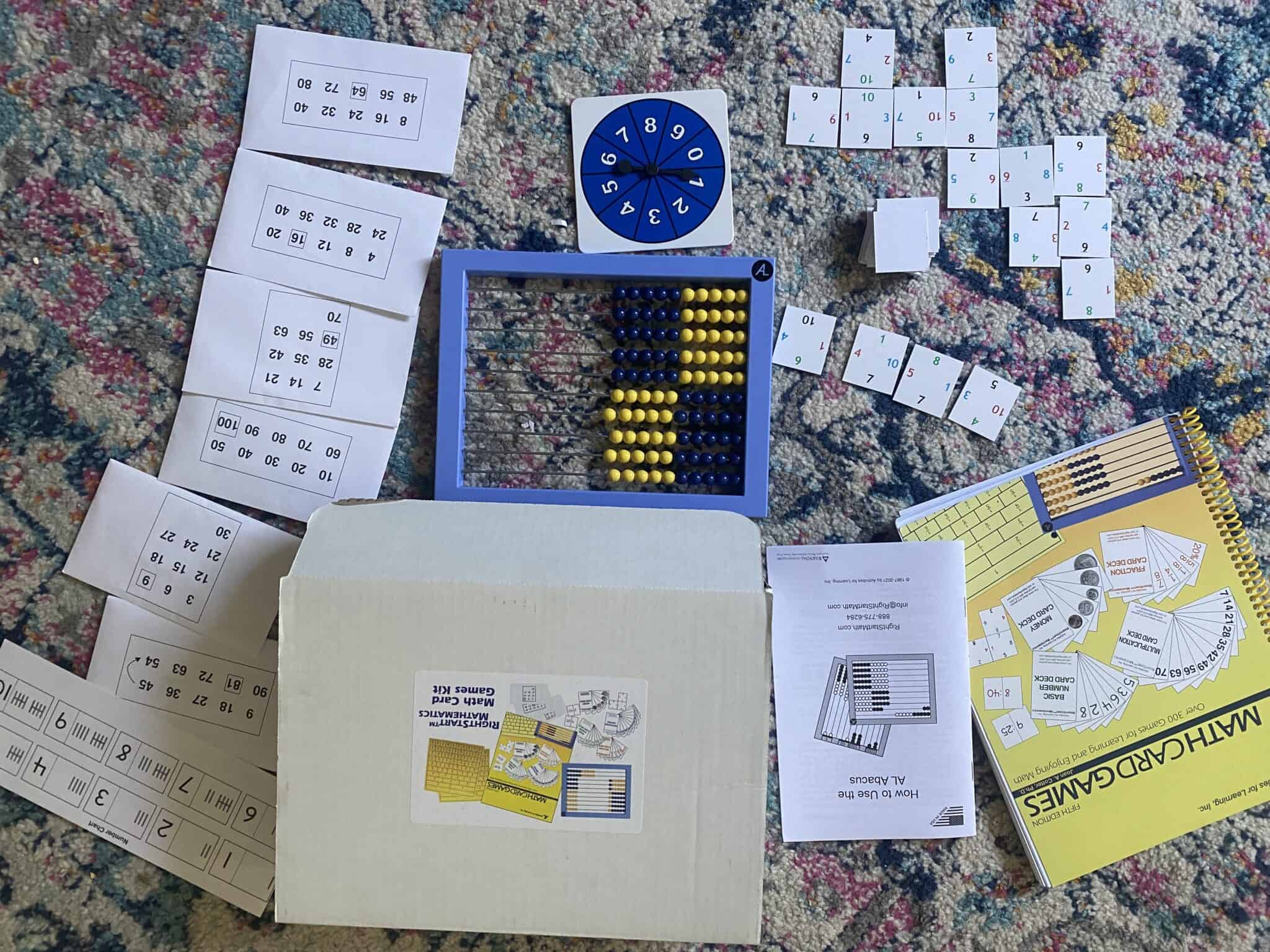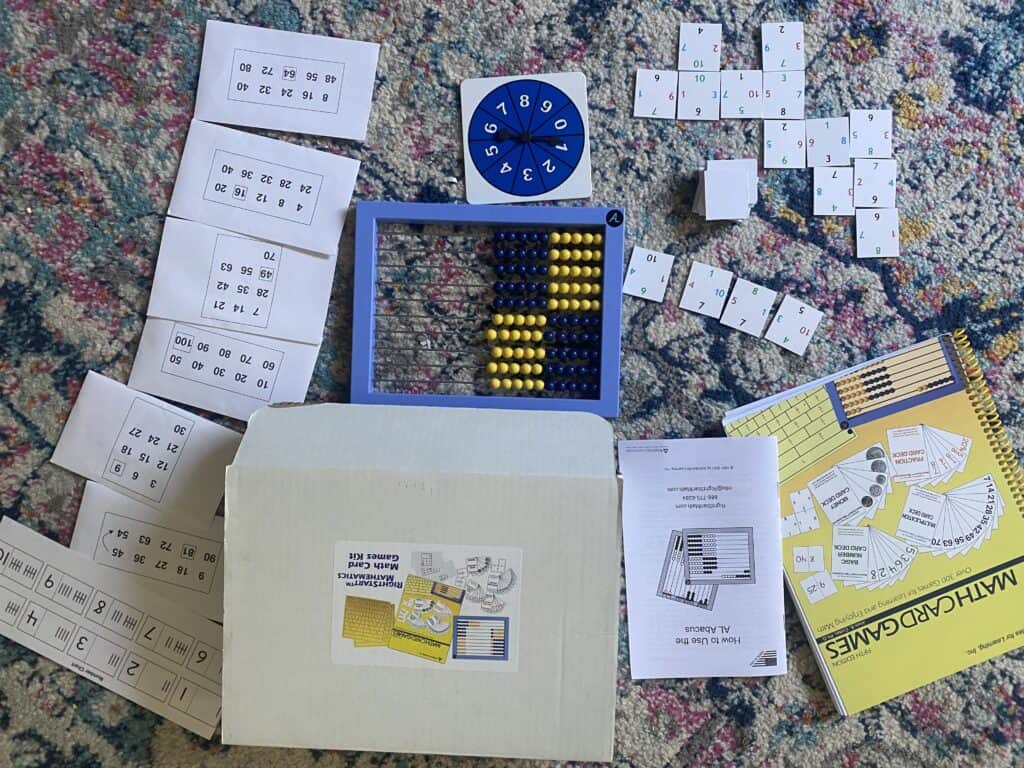 #6 – Random Games & Activities for Sneaky Math This Summer
There is a whole category of Logic Games that my kids love. They're great for the coffee table, quiet time, waiting rooms, etc…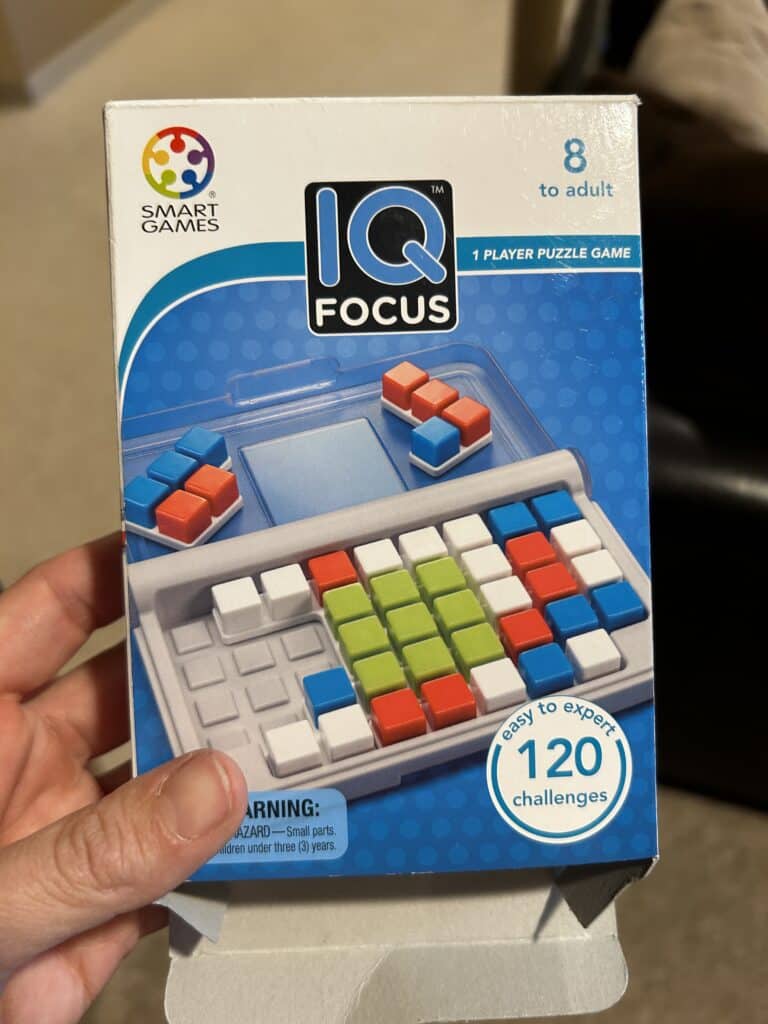 If you don't already use our Math songs, summer is a great time for a crash course in them. These 33 songs cover all the fundamentals of elementary school math & each one is under 45 seconds long. Once your child is 7 or 8, they're old enough to follow along with the cute, printable flashcards too. I just printed them on full sized cardstock and popped them in a binder.
Your child does NOT have to be old enough to understand the concepts in order to benefit from learnign the songs.
Let me repeat – even if your child is little, like 5 or 6 years old, they can and should file these songs away.
Why? Because they will enjoy learning them now and they can't roll their eyes at you when you learn them together!
Also, because if they memorize them now, I guarantee they'll still know them when the area formulas come up in their math homework in a few years. Their little 10 year old brains will pull the information out deep from the long-term-memory and rattle off the formula for the area of a circle and you'll both be glad you played them that one summer.
Read more about memorization increases critical thinking here!
Easy peasy lemon squeezy as my first graders used to say.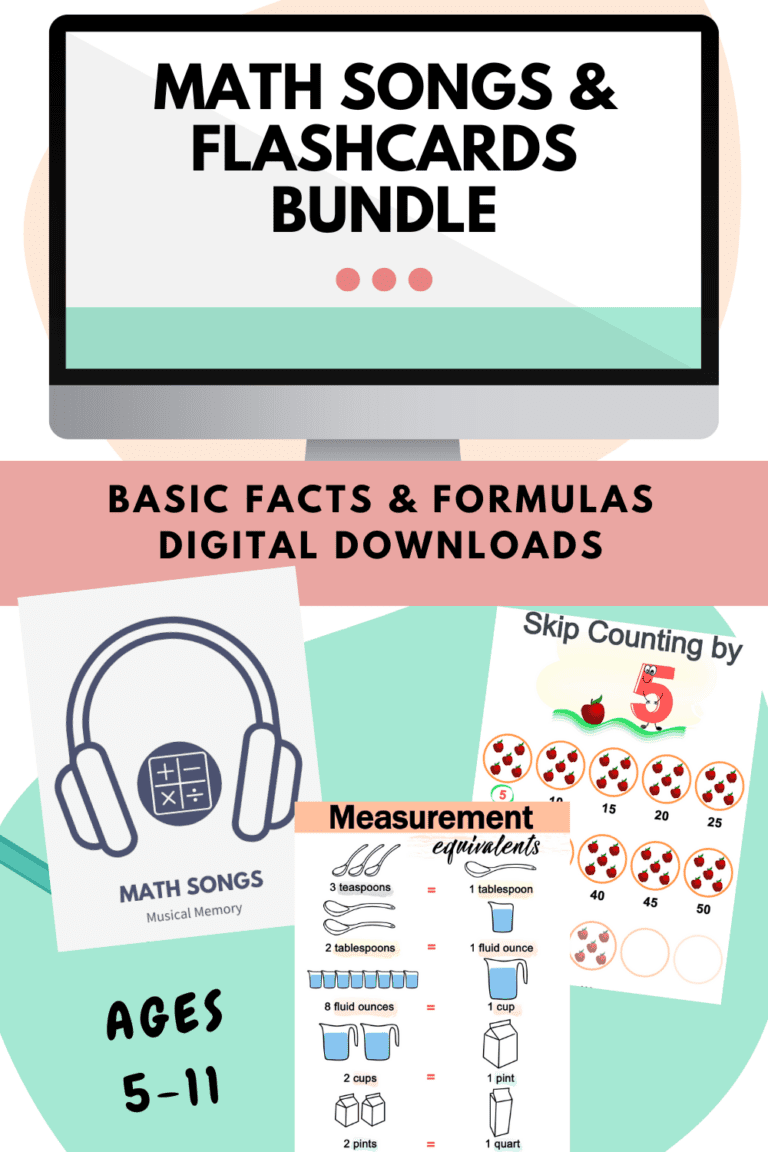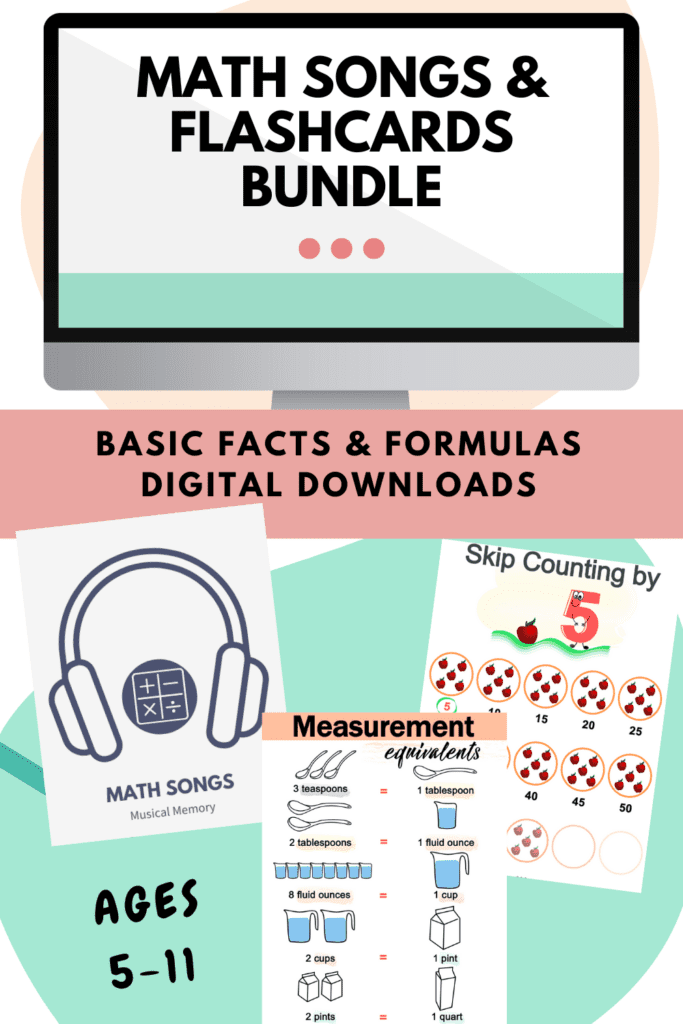 Thinking about more than just math!? Here are 15 other ideas for summer homeschooling routines.