I was so intimidated by preschool at home when we first started homeschooling. I worried about how I'd know if our kids were "behind," how to choose the "right" curriculum, socialization, and so much more. 6 years later, I'm confident that any parent who is determined can give their children a great education at home… starting with preschool!
And you don't need to be an education expert to do so.
Four preschool children later, I can honestly say that choosing to do preschool at home can lead to some of the sweetest early learning memories for you and your child.
While homeschooling 4 children for preschool, I researched and tried several different curriculums and resources. In this post, I'll share my favorite resources for preschool at home as well as a few super popular items I thought weren't really worth it!
Overview of Preschool at Home
My basic approach for kids ages 0-4 has been to focus on play (alone & with others), developing daily routines, instilling good habits, playing outside, reading a lot, and keeping childhood simple and free of busyness.
Once a child expresses interest, I work on a few foundational reading & math skills and keep some items accessible for them to play/ practice whenever they want. If a child wants "lessons with mom" like the big kids, then I set aside 10-20 minutes per day to do reading or math activities 1-on-1. For all of our kids, this desire happened sometime around 3-4 years old.
We generally take a learn-in-every-day-life approach to preschool. With each child, we've used less "workbooks designed for preschoolers," but I've taken more time & intention behind what we do sit down and do because I know what works and what is a waste of time.
For pre-reading & early math skills, I focus on:
phonograms

(5-10 minutes of practice and games at least a few days a week)

playingt

this blending game

practice counting 1 to 1

informally teach

subitizing

help the child learn to identify the printed numbers (first 1-3, then 1-5, then 6-10)

having handwriting materials available for when the child is interested

in writing
Our preschoolers learn everything else through unstructured play, conversation, books, songs, and daily life.
Here are my recommended resources for handwriting, math, reading, and everyday-life learning IF you & your child are eager to get going.
Fine Motor Skills for Handwriting
My number one suggestion for handwriting practice at this age is to make sure the child's fine motor skills are well-developed. If the child cannot hold a writing utensil the correct way, it's better to spend time on fine motor skills activities than formal handwriting.
This is because the pincher grasp that develops from strengthening fine motor skills is the key to correct pencil grip.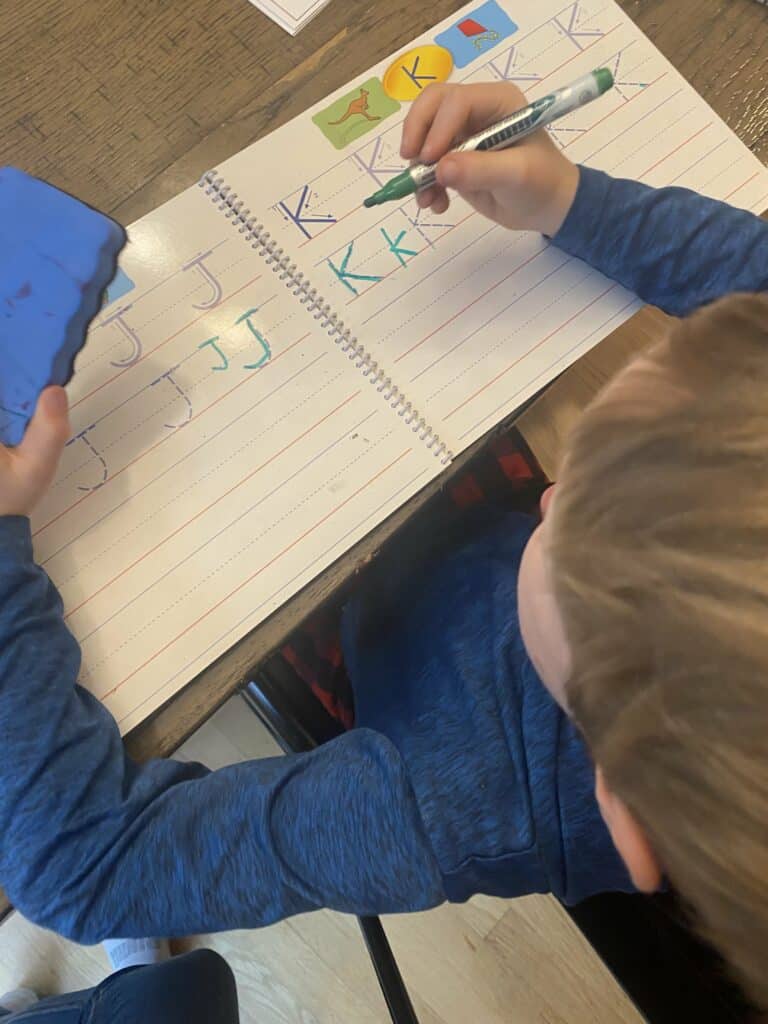 If your child doesn't hold a pencil like the picture, here are some basic fine motor things to incorporate in your day:
Anything with toothpicks – holding a toothpick requires pinching your fingers! Younger children enjoy putting toothpicks into an old spice container with small holes; older children could use them to create designs and patterns, poke holes in the shapes of letters, or poke them into apples.

Water pouring – allow the child to use small cups and pouring strengthens the
In general, I find it best to just keep one activity out at a time. Leave it out in a tray or dish for your child to "discover," then causally pop over to show them how to do it if they don't know how. They may go back and forth between playing it and playing other things over a few days.
You can rotate fine motor activities or have a set time of day such as right before or after a meal where the child works on the activities.
I ordered this mini chalkboard, a pack of mini chalk, a pack of mini sponges & a kindergarten workbook for my kiddos age 4-5. They also have a preschool workbook if your young child wants to have one like the big kids. (Totally unnecessary & just for fun though.) These materials are cheap & the packs of chalk & sponges come with a TON of pieces.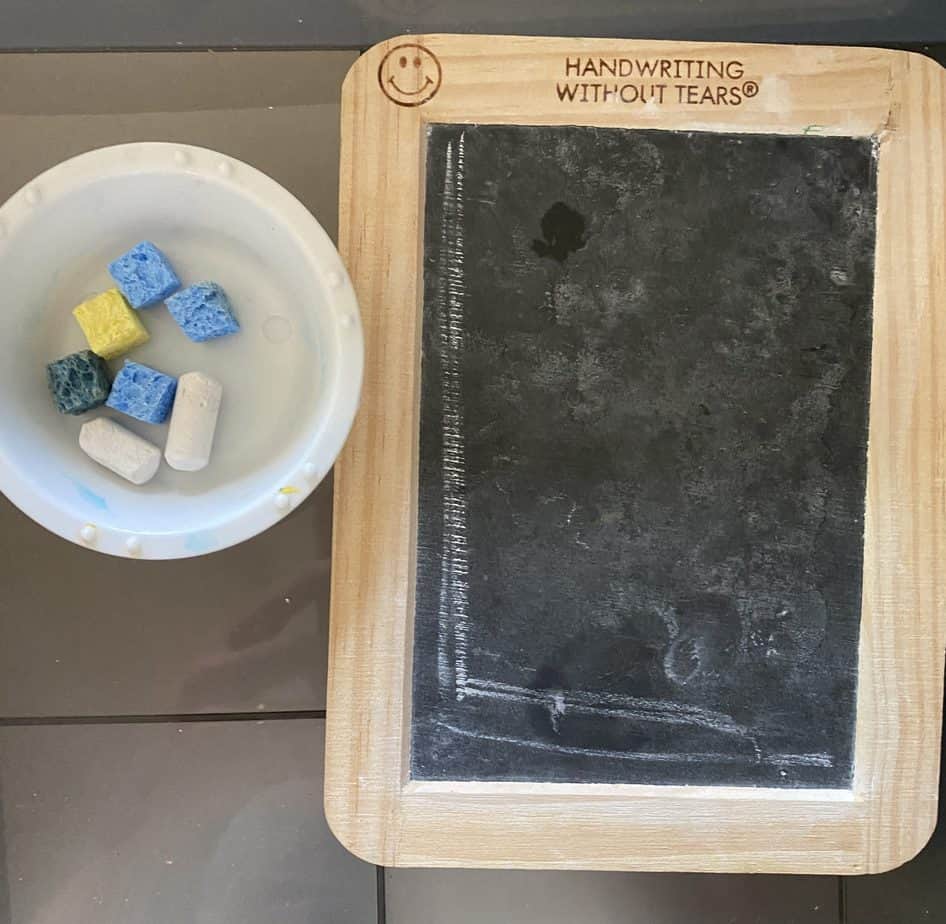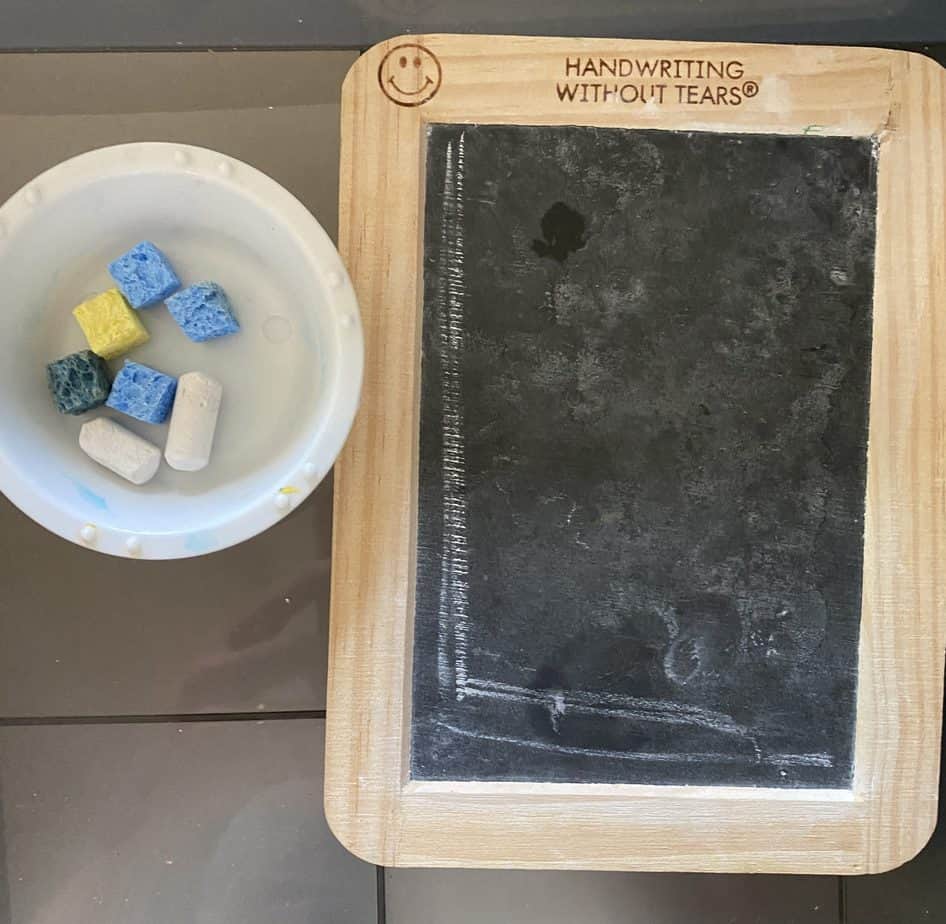 You don't need the teacher's guides. And actually, my 3rd and 4th children didn't even use the HWT workbooks.
We have also used this super simple handwriting book from Simply Charlotte Mason. It's great for continued practice after using HWT to teach letter formation.
Preschool Math
My favorite resource for preschool math is Kate Snow's Preschool Math at Home. It's been a huge help in showing me how to help young kids build a good number sense.
From her book, I have formed a mental list of math concepts that I try to incorporate in everyday life. Her book is designed for 10-minute-a-day math lessons, but we don't usually use that format unless the child is interested in having "lesson time with mom" because the other kids get it.
Rather, I just teach the concepts throughout daily life as the opportunities arise!
We also use skip counting songs that all our kids have learned to sing by age 5 or 6. The 2s song is my preschooler's favorite, haha!
Preschool Learning to Read
There are 2 parts to reading:
Reading comprehension

Learning the mechanics of how to actually read words (best learned through phonics)
Reading Comprehension
The best way to improve reading comprehension is really simple- read aloud to your kids.
A lot. Every day. (Or as many days a week as you can.)
If you read aloud regularly and discuss good books, you will never need to complete a reading comprehension workbook or worksheet. Ever. (And your kids will thank you for that!)
I highly recommend reading some books on your own about the academic benefits of reading (listed below), and choosing books for read-alouds that seem above your child's level. Kids understand a LOT! We do read a lot of picture books (of a variety of levels) aloud together, but we also read a lot of chapter books. This year, our 4 year old sat through:
most of the Narnia series (7 books)
Winn Dixie
Edward Tulane
Desperaux
E.B. White books
Roald Dahl books
Our Island Story (a book written in 1920 about the history of England for children)
… and several others. And based on his questions and retelling of parts of the stories, he understood way more than I realized in any given reading.
TIP- Start small. Choose 1 picture book, 3 pages of a chapter book, and then as many more picture books as your child wants to listen to. The next day, do 4 pages of the chapter book and so forth. This process will gradually build up everyone's stamina.
Suggested resources for read-aloud lists:
The first 2 books are inspiring and informative for parents about the infinite benefits of reading aloud, plus they both have phenomenal reading lists to work your way through!
Give Your Child the World is about broadening your kids' experiences of the world via travel through books. Owning and referencing a globe when reading about other places plants seeds of global awareness too! Our kids love talking about places around the world.
Phonics & Learning to Read
Phonogram based reading instruction is hands-down the BEST way to learn to read. The process is:
Learn the first 26 phonograms (letter sounds)

Start learning how to blend the first 26 together to form words while continuing to learn the rest of the phonograms.
This is explained in more detail below.
Phonics Works!
Many traditional schools use a method called "blended reading" that claims to include phonics, but doesn't really comprehensively teach phongrams-based reading. (Here is a good summary of that issue.) With blended reading, some kids figure out reading and move on.
Many kids struggle, though, and never really get the hang of it. (Perhaps this is why on the national standardized tests, only 35% 4th graders in the United States score proficient or above in reading… despite spending an average of 2 hours per school day on reading & language arts.)
Orton & Gillingham were researchers who developed a simple phonograms-based, multi-sensory approach to teaching reading, and it works with astonishingly high success rates. There are many Orton & Gillingham based curriculums for homeschoolers. My favorite is the Logic of English. For young children, you'd start with the Foundations A kit.
The starter kit is around $175-190 but it's all reusable except a $15 workbook to be used with subsequent children. (You could tear the workbook apart and put it in page protectors in a binder if you want to be able to reuse it.) A huge benefit of the Logic of English program is that you will learn how to teach reading & be able to introduce your subsequent children to the process more casually over time.
Phonograms
For preschoolers, I wait until a child seems ready to read. (My early childhood reading guide will help you figure out if your kid is ready to read!)
Once they're indicating reading-readiness signs, I begin teaching phonograms 1-3 at a time using these printable cards.
This post outlines my process for how to introduce & teach phonograms. I also play "say it slow, say it fast."
Learning to Read
Around age 4-5, you can try to start working your way through Logic of English Foundations A.
I've also used Teach Your Child to Read in 100 Easy Lessons. It's not comprehensive enough, but it'll get you going. I used it 100% as designed with our oldest child. But after teaching 3 more kids to read and observing tons of kids learn in our homeschool co-ops, I typically recommend Logic of English or All About Reading now. Both have a slower start, but are more thorough and will yield confident readers & spellers in the long term.
A main premise of 100 Easy Lessons is that parents can teach their kids to read – I 100% agree with them! You don't need a certificate to do this. I promise! Look at the free samples online and get whatever makes sense to you. Any of these programs will help your child learn to read if you stick with them.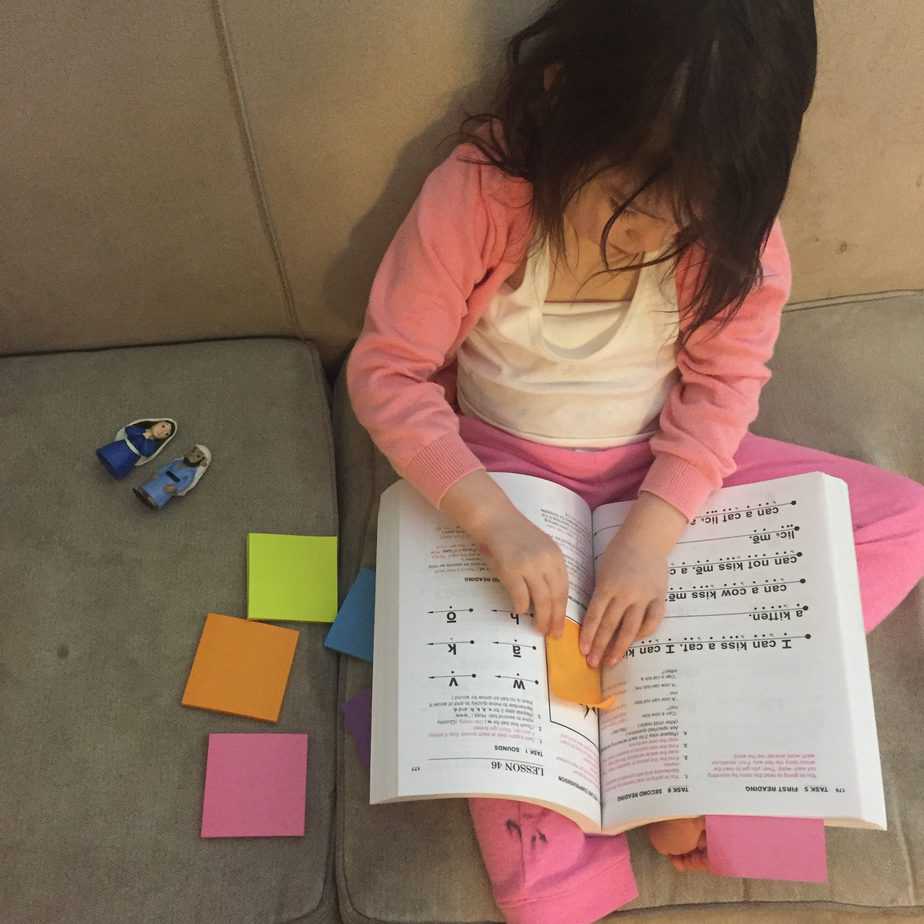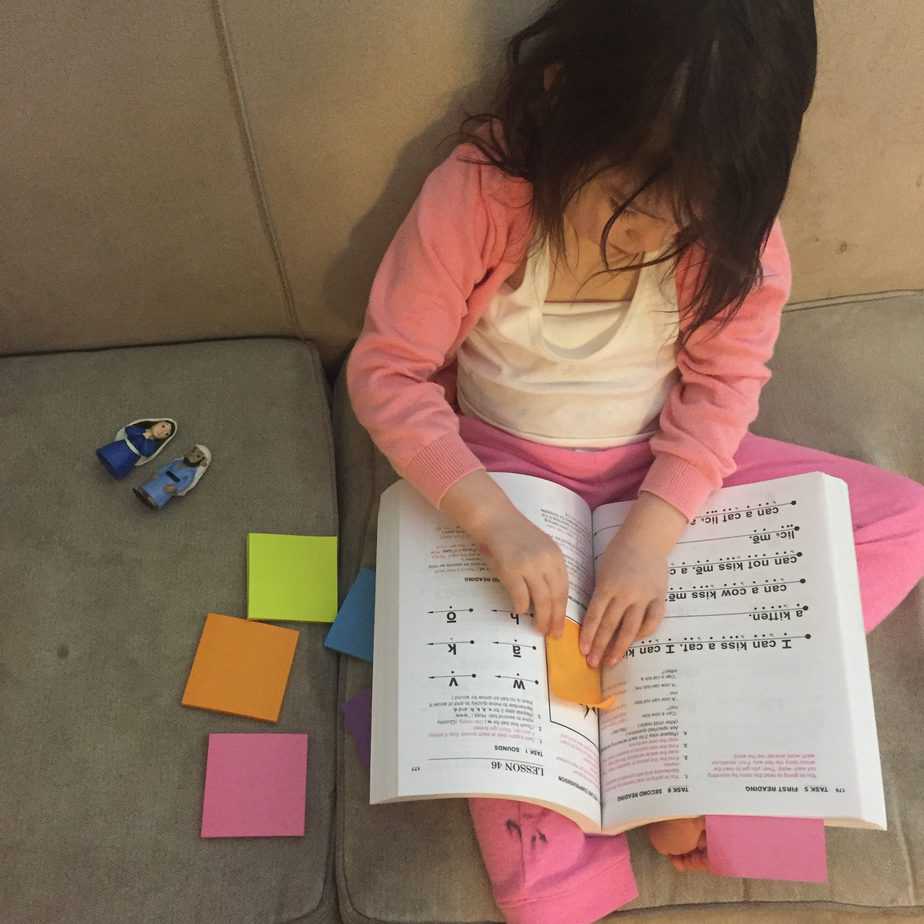 Pros of teaching a child to read early
In one sense, there's no hurry! Kids who read early do NOT become 'better' readers down the road.
BUT, if the child is ready, learning to read unlocks a magical world for him!! It's one of my all time favorite parenting things to watch a kiddo figure out this seemingly mysterious code that all the grownups know, and then start reading everything everywhere we go. Signs, instructions, announcements… kids LOVE IT!
Teach them young & keep it simple. If the only things you do for preschool (ages 4-6 ish), are teach phonograms and work your way through a phonics based reading instructional book, your kid will be ready to thrive in school!
Knowing how to decode our written language makes the rest of school much, much easier.
Everything Else
Play play play!!! Erica Christakis has researched the benefits of a play-based childhood, and many experts agree with her that the trend towards academic-based early childhood education is NOT good for kids.
If you and your child are eager, by all means, do 20 minutes of "school" each day at home to get your fix!
But worksheets, workbooks, desks, etc… none of that is necessary for preschoolers to learn. I occasionally print something like that out for the preschooler in our home if he's eager to do "work" like his big sisters.
But I don't do any unit-based worksheets or daily binders or anything else with our littles like I did for my oldest.
Kids learn through play! Play is truly the work of childhood.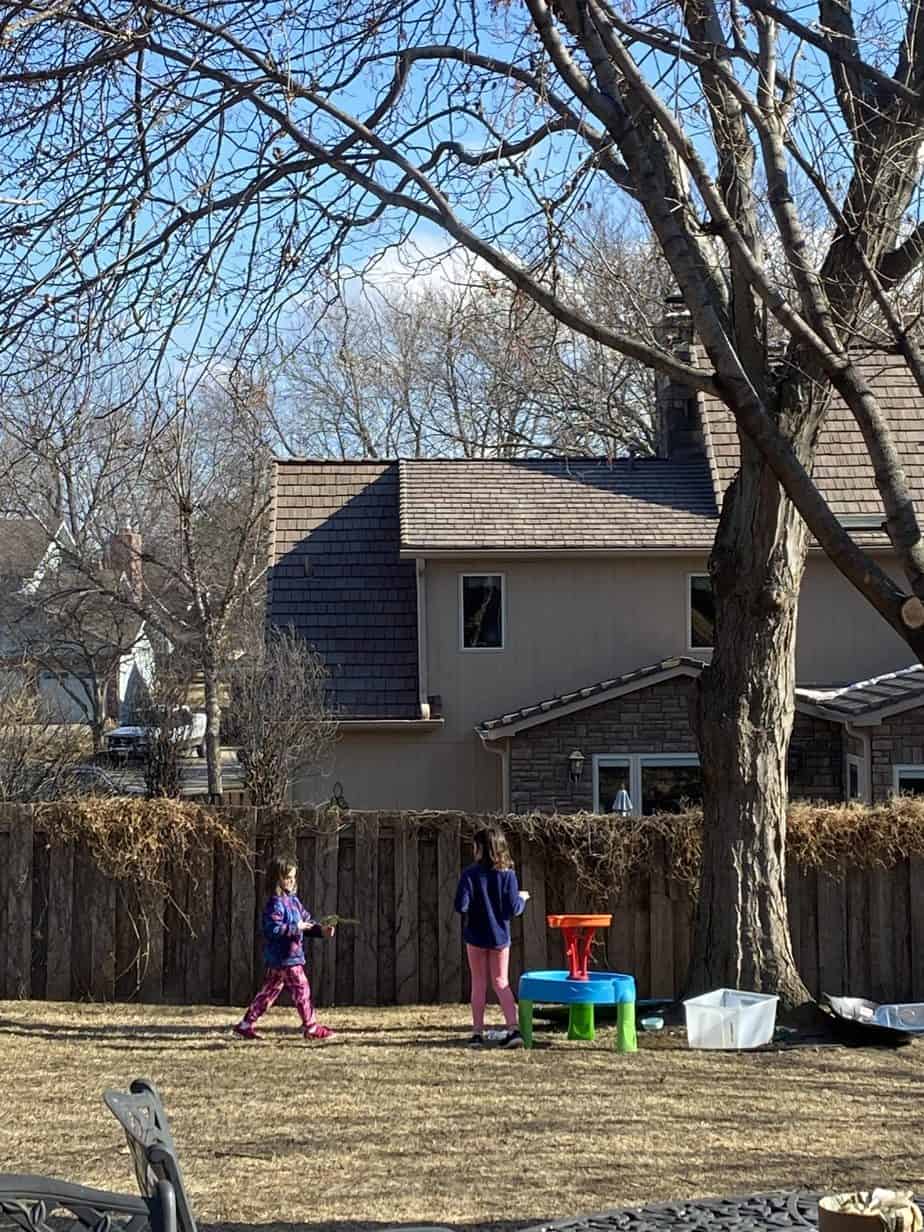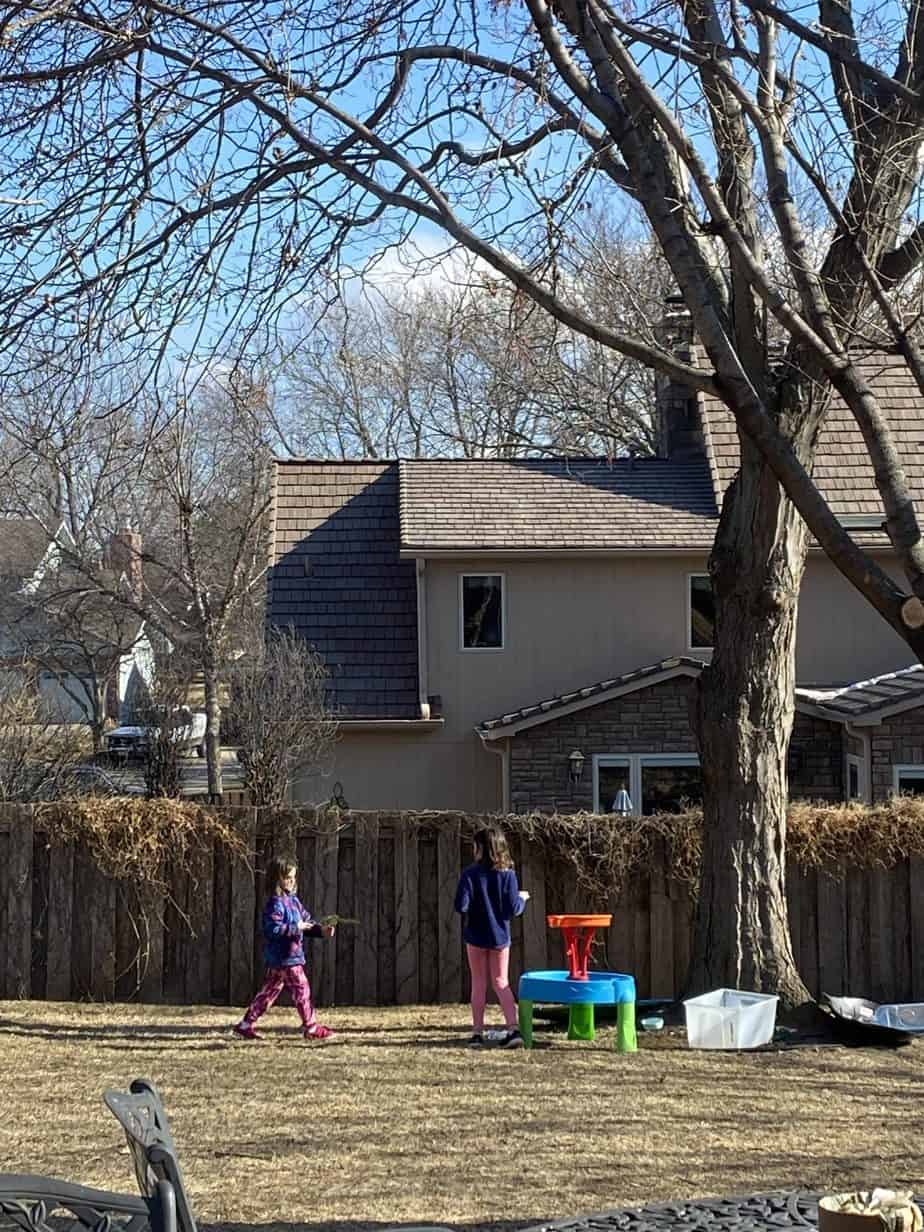 My general approach is not to "set up" very much play (unless they ask me to set something specific up), but rather to give our kids tons of unstructured, relatively unsupervised playtime. I'm often keeping an eye and ear out from a distance.
Play based learning ideas
Go explore a nearby state park

Go to the zoo

Set up a bucket or bin full of water with some measuring cups on the porch

Let your kid help bake or wash dishes.

Read together

Play with friends.

Let your children have free range of the house & yard unsupervised so they can learn to play & experiment & get lost in their own imaginations.

Dump rice in a bin and let your kid go to town with kitchen utensils
Duplos or toy animals in the bath. (Supervise your kids in water!)
Sprinklers & kiddie pools
Forts
Balance bikes & 3 wheel scooters for little riders
Implement the quarter chore system. My favorite chores for 4 year olds are cleaning up their rooms, doing their own laundry & tidying the mudroom or bringing all the backyard toys back to the deck. They earn a quarter for each chore immediately after they're done. The first thing I've taken my kids to buy is their own pack of gum once they have $1.25.

You don't need expensive toys or themed units for your preschooler to thrive!
They can learn about the weather when they start asking, "Is it hot out? Can I wear flip flops?" or "Is it going to rain? Why is the sky dark?"
They can learn the calendar

through conversation: "What day are we going to Grandma's house?"

Search Spotify or Youtube for days of the week/ months of the year songs

. Pick one of each to play a few times a week. Then, sing it as you count on your fingers to answer questions such as, "How many months till my birthday?" "How many days till we leave for the lake?"

They can learn about sorting

by cleaning up toys into a few different baskets, organizing a shelf of blocks by type, or sorting out their halloween candy haha! (Kids naturally tend to sort items anyway.)

They can learn to count

and

pair up equal amounts

by setting the table. (Bonus – that teaches place settings too.)

If you want to teach your child classical music

, grab a

Beethoven's Wig CD

and allow them to have a small CD player in their room for quiet time. (

This is the one we have

.) Books on CD from the library are great for quiet time too, once they know how to operate it independently.

Keep an accessible basket with a few craft items that get rotated out. (Here are our favorites

.) Set up a blank piece of paper on the table with some good water colors and leave it out all day for the kid to come and go as they want. (Modify that setup if you have a toddler around – ha!)
You can do preschool at home!
You've been teaching your children since birth, and you care about them more than anyone else. Get a few simple activities and materials in place, observe your child, follow your instincts, and learn as you go!
You can do it!
Oh! And check out our learning songs – preschoolers LOVE these songs! We've started all of our kids young on songs and it's yielded amazing results as they've gotten older. Here's why I recommend starting memory songs with young children.
ANNNND – one more thing. Here is my ultimate list of must have supplies for homeschooling. You don't need to purchase them all for your first year. But you might want to look through this list before you go crazy on what Instagram influencers are recommending you need. (Ahem: most of the stuff I see on Instagram I would never use!)